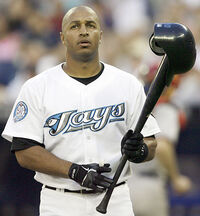 2007 Record:
83-79
2007 Finish:
3rd AL East
2008 Projected Finish:
4th AL East
Manager:
John Gibbons (5th season)
Projected Lineup:
Projected Rotation:
SP Roy Halladay
SP A.J. Burnett
SP Dustin McGowan
SP Shaun Marcum
SP Jesse Litsch
SU Jeremy Accardo
CL B.J. Ryan (presuming that he will be healthy enough to take the job at some point)
Departures:
Josh Towers (Colorado Rockies) and Troy Glaus (St. Louis Cardinals)
Arrivals:
Scott Rolen, David Eckstein, Rod Barajas, Shawn Camp, John Parrish, and Marco Scutaro
X-Factor:
The Blue Jays can go only as far as Vernon Wells can take them. If Wells cannot bounce back, the middle of the Jays' order will struggle because despite the emergence of Alexis Rios, Frank Thomas is not getting any younger, and the team needs Wells to perform once again. Right now, Blue Jays fans must wonder whether they will get the .245/.304/.402 Wells of 2007 or the .303/.357/.542 Wells of 2006. Wells determines how dangerous the middle of the order is and the weight is on his shoulders to carry his load and much more.
Position Battle:
The biggest question mark surrounding the Blue Jays is the closer situation. With B.J. Ryan less than 11 months removed from Tommy John surgery on opening day, will he be the same closer he was? This is especially important as Tommy John surgery usually takes between 12 and 18 months to recover. If he is unhealthy or even if he just isn't the same pitcher, will Jeremy Accardo prove just as effective last year? He quietly got 30 saves last season, but then again a lot of closers are one time wonders. Then if Accardo closes, who sets him up? There is a lot of questions surrounding the pen and the Blue Jays hope that a closer will emerge that is surrounded by a solid supporting cast.
Up-and-Coming Prospects:
Dustin McGowan has already left his mark on the club with a solid performance last season. The same goes for Shaun Marcum. Both McGowan and Marcum should leave their mark on the Blue Jay organization for years to come. Outside of pitching, the Blue Jays possess two phenomenal hitters is outfielders Adam Lind and Travis Snider. Although Lind is clearly on the doorstep and ready to make an immediate impact, Snider will need a breakout '08 campaign in order to become a essential part of the '09 Jays. If Snider performs well enough this season, a September callup is not totally out of the question.
Outlook:
The Toronto Blue Jays have always had the talents and been predicted to finally break the Red Sox/Yankee hold on the AL East crown. Yet none of this ever happens, every year they seem to fall short. They will do so once again, yet this year they will slip to fourth place. If the Rays didn't have so much talent, the Blue Jays could certainly finish in third. The Blue Jays will probably play well within the division, but not well enough to secure a playoff birth.
Ad blocker interference detected!
Wikia is a free-to-use site that makes money from advertising. We have a modified experience for viewers using ad blockers

Wikia is not accessible if you've made further modifications. Remove the custom ad blocker rule(s) and the page will load as expected.