Article:MLB Season Preview: New York Yankees
Talk

0
Ad blocker interference detected!
Wikia is a free-to-use site that makes money from advertising. We have a modified experience for viewers using ad blockers

Wikia is not accessible if you've made further modifications. Remove the custom ad blocker rule(s) and the page will load as expected.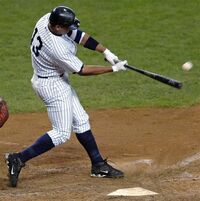 2007 Record: 94-68 2007
Finish: 2 nd AL East Projected 2008 Finish: 2 nd AL East Manager: Joe Girardi (1st Season)
Projected Lineup: 1. Johnny Damon LF 2. Derek Jeter SS 3. Bobby Abreu RF 4. Alex Rodriguez 3B 5. Jason Giambi 1B 6. Jorge Posada C 7. Hideki Matsui DH 8. Robinson Cano 2B 9. Melky Cabrera CF
Projected Rotation: 1. Chien-Ming Wang RHP 2. Andy Pettitte RHP 3. Mike Mussina RHP 4. Phillip Hughes RHP 5. Ian Kennedy RHP SU Joba Chamberlain SU Kyle Farnsworth CL Mariano Rivera
Departures: Luis Vizcaino (Rockies), Roger Clemens, Ron Villone (Cardinals), Doug Mientkiewicz (Pirates), Tyler Clippard (Nationals), Andy Phillips (Reds)
'Arrivals: ' LaTroy Hawkins, Morgan Ensberg, Jason Lane, Jonathan Albalaejo, Scott Strickland, Chris Woodward, Bernie Castro, and Nick Green
X-Factor: Pitching will dictate how far this team goes. This seems quite obvious and isn't a real X-factor, but with 2 rookie pitchers in the rotation now and a third expected come mid-season a lot of questions are in the air. Also when Chamberlain moves to the rotation as expected who is going to be the bridge to Rivera and how effective will Rivera be as age has certainly taken its tole.
'Position Battle: ' When Jason Giambi fails again at first base and the Yankees realize that he needs to DH, who will be bumped from the outfield. The outfielders will certainly battle in out for a starting spot, unless injuries solve the problem by itself with this aging outfield outside of Melky Cabrera.
'Up-and-coming Prospects: ' Outside of the obvious trio of Phil Hughes, Joba Chamberlain, and Ian Kennedy the Yankees also posses additional young talent that allowed them to make a run at Johan Santana. Starting pitcher Alan Horne will certainly be fighting for his spot in the Yankee rotation or bullpen come season's end. Outfielders Austin Jackson and Jose Tabata could also make a run for some playing time if injuries plague the Yankee outfield.
Outlook: The Yankees certainly have some prime talent coming through the system, but it appears that the Yankees will have to rebuild for a few years to become serious contenders just like the Red Sox in '05 and '06. The Yankees will contend for the wild card but will ultimately fall short. However, they could sneak in the playoffs but can only go as far as their young pitching will take them.