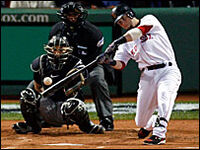 2007 Record: 96-66
2007 Finish: 1st AL East
Projected 2008 Finish: 1st
AL East Manager: Terry Francona (5th Season)
Projected Lineup:
1. Jacoby Ellsbury CF
2. Dustin Pedroia 2B
3. David Ortiz DH
4. Manny Ramirez LF
5. Mike Lowell 3B
6. J.D. Drew RF
7. Kevin Youkilis 1B
8. Jason Varitek C
9. Julio Lugo SS
Projected Rotation:
1. Josh Beckett (RHP)
2. Daisuke Matsuzaka (RHP)
3. Tim Wakefield (RHP)
4. Jon Lester (LHP)
5. Clay Buchholz (RHP)
SU Hideki Okajima
SU Manny Delcarmen
CL Jonathan Papelbon
Departures: Eric Gagne (Milwaukee Brewers) and Eric Hinske (Tampa Bay Rays)
Arrivals: Sean Casey, David Aardsma, Danny Kolb, and Bartolo Colon
X-Factor: As of now, the Red Sox may have two X-factors in J.D. Drew and Jason Varitek. If Drew can return to the player he was in his final years in Los Angeles, his final one in particular, he would certainly boost the Red Sox offense and provide protection for Ortiz and Ramirez. Drew is especially important as many speculate Lowell will not perform nearly as well as he did this past season. However, if Jason Varitek were to get hurt the Red Sox would be in certain trouble as seen in the closing months of 2006. Varitek is clearly the leader and catalyst of this team and his loss would be detrimental to the team.
Position Battle: Manager Terry Francona is adamant that the centerfield job is up for grabs with Coco Crisp having just as much of a chance as Jacoby Ellsbury. However, after yet another anemic year at the plate Coco Crisp seems ready to move on if he fails to win the starting job. Fan favorite Jacoby Ellsbury ignited the Red Sox on their comeback from down 3-1 to the Cleveland Indians to win seven straight games and capture Boston's second World Series in four years. Jacoby Ellsbury is clearly the future centerfielder; the question is whether his future is now or if he will spend a year as a platoon player across the outfield.
Up-and-coming Prospects: Outfielder Brandon Moss seems ready to play a role on the major league roster, however with Coco Crisp still on the team and Bobby Kielty signed, Moss seems hard pressed to break camp with the team. However, Red Sox fans will certainly see plenty of Moss later this year and more in the future. Another interesting player is Jed Lowrie, and although Lugo is set as the starting shortstop, a few stumbles along the way could catapult Lowrie into the starting job. The Red Sox also look forward to seeing Justin Masterson in some sort of role with the team later this year whether in the rotation or in the bullpen. The Red Sox rotation looks crowded already with Bartolo Colon, Julian Tavarez, Kyle Snyder, and Clay Buchholz all vying for the final spot not to mention the possibility of Curt Schilling returning some time this year. Masterson will probably go to the pen where he will be most beneficial to the team.
Outlook: Overall, the Boston Red Sox have a very deep team and expect to contend this year once again. The Red Sox have the best chance of any team thus far this decade to repeat as world champions. Expect another phenomenal season from this veteran team blended with exciting young players. If this team can avoid a spell of injuries as they did last year, they chances to repeat are as good if not better than any team to win the World Series.
Ad blocker interference detected!
Wikia is a free-to-use site that makes money from advertising. We have a modified experience for viewers using ad blockers

Wikia is not accessible if you've made further modifications. Remove the custom ad blocker rule(s) and the page will load as expected.