MLB Report (5/5/08)
Well, I haven't written a Baseball article in quite a while. So, why not give you Baseball fans a quick report on how the 2008 season has gone so far.
Who's Hot:
Arizona Diamondbacks (21-10):
Arizona has the best record in the majors, and their bats are absolutely on fire. Arizona has the 6th most HR's (36), and is 2nd in RBI's (172), 7th in BA (.272), and 6th in OBP (.350) in the Majors. The D'Backs are 2nd in overall scoring as well (179 runs; 10 behind the Cubs).
St. Louis Cardinals (20-12):
St. Louis is off to a pretty decent start after having a disastrous 2007 season. It seems as though STL slugger, Albert Pujols is just getting in the swing of things, and should end up having the usual Pujols-like season. St. Louis is currently 5th in the League in BA with a team average of .277.
Boston Red Sox (20-12):
The Sox are tied for the second-best record in the Majors, along with STL and LAA. Boston is on a 3-game win streak, and is second only to Atlanta in team BA (.286). Boston's bats have really come alive as of late, and I look for them to continue to do so to protect their 3-game lead over the Rays, O's, and Yanks.
Who's Not:
Seattle Mariners (12-19):
The M's are on a 5-game losing streak, and their bats have been struggling lately. Ichiro hasn't made much noise, and Richie Sexson is currently at the Mendoza line. Seattle is 21st in the MLB in scoring. Seattle's pitching, as a team, has been poor too. You add a high ERA, and little run support, and you've got a recipe for losing.
Cincinnati Reds (12-20):
Cincy's pitching really knows how to strike batters out (1st in K's with 244), but gives up too many runs (4.77 team ERA). When you have a poor hitting team, it doesn't really matter how many guys Cincy can strike out. The Reds are 23rd in runs scored, and have just a .322 OBP (20th in MLB). Cincy is 8 games under .500, and are 8 games behind the first-place Cards in the Central.
San Diego Padres (12-20):
The Pads are tied for the worst record in the Majors (12-20; with Reds). Jake Peavy, and future HOFer Greg Maddux are really the only aces the Pads have in their rotation. Chris Young isn't quite up to their level just yet (3.63 ERA, and a 2-2 record thus far this year). Trevor Hoffman has struggled coming out of the pen (6.52 ERA, and 2 blown saves in '08), and the Pads find themselves with 3 pitchers on the DL. San Diego is 9.5 GB the first-place D'Backs out West.
Stats:
American League
Batting Average:
Victor Martinez (CLE)- .347
Joe Mauer (MIN)- .333
Casey Kotchman (LAA)- .330
Hideki Matsui (NYY)- .324
Milton Bradley (TEX)- .320
Wow, a pair of catchers at the top of the list.
HR's:
Carlos Quentin (CHW)- 8
Joe Crede (CHW)- 7
Carlos Pena (TB)- 7
Mike Napoli (LAA)- 7
Jim Thome (CHW)- 6
I wouldn't have expected this, not just one, but THREE Chicago White Sox are in the top 5.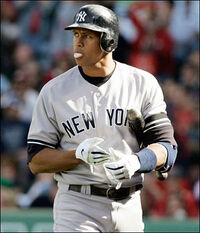 RBI's:
Josh Hamilton (TEX)- 33
Emil Brown (OAK)- 26
Justin Morneau (MIN)- 25
David Ortiz (BOS)- 24
Manny Ramirez (BOS)- 23
Not surprised that both Manny, and Big Papi are in the top 5.
Wins:
Joe Saunders (LAA)- 6
Chien-Ming Wang (NYY)- 6
Ervin Santana (LAA)- 5
Cliff Lee (CLE)- 5
Jon Garland (LAA) 4
Joe who??? LA's pitching dominates.
ERA:
Cliff Lee (CLE)- 0.96
Zack Greinke (KC)- 1.47
Ervin Santana (LAA)- 2.48
Daisuke Matsuzaka (BOS)- 2.52
Greg Smith (OAK)- 2.54
A Starting pitcher with an ERA under 1.00? That's hard to believe.
Saves:
Francisco Rodriguez (LAA)- 13
Joe Nathan (MIN)- 11
George Sherrill (BAL)- 11
Jonathan Papelbon (BOS)- 9
Huston Street (OAK)- 9
I see B-More finally got a decent closer.
National League
Batting Average:
Chipper Jones (ATL)- .425
Rafael Furcal (LAD)- .369
Albert Pujols (STL)- .358
Chase Utley (PHI)- .357
Miguel Tejada (HOU)- .349
Chipper having a nice start to the season.
HR's:
Chase Utley (PHI)- 13
Lance Berkman (HOU)- 10
Chipper Jones (ATL)- 9
Pat Burrell (PHI)- 9
Derek Lee (CHC)- 8
What's with the sudden power surge, Chase???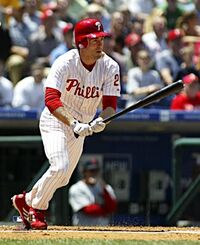 RBI's:
Lance Berkman (HOU)- 31
Pat Burrell (PHI)- 30
Xavier Nady (PIT)- 30
Chipper Jones (ATL)- 27
Chase Utley (PHI)- 26
A Pirate made the top 5?! That's so awesome!
Wins:
Brandon Webb (ARI)- 7
Aaron Cook (COL)- 5
Mark Hendrickson (FLA)- 5
Brad Penny (LAD)- 5
Jake Peavy (SD)- 4
Webb is proving why he is one of the most dominate pitchers in the West.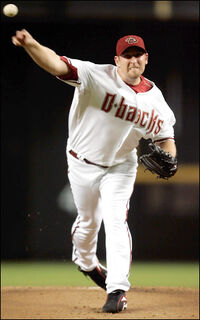 ERA:
Edinson Volquez (CIN)- 1.27
Tim Linecum (SF)- 1.49
Carlos Zambrano (CHC)- 2.11
Jake Peavy (SD)- 2.22
Ben Sheets (MIL)- 2.29
This Edinson guy came out of nowhere.
Saves:
Brian Wilson (SF)- 10
Jason Isringhausen (STL)- 10
Brandon Lyon (ARI)- 9
Eric Gagne (MIL)- 9
Brad Lidge (PHI)- 7
Can Gagne, Lidge make a legit comeback?
Awards:
MVP
AL: The AL hasn't had ANY dominant hitters so far this year. Therefore, my MVP award (if the season ended today), goes to Manny Ramirez for his overall performance. Manny has a BA of .317, and has 6 HR's (6th in AL). But, he would be an unusually weak MVP winner.
NL: The NL has been much more exciting. Utley, Chipper, Pat Burrell and Lance Berkman all make excellent choices. My MVP would go to Chase Utley, who leads the Majors with 13 HR's, and has hit 26 guys in, his BA is an impressive .357, as well. Second goes to Lance Berkman (10 HR's, 31 RBI's, .325 BA, 4 SB), and third is Chipper Jones, who has made an excellent comeback (9 HR's, 27 RBI's, .425 BA, 0 SB).
Cy Young
AL: Cliff Lee of the Cleveland Indians has a record of 5-0, and leads the Majors in ERA (0.96) in 5 starts. I'd say that's pretty impressive, and he'd get my vote for the AL Cy Young.
NL: Jake Peavy has a 4-1 record with a 2.22 ERA (6th in MLB), despite being on the worst team in the entire leauge. Peavy would definitely be the NL Cy Young...again.
If the Playoffs started today...
AL
East: Boston (20-13)
Central: Minnesota (16-14)
West: Los Angeles (20-13)
Wild Card: Oakland (19-14)
NL
East: Philadelphia (18-14)
Central: St. Louis (20-12)
West: Arizona (21-10)
Wild Card: Chicago (18-13)
ALDS
Boston over Oakland
Oakland back in the playoffs?? Sorry, but Boston's is too experienced, and won't get knocked off in the first round.
LA over Minnesota
The Angels pitching will dominate Twin hitters.
NLDS
Arizona over Chicago
Sorry Chicago, but Arizona will keep the curse going.
St. Louis over Philadelphia
I think STL is back to their 2004-2005 form, Pujols and Co. will rock the young Philly pitchers.
ALCS
LA over Boston
Boston's repeat hopes end in LA.
NLCS
Arizona over St. Louis
Once again, the D'Backs are too dominate in both fields (Pitching, and Hitting).
World Series
Arizona over LA (4 games to 2)
What can I say? I guess, as of right now, May 5th, the D'Backs are unstoppable. Arizona wins the May World Series.
MVP: Chris Young
Arizona is Baseball's best team
Look for these reports monthly (...I hope!). Have a good day.
Ad blocker interference detected!
Wikia is a free-to-use site that makes money from advertising. We have a modified experience for viewers using ad blockers

Wikia is not accessible if you've made further modifications. Remove the custom ad blocker rule(s) and the page will load as expected.