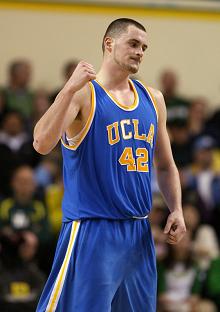 At around 4:30 PST, I am usually turning on my computer to check on the latest sports news from the NBA playoff races to even the MLS regular season. It is nearly a sacred ritual that will not be interrupted unless the Los Angeles area is under seige from some foreign nation with a vast arsenal of nuclear weapons.
While checking Sports Illustrated this afternoon, I found one particular news story to be quite the comic relief: Love to Go Pro. Yes, this is the same Kevin Love who led the Bruins to the Final Four while averaging 17 points and 10 rebounds. Yes, his college statistics were pretty gaudy but by no means does that make him good enough to declare for the NBA Draft. In fact, Love may be ruining any chance of becoming a legitimate NBA player by declaring a year or two early for the Draft instead of staying in Westwood.
Love, whose body types bears a strong resemblance to the pillsbury doughboy, is in no where near the proper conditioning level to play a full 82 game NBA schedule. While Love is listed at just 260 pounds, it would not be surprising to learn that he is actually closer to 275. Love's camp will likely dismiss the weight argument on the fact that he is still able to play at a high level even with carrying a few extra pounds. The reality of the matter is that too many "fat" college basketball players have become NBA busts because of their inability to control their weight. Sean May and Robert "Tractor" Taylor are two players that immediately come to my mind. Like it or not, Love's "extra baggage" will pose a major problem when he enters the pros.
While his weight should serve as a major concern, his height posses the most glaring problem of all. At 6′8″ Love is a typical NBA small forward but at UCLA Love played exclusively at the center position. In the association, Love will find himself forced to play on the perimeter, which he rarely showed the capability of doing in college. Yes, Love showed that he was capable of hitting a three pointer but this does not necessarily translate into a future wing player. Against quick teams like Memphis, USC, and Washington, Love was exposed as an inferior player when stationed away from the basket. Love was severely limited offensively by more athletic big men, Davon Jefferson and Joey Dorsey, who forced Love to play on the perimeter.
What is even more scary is watching Love try to defend wing players. Against quick agile big men, such as Taj Gibson, Love was incapable at times of defending them on the wing. How in the word will Love be able to guard the Al Thorntons, Lamar Odoms, and Travis Outlaws of the NBA?
While Love certainly has some flaws, he is credited with having some strengths, such as hit outlet pass. However, to make an outlaw pass it is 100% necessary to first secure a rebound. How will Love perform such a task in the NBA weer the big men are stronger and the small guys are quicker. When faced against a 6′7″ small forward, Love will easily be out of position against a smaller more, agile player. When faced up against a towering seven footer, Love will be pushed out of position. Love's height makes him a tweener, which will make his biggest asset, the outlet pass, impossible to succeed on the pro level.
All of Love's problems weight, quickness, and agility, can be easily fixed by an offseason full of grueling workouts on the track and in the weight room. For Love to succeed on the next level he must become proficient in all of the areas but if he does not you are looking at the next Tractor Taylor.
Ad blocker interference detected!
Wikia is a free-to-use site that makes money from advertising. We have a modified experience for viewers using ad blockers

Wikia is not accessible if you've made further modifications. Remove the custom ad blocker rule(s) and the page will load as expected.