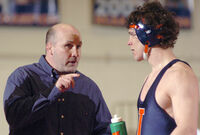 By Jason Bryant
Wrestling 411
No longer will the University of Illinois have an imposing face standing behind Mark Johnson on the Fighting Illini bench.
The imposing face and stature of Jim Heffernan will be at the forefront of the new coaching era in Champaign as Heffernan was announced as the new head wrestling coach in a Tuesday press conference.
"I am pleased to announce Jim Heffernan as our head wrestling coach," Guenther said in a release issued by the Illinois sports information office. "Jim has been an assistant in our program for the past 17 years and was an integral part of the program's success. He has displayed exceptional loyalty and has a great understanding of the University of Illinois. Jim had an exceptional career as a collegiate wrestler and is well respected in the wrestling community. I look forward to working with him to advance our program to the next level."
Guenther opened the press conference remarking about the third new head coach the Fighthing Illini Athletic Department has had to hire this year.
"I hope it's the last one," Guenther joked.
Kevin Hamby and Justin Spring were hired this year as well. Hamby heads up the women's volleyball program, while Spring took over men's gymnastics.
Heffernan, an assistant coach for Johnson at Illinois for 17 seasons, served under Johnson for 19 years in all, spending two seasons as Johnson's assistant at Oregon State.
"It's been a long month. One month ago, I had a full head of hair and looked a lot different than i did now," chortled Heffernan.
Johnson led the Fighting Illini to a 203-44-3 record during his tenure.
This is Heffernan's first head coaching position.
It's one of those things. It's always a goal," said Heffernan of becoming a head coach. "You want to be a leader of a program."
"I love being at Illinois, I wasn't in any hurry," he said. "Often times, what happens, you get started and you get caught up in your own success and you wake up 17 years later. For me, I have a great job. I have great kids, a great situation and an administration that supports us.
"I can positively speak about Illinois. I can talk about all the things we've done in the past 17 years, that gets me excited about being here," he said.
Heffernan stated before being asked that Carl Perry, the 2000 NCAA Champion at 141 pounds, will remain on staff at Illinois. Perry also applied for the job and was a two-time All-American under Johnson.
The rest of the staff is yet to be determined.
"The second assistant position will be open," said Heffernan. "Jeremy (Hunter) will apply and we'll see how it goes."
Mike Poeta's status on the coaching staff was brought up, but Heffernan said he wasn't sure what his role would or could be, but he plans on staying in Champaign to train for World and Olympic teams.
Heffernan will look to continue building upon the foundation Johnson brought to Champaign.
"I think we've done a lot of good things over the past 17 years," said Heffernan. "There's a few things Carl and I will talk about in the next couple of days. They might not be major things, but Mark and I have a very similar philosophy. I might view things differently, but we'll talk about changes that need to be made."
Heffernan will lean on Johnson for advice, as expected.
"I'm a smart guy, but I don't have all the answers," said Heffernan. "For 17 years, this was his baby. I'm sure he'd like to see it continue."
The Illini return starters B.J. Futrell (125), Jimmy Kennedy (133), Ryan Prater (141), Eric Terrazas (149), John Dergo (174), Jordan Blanton (184) and Patrick Bond (197).
Kennedy is the lone All-American returning from a team which finished eighth in 2009 and graduates All-Americans Poeta (157) and John Wise (285).
Heffernan becomes the 14th coach in program history. A four-time All-American at Iowa and 1986 NCAA Champion, Heffernan is now the 16th former Hawkeye to be a head coach at a four-year college program. Thirteen of those 16 are in Division I.
Posted at wrestling411.tv
Ad blocker interference detected!
Wikia is a free-to-use site that makes money from advertising. We have a modified experience for viewers using ad blockers

Wikia is not accessible if you've made further modifications. Remove the custom ad blocker rule(s) and the page will load as expected.