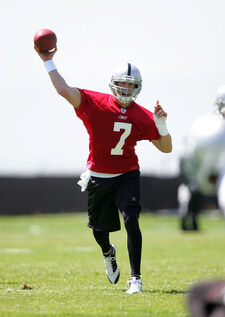 Generally speaking, I am always a little skeptical when athletes start making public pleas for more playing time or more money. Often times, they have their own interests in mind, not those of their fellow teammates. But for once it seems as if I am agreeing with one of them, new Oakland Raiders quarterback Jeff Garcia.
In a recent radio interview with Chris Myers of Fox Sports, Garcia said that he believes he gives the Raiders the best chance of winning in 2009:
"Well, I'm not going to say that things can't change and I understand that the role I have basically assumes going into Oakland knowing that JaMarcus was drafted to be the starting quarterback there. But I think there has to be some realization at some point as to putting the best players on the field that are you going to give you the best chance to win.
"Now, if JaMarcus is that guy, then he definitely deserves to be on the field and should be on the field. But if for some reason with what I bring as a player, from a competitive nature, and just the intensity and emotion that I bring to the field, and the knowledge of the game that I have - if that gives us a better chance to win football games, then that decision is going to have to be left up to the coach and hopefully he can make the right decision for the team.
"Because that's really what it's all about - it's about the team, it's not about protecting egos, or protecting investment dollars, it's about what's going to give this team a chance to win football games. And honestly, if JaMarcus can be that guy, then more power to him, because that's what he was drafted to do for the team. But it doesn't always seem to work out that way."
While there is no question that Garcia is limited as a passer, I do agree with him when he says that he gives the Raiders a better chance of winning than Russell. Garcia has infinitely more experience as an NFL starter, and Russell has only shown vague flashes of potential so far in his short career.
Over the past few seasons it has become clear that Garcia does one thing extremely well. He wins football games. In 2006, after Donovan McNabb was sidelined with an injury, Garcia replaced the all-pro quarterback and led the Eagles to the playoffs with a completion percentage over 60% and a touchdown to interception ratio of 5:1. A year later, Garcia signed with the Tampa Bay Buccaneers, led them to the playoffs, and earned a trip to the Pro Bowl as a result. In 2008, the Bucs failed to make the playoffs with Garcia at the helm, but the veteran QB did lead them to a 9-7, one game shy of the playoffs. His stastical performance wasn't too bad either, as he threw 12 touchdown passes and posted a solid quarterback rating of 90.2.
Just by looking at their track records, it would seem clear that Garcia is the better quarterback, and therefore, the odds on favorite to earn the starting job. However, one thing complicates things, JaMarcus Russell's contract. When Russell became the number one overall pick in 2007, he signed a deal worth reportedly $68 million, with $31.5 million guaranteed. Because of this, there is absolutely no way that Al Davis is going to allow his prized investment sit on the bench, even if Garcia is the better quarterback.
Ad blocker interference detected!
Wikia is a free-to-use site that makes money from advertising. We have a modified experience for viewers using ad blockers

Wikia is not accessible if you've made further modifications. Remove the custom ad blocker rule(s) and the page will load as expected.