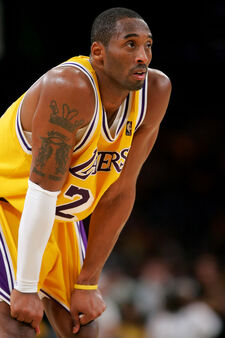 With the upcoming Lakers-Celtics finals, I, as a Lakers fan, thought it would be interesting to see what the Celtics fans have to say about the upcoming series. Therefore, I have asked MegECass110, a Boston sports fan and current student at Syracuse University, some questions about the upcoming series. Thanks to Meg for her participation.
1. It's been twenty-one years since the last Lakers-Celtics finals. What is your favorite memory of this historic rivalry?
I'm only 21, and I only recently became an NBA person, so I'll go with Larry Bird waving his towel around in front of the bench like a 12 year old.
2. Due to having the league's top record during the regular season, the Celtics have earned home court advantage. How much of a difference does this make?
Home court is going to be huge for the Celtics, as it has been throughout the playoffs. Celtics fans have been basketball-starved for basically the last 20 years, so the Garden is going to be electric, no doubt. And since they've had such a hard time winning on the road, this series is dangerous. Instead of the 2-2-1-1-1 format, it's 2-3-2, so it's 2 in Boston, then three in LA. then 2 in Boston again, if necessary. It's not out of the question for Boston to come back from LA (or get eliminated) down 3-2 and facing elimination, something they haven't done all season.
3. The Celtics Big Three is relatively inexperienced in the playoffs and none of them have ever appeared in the NBA Finals. How much does experience and inexperience factor in this matchup?
Honestly, all the experience they've gained in these playoffs--weathering 2 game 7s, surviving LeBron James, beating Detroit twice on the road--has been huge. They may be tired now, but all the struggles have strengthened them, I think. And these are veteran guys we're talking about. They're not satisfied with an Eastern Conference Championship. They know they are far from finished.
4. At times Rajon Rondo has looked brilliant, attacking the basket and creating shots for his teammates. However, he has also appeared to be lost on the court at times. Which Rondo will show up?
Rajon, Rajon, Rajon... Remember, he's only in his 2nd year in the league. We'll probably see a little bit of both, like we have throughout the playoffs. The one guarantee is that he will make plays for his teammates; even if he can't shoot, he'll still rack up a bunch of assists (he leads the team). As far as his offense is concerned, it's frustrating. He is so quick and shifty, yet when he uses this to get to the hoop, he sometimes passes the layup to get it to KG and Paul Pierce. Can you blame him? I think he will start to gain more confidence in his shot, and will become a more complete point guard next year. But above all, his defense on Derek Fisher is going to be key if the Celtics have a chance. He played Chauncey Billups well in the Detroit series, we'll see what happens against LA. Rajon is one of those guys I've latched onto, for placing his priority on passing and defense, because he realizes he doesn't need to score a ton. It's a sign of maturity and recognition of his game's limitations.
5. How can Boston slow down Kobe Bryant?
They can't. Put seven guys on the floor. That's the only way. Rip Hamilton lit up the Celtics consistently. There's no reason he won't score 35 a game in this series. The only man who can stop Kobe is Kobe himself (if he has a bad shooting night). It'll probably be Ray Allen on him most of the time.
6. During the 4th quarter of Game Six against the Pistons, Ray Allen was sitting on the bench for various periods of time. Is this a typical substation pattern? What's the deal here?
Doc Rivers has no regular substitution patterns, so I don't really pay attention to that sort of thing.
7. Kendrick Perkins was very effective in terms of rebounding against the Pistons. How much of a problem will he pose for the Lakers big men, Lamar Odom and Pau Gasol? He is a beast on the boards. I think because of his size and strength, he poses a formidable threat to Odom and Gasol. More importantly than Perkins is Garnett, who could outrebound them all. No matter how hard I try, I can't picture Gasol beating out KG for a rebound. Can you? I wouldn't call him soft, but there is no way KG is letting a skinny Spaniard beat him for a board. Odom was great in Utah, but I don't think he'll have as much success in this series.
8. Boston Sports Guy Bill Simmons wrote this week that the Celtics are no match for the Lakers because LA has a hall of fame player Kobe Bryant and a hall of fame coach in Phil Jackson. Is he on the money or is he falling off his rocker? Who do you have taking home the title? Sports Guy going with reverse jinx, I like it. If Kobe is on, like 40-a-game on, the Lakers will win. But I think Boston is the better team. They're more balanced, they play better defense, they're tougher, they're more experienced, they've faced better competition in these playoffs, and they have three players who have played their asses off their entire careers, more than 30 years combined, to win a single championship. Boston in 7.
Ad blocker interference detected!
Wikia is a free-to-use site that makes money from advertising. We have a modified experience for viewers using ad blockers

Wikia is not accessible if you've made further modifications. Remove the custom ad blocker rule(s) and the page will load as expected.