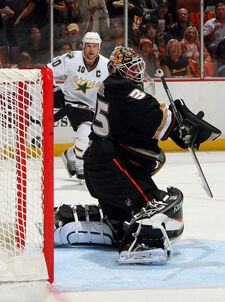 Ducks Falling With their 5-2 loss last Saturday night to the Dallas Stars, the Ducks are just two losses away from ending their their reign as Stanley Cup champions. It's certainly a tough task to win back to back Stanley Cup titles in this era's NHL with the Red Wings being the last team to accomplish such a feat in 1997 and 1998. However, what is most embarrassing aspect of the Ducks sudden collapse is the fact that they look sluggish on the ice for most of the game. In Game 2, they were sloppy and passive when they needed to be precise and aggressive. Other than a brief display of energy that allowed them to tie the score at two, Anaheim looks rather emotionless, a far cry from last season's emotional run to the Stanley Cup finals.
In my opinion, the main cause for the Ducks' lackadaisical performances in Games 1 and 2 was pyscological effects. After winning one title a team will largely be content with their performance and a little too relaxed because in their minds they have already done this before. With championship rings sitting at home, teams can develop a sort of relaxation and ease that may not have been there the season before. I am not sure if this is actually the case for the Ducks players because I am not a mind reader but it is a fairly likely scenario.
Andruw Jones: Baseball's Oliver Miller I think that Dodgers center fielder Andruw Jones is trying to become the baseball version of Oliver Miller. Miller was a 300 pound center for the Toronto Raptors who became infamous for leaving the team bench to eat some pizza during a games. When Jones reported to Dodgertown this spring, it was discovered that the Dodgers's $18 million dollar investment was several pounds overweight. However, Jones seemed to downplayed his weight game. However, Jones is proving that the weight game might have something to do with his poor performance so far this season. Through two weeks and twelve games, Jones is batting .100 with 1 RBI, 0 HRs, and 3 Runs. Talk about a valuable investment for the Dodgers. I don't want to write a player off the books after just two weeks but his play so far has been absolutely horrendous.
Lakers Need Bynum Back Badly I am beginning to question how far the Lakers can advance in the playoffs without a serious interior presence in Andrew Bynum. Bynum's shot blocking presence in the key helped improved the Lakers defense so much and it should have made him a serious defensive player of the year candidate. For one, the Lakers guards, Derek Fisher, Jordan Farmar, and Sasha Vujacic, have to sag off a bit while playing defense against guys like Chris Paul, Tony Parker, and Jason Kidd, because there is no reliable shot blocking presence to back them up. With Bynum in the key the Lakers were able to play more aggressively and cause turnovers. Without Bynum I question how well the Lakers will be able to play defense and maintain leads in the playoffs.
Torii's 100% Correct Angels outfielder Torii Hunter was absolutely correct when he said that Major League Baseball is ruining the significance of Jackie Robinson Day by allowing all players to sport #42 jerseys. This is a special honor that should not be taken lightly by players, management, and the commissioner. Last year was the 60th anniversary of Robinson breaking the color barrier. However, MLB went overboard when it allowed players on any team to sport #42 jerseys. The Dodgers, Robinson's original team, should have been the only team allowed to wear Robinson's number. If everybody wears #42, what is the significance of that?
Ad blocker interference detected!
Wikia is a free-to-use site that makes money from advertising. We have a modified experience for viewers using ad blockers

Wikia is not accessible if you've made further modifications. Remove the custom ad blocker rule(s) and the page will load as expected.