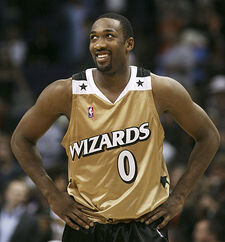 Agent Zero Homecoming
According to the Los Angeles Times, there is a strong possibility that All-Star point guard and upcoming free agent Gilbert Arenas could return to his hometown of Los Angeles to play for the Lakers or even more likely the Clippers. I find it hard to believe that the Lakers would actually try to obtain Arenas due to the fact that they already have four All-Star caliber players (Kobe Bryant, Pau Gasol, Lamar Odom, Andrew Bynum) in the starting lineup and have limited money to sign a player who would command Arenas's salary. However, I think Agent Zero representing Clipper Nation is an intriguing scenario because he would make them a serious contender for the Pacific Division crown.
While it's hard to imagine any 23-53 team actually competing for a divisional title in the Western Conference, the Clippers could certainly do so with the addition of Arenas and the return of a healthy Elton Brand, Chris Kaman, and Shaun Livingston. The Clips have been decimated by injuries this season with, Brand, a typical 20-10 guy and an All-Star, missing over seventy of the team's games. The promising young point guard Livingston, who was the third pick in the 2005 draft, has missed the entire season due to a knee injury. A starting five of Cuttino Mobley, Al Thornton, Brand, Kaman, and Arenas, could make the Clippers a dangerous team next year.
Leinart Having Too Much Fun
Matt Leinart will always be remembered at USC for leading the Trojans to a 34 game winning streak, capturing two national titles, and winning the Heisman Trophy, but his image in the Valley of the Sun is beginning to take a beating after several promiscuous pictures surfaced on thedirty.com. In one of the pictures, a young girl is seen guzzling beer from a beer bong held by none other than Leinart. What if that girl is under 21 and wrecks her car on the way home from the party. I am sure that Leinart was not checking IDs at the door and there is no guarantee that all the people attending the party were of drinking age. If any of the girls were found to be drunk by local authorities, it is likely that Leinart could find himself treading in some deep water for serving alcohol to minors. The evidence would be overwhelming. While there is nothing wrong with having a good party, the leader of a pro football team needs to have some maturity and sound judgement on and off the field. These latest photos simply reinforce old stereotypes regarding Leinart's Hollywood tendencies and raise some questions regarding his leadership ability. With his one-year old son living with his mother in Los Angeles and his football trying to make the playoffs in 2008, it seems that Leinart could be doing some more productive things this offseason.
Dodgers Rookie Impressive
At 33 years old, Hiroki Kuroda isn't the typical rookie pitcher, but nonetheless, he still looked impressive in his debut against the San Diego Padres, on Friday night. Kuroda, who claimed to be nervous before the game, out-pitched the legendary Greg Maddux by holding the Padres to just three hits over seven innings. The rookie from Japan used a fastball-slider combination with an occasional splitter strike out four batters and allowing just one run. Last year the Dodgers really had just two reliable pitchers in the rotation with Brad Penny and Derek Lowe. Now with the addition of Kuroda and the continual improvement of Chad Billingsley, the Dodgers may actually have a formidable pitching staff this season.
Odom Stepping Up
With a must needed win against the Dallas Mavericks, Lamar Odom proved to Laker fans that he is surely capable of stepping up when the game is on the line. Odom score 31 points, three shy of his career high, on a remarkable 12 of 14 shooting. Phil Jackson was complementary of his Odom, stating, "[He] had a remarkable game. It was a tough cover for Nowitzki, coming back from that ankle injury, and Lamar exploited it." With the arrival of Pau Gasol, many people have forgotten about Lamar Odom, who was expected to be the next Scottie Pippen when he first arrived in Los Angeles back in 2004. While those expectations may have been a little unrealistic, Lamar has certainly been capable of exploiting mismatches since the Pau trade. If the Lakers are to seriously contend for the NBA title, they will need more of these Pippenesque performances from Odom.
Ad blocker interference detected!
Wikia is a free-to-use site that makes money from advertising. We have a modified experience for viewers using ad blockers

Wikia is not accessible if you've made further modifications. Remove the custom ad blocker rule(s) and the page will load as expected.