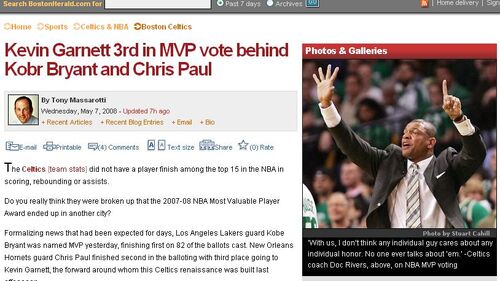 Unless you've been hiding under a rock, Manny, LASB, Kels, and myself have had some discussions about whether or not Kobe Bryant is overrated. Manny and Kels think he is overrated, LASB and I believe he is not.
The MVP voting results came in and I'm disappointed Kobe ran away with the award. Chris Paul had a remarkable season, his team is halfway home to eliminating the Spurs, and he had 28 first place votes, while Bryant had 82, Kevin Garnett had 15, and LeBron James got 1. That should've been a closer race, but Bryant still gets his award. The more I look at his numbers and how the Lakers have turned it around in a couple of years, the more I think Kobe deserves the MVP.
He Only Became Good Because of Shaq
I know Shaq won 4 rings and has been to 6 NBA Finals, and the Kobe haters and skeptics think that Shaq pretty much picked him up throughout and as soon as he left he took a tumble. It was true for 1 season, Bryant still made the playoffs (albeit barely) two years in a row with a very weak supporting cast (remember Kwame and Smush Laker fans?). Andrew Bynum did not develop fully in that time, and Kwame was just garbage. He had no center to work with, but along came a guy named Pau Gasol. He has filled in the role of Shaq to the point where I think he is better than Shaq. Bynum's injury is unfortunate, but Bryant finally had a veteran center and the team got the #1 seed in the Western Conference.
Any basketball team nowadays is not going to succeed without a good center. I can take that same Shaq argument and call Dwyane Wade overrated. Wade won MVP of the Finals granted, but Shaq was on the team and the Heat made it to the playoffs all 3 seasons when he was on board (save for this season when he was traded). Wade has done nothing since that and he will continue to struggle because the Heat no longer have a competent center.
Bryant Only Got Better Because He Got Better Teammates
Well I hope he gets better with better players not the team. Do you guys think Kobe is like a god of some sort? When Shaq left, they missed the playoffs, blame Kobe. What is he supposed to do, how is he going to magically turn the ship around? The next year they made the playoffs so out went that argument. When is the last time you have seen a contender that is not the Cleveland Cavaliers have a great team with just 1 good player? I thought so. Better players means a better team, and a better team means the star works with better teammates. The star is Kobe Bryant, and he is clicking with Pau Gasol and Jordan Farmar so effortlessly.
Bryant Did Not Deserve the MVP
That's a tough one to debate. It's highly difficult to argue this one, but I have taken a closer look at Bryant's achievements and yes, he does deserve the MVP award.
But SSR, he's a ballhog. Oh is that so?
Kobe Bryant played and started in all 82 games this season. He took 67 fewer shots this season than last season, in which he played and started in 77 games! He has decreased how many shots he has taken, and had 441 assists and was 19th in the league. LeBron James was 7th in the league yet his team won only 45 games, the Lakers won 57. Well what the heck happened there? This is coming from a SHOOTING guard, not a guard.
He averaged 1.8 steals a game versus 1.4 from last season. Bryant has cut his turnovers down significantly from 2004-05, which was at 4.1. Bryant snagged 68 more rebounds in 2007-08 with 517, a career high.
Finally, He Didn't Turn His Teammates Into Hall of Famers or Great Players at a Minimum
Talk about jumping the gun. This is his 4th year in the post-Shaq era, he still has 4 or 5 years left in him, maybe more, and you expect him to do that when he has continuously witnessed the likes of Caron Butler, Kareem Rush, Smush Parker, and many more leave. This is his first full year with a great team, give him another year and I'll guarantee you he'll make his teammates better.
Rant away guys.
Ad blocker interference detected!
Wikia is a free-to-use site that makes money from advertising. We have a modified experience for viewers using ad blockers

Wikia is not accessible if you've made further modifications. Remove the custom ad blocker rule(s) and the page will load as expected.