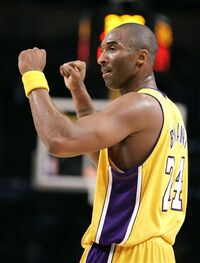 The Los Angeles Lakers took game one of the NBA Finals against the Orlando Magic, 100-75.
The Magic couldn't find an answer for Lakers guard, Kobe Bryant. He finished with 40 points, 8 assists and 8 rebounds. Magic's head coach, Stan Van Gundy, understood his teams problem defending Bryant.
"He was great. He was tremendous," said Van Gundy. "We were giving him too much space on his pull-up jumpers and he did a good job of attacking us. I know this: We are a lot better than we showed."
After a great performance, Bryant believes his team needs to move on and forget about this victory.
"This is a resilient team," he said. "They've been through a lot of adverse situations before. This is nothing new to them. We've got to forget about this and move on."
Staying humble is Bryant's focus. He wants the Lakers to continue to work hard, and keep the same plan.
"We've just got to keep our foot on the gas and keep our head down and just keep on working," Bryant said.
Lakers forward, Pau Gasol, had 16 points and 8 rebounds. Forward Lamar Odom, led the bench with 14 rebounds and 11 points.
Magic's center, Dwight Howard couldn't produce offensively. He finished with 12 points and was 1-6 from the field. Dwight still led with 15 rebounds. Forward Hedo Turkoglu had 13 points, but was 3-11 from the field. Mikael Pietrus led the bench with 14 points and he played 32 minutes.
Quotes from Yahoo Sports
Ad blocker interference detected!
Wikia is a free-to-use site that makes money from advertising. We have a modified experience for viewers using ad blockers

Wikia is not accessible if you've made further modifications. Remove the custom ad blocker rule(s) and the page will load as expected.