So I had the "pleasure" of watching Kobe:Doing Work on the dreaded four letter tonight. Well, technically... I was flipping between that, Semi-Pro and MLBTV as I am prone to do. So here's my official un-offical review of the "piece".
Look, it's fairly common knowledge that I don't like Kobe Bryant as a person but that doesn't mean I don't respect him as a basketball player. In fact, I really do think he is an excellent basketball player. I know he knows, understands and loves the game with every calorie he burns - THAT is respectable. I know he works hard at his craft, hones his skills and lives his every breath for the game - also very respectable. However...
(deep sigh)
However I cannot help but question where his true motivation lies. I'm not sure he loves the game for the game's sake or his own - Well, I am but let's not split hairs for literature's sake. I'm not sure if he dedicates his life to the game for the game's sake or his legacy's - Well, I do but let's assume I'm not as good as seeing through such a shallow being as I have proven to be. I cannot help but wonder if the man gives a flying fack about anything but his own existence - Well, a fox smells his own kind easier than any other animal, right?
But let us not call his off-the-court decision making, lack of social skills or general bland personality into this analysis. Let us not question why he is so despondant to the blatant realities of the people around him. Let us not wonder what drives a man so deeply into accomplishing every aspect of his realm while disregarding the simplicities of common humanity. Those "particulars matter not in this analysis...
Let me break this down into certain, easy to label points.
1) The rest of the points PALE in comparison to this one, but here goes:
Spike Lee is a genius film maker.
Views - Camera angles, aspects, insight, access, changes in resolution; Tempo -slower, faster and everything in between; Attack - Spike boils down, breaks down, spreads out, explodes... humanizes and hyperboles, knows when to drill down with questions and when to let silence speak for itself. His editors are magic and his inclusion of music at particular points was seriously fine art in film. Spike is a master, don't kid yourself. He might have swung and missed on some certain projects but ANYONE who can get me to watch and listen to 24 for two hours is a true artist.

1b) Make no mistake. If not for Spike Lee (or more appropriately Mars Blackmon), Michael Jordan would never have truly reached that stratosphere of "Air Jordan". "It's gotta be the shoes, Money.". Lee knew EXACTLY what this showcase was going to mean and don't think for a second that it's release date wasn't just as genius. Kobe has a game 7 to overthink tomorrow, now. Spike played Kobe like a video game with all the cheats on. Spike might really appreciate Kobe but this show wasn't about displaying the marvelous-ness of Kobe bryant... it was about demonstrating the magic of a slick, powerful filmmaker. Spike is hands down the true STAR of this show. Kudos to the four letter for realizing Spike had a devious plan to undermine Kobe at THE VERY RIGHT MOMENT... right before a very jinxable Game Seven. Yes, Spike - for some unexplainable reason - can't speak a sentence without interjecting a Knicks reference, but let the "art" of the "documentary" speak for itself. Spike, I commend you on pretending to make an athlete of Kobe's caliber think you're making him accessible and human.
2) Kobe disregards his own errors and harps on other's errors.
It's disgusting. He is a "preach, preach and don't hold me to it" person. He states SEVERAL times that his mistakes are "temporary", "you gotta move on" or "can't be dwelled upon" yet he drills his teammates - ad nauseum - only on what and where they make mistakes. His errors are "tough plays" and others fail. It's one thing to overcome difficulties, it's another to make more in that process.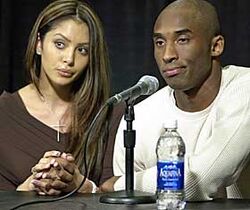 3) OK. Kobe understands the game
Clearly, he can't wait to be a coach SO BADLY that he already considers himself a coach. Yes, I realize the cameras and mics were on him and the show focuses on a day in his life, but I know I'd get sick of hearing his shit if I was his teammate. He will definitely coach after his career ends - most likely to hideous results. truth be told, I will probably play a little better basketball at the gym tomorrow picking up some subtle nuances just hearing a pro dissect the subtleties of the game.
4) Kobe's self-awareness is minuscule if existing only in theory.
He "doesn't realize he talks so much" as he is recording a speaking soundtrack for a documentary. I can't help but think he has no idea what he is really trying to do moment to moment when he's not on a basketball court. Yes, he is very well brainwashed... I mean "coached" by Phil Jackson but his persona just screams "If the attention isn't on me, I'm not paying attention... just waiting until I'm the focus again".
5) Kobe overloves the word "damn".
For a guy that "speaks Italian" and "reads so many books", compares playing the game of basketball to the deep thinkers of chess and is such a deliriously introspective being... he DEFINITELY has a very limited vocabulary.
P.S. Kobe - When you say you "sweat like a pig" in a halftime interview, you redefine "idiot" to a person like me. Pigs don't sweat because they don't have sweat glands, that's why they lay in mud... "Mamba"... (oops! I promised not to make it personal)
6) Phil Jackson is Giseppo and Kobe is Pinocchio
...Without the growing nose when he lies... well, look at his nose, maybe not. Yes, Phil appeared in all of about 50 seconds of the entire piece and "damn", now we know - without a doubt - who makes the Lakers tick... Phil Jackson.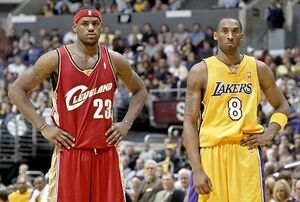 7) Biz Markie is getting PAID.
"Just a Friend"??? Wow. Do they kill that song in the commercial or is it about getting a true hip-hop genius some due respect? Come on! Nobody beats the Biz! He is responsible for finding Big Daddy Kane and therefore Notorious B.I.G. and Jay-Z!!! Seriously, I couldn't wait to see Men In Black II once I found out Biz was in it... the Human Beatbox!!!
8) Without Pau Gasol, the Lakers were junk in 2008
Kobe said it himself. Pau was the missing link. Did you ever realize? Kobe still has yet to appear in the NBA Finals without an All-Star at center... hmmmm.
9) Screw the Spurs.
I hate the Lakers but if they beat the Spurs I don't hate them quite as much. It's kind of like when the Yankees beat the Red Sox but with fewer opportunities for me to talk trash on the loudmouthed, fashionable fools on the internet. I guess Spurs fans have more class than the morons who can't help but announce their Sox-blindness on the internet. Just saying - I can't pass an opportunity to force my disdain of Red Sox fans in a basketball article!
10) I am REALLY glad - yet I can only credit karma - that Kobe has only daughters.
Funny, isn't it? Ahhhh! I won't make this "personal! But also, I'm just glad that there isn't likely to be another male human being brought up like he was. His Dad, "Jellybean" screwed him from day One. I feel bad - truly feel SORRY - for a person like Kobe (Jelly)Bean Bryant. The poor guy never had a chance to live his own life... to be a kid, a teenager or young adult or even sniff the chance to seek his own existence; to find out who he really is, was and is supposed to be. Sure, I don't like Kobe but I can't hate him. You hear me? I can't hate him!!! It's NOT his fault. He never had the chance to be his own being. He was raised in the game. He ate, slept, breathed and crapped the game. There was no second option for him. What makes me sad is knowing this - for every Kobe Bryant, how many kids are out there that won't be an NBA player, that won't be a D-League player, that won't be a professional player.... and like Kobe have nothing but basketball to show for their life's effort?
Postlogue - All in all, ESPN bunted and hit a Home Run with this piece. It's a fascinating and engrossing chunk of audio-visual entertainment. Not quite train-wreck and not quite popcorn-worthy movie. It's part Ken Burns, part NFL Films and ALL basketball. The timing is odd - perhaps devious - and I can't help but wonder why Spike Lee waiting until now to even attempt to release this... I'm sure there's a valid, semi-logical reason. And like every article I've ever posted, I'm sure I'll think of 101 things (or far more, most likely) in the next 24 hours that I forgot to point out. Then again, that's what comments are for...
Overall Grade on Kobe: Doing Work = B+
Kudos, Spike... I watched the whole thing and part of a second showing. Mission Accomplished. Sure, I would have preferred the Lakers-Knicks game to be the one that this show revolved around - because I actually watched THIS game (Lakers - Spurs..Who volunteers themselves to view a Knicks game? Ohhh... now I get your motivation!) - but I can totally understand your attempt to not conflict interests while still somehow conflicting interests! Of course, Staples already has the extra-special lighting needed for filming during Lakers games (poor Clippers get ripped off!) Again, Kudos! Oh, and if the Rockets win tomorrow... this grade goes to an "A-". But ESPN still sucks either way.
Ad blocker interference detected!
Wikia is a free-to-use site that makes money from advertising. We have a modified experience for viewers using ad blockers

Wikia is not accessible if you've made further modifications. Remove the custom ad blocker rule(s) and the page will load as expected.