Knicks fans, you probably are wondering a lot of things. You probably are assuming a lot of things. You probably are baffled by a lot of things going on with your franchise. What is Mike D'Antoni going to do for you? Who is he? What is he all about?
Luckily, I am here for you! I'm a known Mike D'Antoni supporter, believer and worshipper and I am here to clear the haze and fog to shine light on what you can expect in 2008 and beyond.
We'll start with the man himself, move on to his philosophy then we'll clear up the misconceptions, blatant lies and ignorance you'll be forced to contend with in the coming season.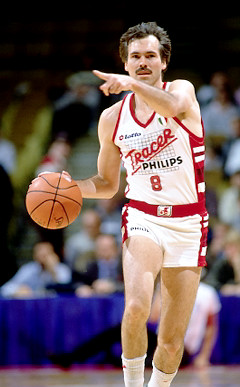 Mike D'Antoni - The Man, the Myth, the Legend
Step 1. His name is pronounced like "Dan Tony", not "Dee Antoni" or "Dee Antonio" as you will undoubtedly hear it pronounced wrong so often it will drive you to the point of nausea. He was a West Virginia high school point guard and college basketball legend at Marshall University. His brother and assistant coach Dan was also a talented athlete enrolled at Marshall and friends with several of the football players who died in that terrible plane crash in 1970.
Mike is a Basketball Lifer. A gym rat. After not getting the right opportunities in the NBA as a player, he headed overseas and created a legend for himself as essentially "The Michael Jordan of Europe". This moniker wasn't because of his pizzazz or otherworldly athleticism - he was little of either. It was because the dude just won. Winning drives him. Not only does he want to win, he wants to tear your heart out and show it to you in the process.
Mike D'Antoni is charming and eloquent, despite being a West Virginia native he is not a "hick". He is intelligent, cunning, witty and can be deliriously enjoyable when he applies his sarcasm with the media. He shies away from no questions. He smiles and enjoys his job. It's very, very hard to dislike the guy. He has morals, ethics and is a truly upstanding individual. He is an outstanding candidate to lead the Knicks out of the Isiah Thomas debacle.
Mike is an enigma in all respects. It's his strength and yet it is perceived as his weakness. He's nothing "they" think he is and everything you wish you could be. He won't beat around the bush and he won't play ego games. He's authentic and real. He truly believes his "system" can win any basketball game at any place or time as long as the players execute their job.
I believe his philosophy works exactly like he does. I'm not the only believer... so is Duke/Team USA head coach Mike Krzyzewski. Team USA did a pretty good job of running D'Antoni's system, but they were hardly flawless.
The D'Antoni System of Winning Basketball Games.
First off, it's not just D'Antoni's system but he refined it. It's based off the simple principles of Lakers' Showtime basketball of the 80's and Bob Cousy's Celtics. The system depends on a point guard who can manipulate the defense with the dribble, effectively forcing the defense to go where you want them to go. The point guard must be able to control the dribble in order to have defenders draw to him so the shooters can get to their spots, spreading the defense and the post players can cut and wedge between the passing lanes. If that approach falters, keep it simple and fall back into the two-man game with a beast post player (Amare Stoudemire/Zach Randolph). If all else fails, it requires the point guard to be a deadly shooter. In other words, it requires a point guard JUST LIKE Mike D'Antoni... or Steve Nash, or Magic Johnson, or Bob Cousy... catch the drift?
You need a Quarterback who can make wise and swift decisions; everyone else can essentially be interchangeable role players. The Knicks have the role players, but not the quintessential point guard.... yet.
People will point to Jack McCallum's book Seven Seconds or Less and decide that they know everything about D'Antoni's basketball philosophy. "Run, run, run." Nothing could be more over-simplified. This is like saying a rainstorm starts with lightning. There's more to it. Rain doesn't start in the sky, it starts on the ground!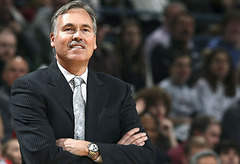 Much like the water cycle, where moisture must evaporate from the ground to form clouds before static electricity is built up from clashing electrons in clouds due to rapid temperature changes and thus rain falling to the ground enabling the evaporation to begin again, D'Antoni's system starts on the defensive end - the ground.
Without defense initiating the fast break there is no way to outrun the opposing team's defense.
The idea behind "seven seconds" is that D'Antoni believes you will have a much easier shot to make against a defense that is scrambling to match up than against a defense that is faced up and anchored in. It just makes sense. It's easier to make a shot when a defender isn't in your shorts.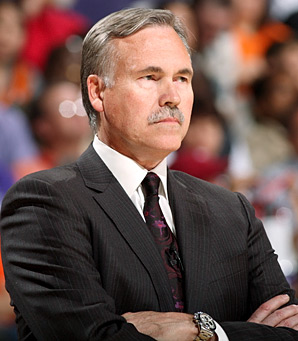 Another important factor of running the break is to utilize the three point line effectively. It's not run and chuck, this is run and spread out. On the D'Antoni break, it is paramount for a good 3 point shooter to get to a corner - far from the basket - and spread the interior defense. This is doing two things - Not only are you forcing the defense to make a decision and scramble to catch up to you, now they have to find where you went and who to cover, thus weakening the defense in the lane. This is the role that Raja Bell mastered as a Sun and the role that Carmelo Anthony and Kobe Bryant couldn't quite master in the Olympics.
Be Prepared For The Following Things To Occur:
-People will tell you "your roster isn't made to be a running team". That's a load of crap. EVERY NBA player can run up and down the court and every NBA player should be able to hit easy shots. It's not rocket science, it's believing in the system and willpower that covers the rest. Yes, even Eddy Curry can get fit in this system, if he learns how to rebound! The problem with Shaq last season with the Suns wasn't that he was a misfit with the system, it was that D'Antoni - after getting removed as GM - had his hand forced to change his style of play by his new GM Steve Kerr and cheap assed owner, Robert Sarver - which is why he left the Suns in the first place. This is also why the Knicks are a great fit for D'Antoni - the owner is stupid and rich and will stay out of Mike's decisions.

-Experts will say that Knicks will be horrible. No, they won't. They might not run teams out of the building every night, but they will be respectable after they settle into the system. Also remember, they still play in the Eastern Conference.

-I can't see how this won't happen eventually: Steve Nash will reunite with D'Antoni in New York. Nash and his wife love the Big Apple - even has a house and spends most of his summers there. He loves the big stage and Mike D'Antoni. Steve also won't have a problem taking a lessened role with the Knicks and likely groom/teach the next point guard on the intricacies of how to dribble and move in curves and instead of zig zags. His abilities are starting to sag, he's a defensive liability and he's nowhere near MVP level anymore but he's still a very smart basketball mind and a dead-eye shooter. Expect a trade or for Nash to wind down his career in the Garden after his current deal runs out.

-People will try to tell you "Stephon Marbury and Quentin Richardson both had issues playing for D'Antoni." and they are wrong. Marbury was dealt because his contract sucked, they were able to dump Penny Hardaway's contract with it and it freed up cap space which the Suns initially intended to blow on Kobe Bryant. Kobe worshipped D'Antoni as a kid (the reason why he initially wore D'Antoni's #8). The Suns offering Kobe a max deal was contingent on them being able to deal Shawn Marion for Tracy McGrady. Instead, Orlando balked at the Marion offer and dealt T-Mac to Houston and D'Antoni sold the Colangelos on Steve Nash to be his personal Mini-Me

-Expect five guys at the end of the bench to be cheerleaders almost every night. D'Antoni doesn't think it makes sense to keep your best five players off the floor. The starting five will play heavy minutes. The 6th man will need to be a speedy ball handler and decent shooter - who will be called on when an infusion of energy or 3 point shooting is needed. The 7th man better be able to rebound, defend and be smart with the ball - and will typically play only when foul trouble arises. If you're an 8th man on D'Antoni's bench you better not make dumb turnovers or miss open shots because you will not play. However, bench players also need to be prepared to be ready at any given moment yet expect to go weeks without playing at all. Sounds confusing but it isn't. While bench players aren't likely to play at all, sometimes the starters need a kick in the butt or a wake up call. Getting taken out and replaced by a bench scrub sends a message. Sometimes after a poor team performance in the 1st quarter D'Antoni will start a scrub player that hustles in practices for the 2nd quarter. Not only will he put the scrub in the game but he will run plays for that player. It's motivational to the starters and keeps the bench aware that hard work in practice pays off.
-One thing the Knicks have is too many players. They will get packaged and dealt. D'Antoni doesn't like to keep player around if he won't be using them. Don't be surprised if the 12th man is a big, goofy, balls to the wall guy that can goon it up when needed and give his all in practice every day yet still have a sense of humor. These guys are cheap and always looking for a job and D'Antoni loves to have them around. Think Paul Shirley. Think Pat Burke. The goofier and fan-friendlier, the more likely D'Antoni will give him some run time when there's less than 30 seconds left and/or the game is out of reach...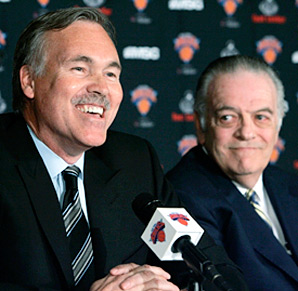 -People will say "Your team doesn't play defense." because the pace will go up, scoring will go up and shooting percentages on both sides will go up. And it's part of the plan. D'Antoni believes that personal fouls are actually worse than allowing a basket. He would rather trade basket for basket and keep the game's pace in favor of his team than slow the game down and allow the opponent to catch their breath. Not only that but foul trouble forces him to use his bench and that goes against the idea of having your best players on the floor. When his team can run and get good, open shots early in the clock other teams WILL get lulled into running too. This plays into the philosophy perfectly - As long as we get better shots than you, no matter how many shots go up, we will win! Also remember - the fast break starts with defense! A rebound, a block, a steal, a deflection - these things initiate the pass upcourt. A pass will always beat a person up court, but you can't pass it until you get the ball. Expect the overall numbers to indicate the Knicks to appear to have a worse defense but also watch how many more steals, deflections and blocks they get... I also think they have a better rebounding squad than the Suns do. Team USA did a great job in this facet.
-Expect runs. There will be stretches of play where the Knicks will score in bunches and other times where they shoot blanks for stretches. It happens. There might be runs of 15 straight points in either direction. The Knicks will have more 40-point quarters than ever before. The magic number is 30. D'Antoni wants 30+ points every quarter. It's hard to beat teams when they score 120 pts a game... But if you remember, this was actually commonplace in the NBA during the 80's. It's not reinventing the wheel, it's fundamental basketball.

-Mike D'Antoni can make any NBA player into a better "shooter". Joe Johnson, Raja Bell, Grant Hill. Brian Skinner, Amare Stoudemire, on and on... even Quentin Richardson became a better shooter under D'Antoni. It's not about ability, it's about opportunity. The easier shots you can take, the more you make. If you're in the NBA, you can probably hit an open shot. D'Antoni's system will get you open shot!

-Expect Mike D'Antoni to be fair with the referees, but when his team gets screwed on a call, he will explode! He will fight furiously on behalf of his team and he knows when it's time to take a technical foul and when it's time to eat his tie. Remember - this is the coach that screwed by Tim Donaghy. This is the coach that got screwed by David Stern in the playoffs. This is the coach that got screwed by his previous owner. He will either flail and scream or cross his arms and GLARE at any referees that blow a call depending on what he thinks is right in the moment. He's not afraid to get ejected either if it will spark his team or the crowd - or if a referee blatantly sucks.

-Normally in the NBA, the average team can make up 1.5 to 2 points of deficit per minute of play remaining. Meaning, if you're down 7-10 points with 5 minutes of play left, you still have a chance of winning. A Mike D'Antoni team can stretch that ratio to 3-4 points per minute; in the last minute, with good pressure shooting, even more! A 15-18 point deficit with 5 minutes of play is not too much to overcome. Two turnovers and two 3 pointers can cut a 15 point deficit to fewer than 10 in the matter of 30 seconds with a D'Antoni team. Don't get out of your seat until the game is actually over. Runs happen - OFTEN.
In one word, what is a Mike D'Antoni team? FUN
His teams play an enjoyable style. It's fun to watch. It's fast and exciting. When they are on, they make the game look ridiculously simple and easy. When they stroke three or four 3 pointers in a row, you will go NUTS! I promise you, Mike D'Antoni can and will make the Knicks fun AND relevant again. It might take a season, it might take half a season, but you will at least have hope and pride in your team again.
The last few years as a Suns fan I can only say Mike D'Antoni brought me the most enjoyable time as a basketball fan in my life! Steve Nash would certainly agree as Mike took him from All-Star to two MVPs (and was robbed of a third). Watching his team play made me a better fan of basketball and a better player on the court. It permeated the entire area; even the play of pickup games at the local gym echoed the fundamentals of the Suns. I will always look back on this time, despite a title eluding the Valley of the Sun, I will remember it fondly.
Know that I've never really liked the Knicks before but I will begin to follow them and maybe secretly root for them to do well. I hope Knicks fans will get to know the same joy and love for the game of basketball that Mike D'Antoni brought to me!
Ad blocker interference detected!
Wikia is a free-to-use site that makes money from advertising. We have a modified experience for viewers using ad blockers

Wikia is not accessible if you've made further modifications. Remove the custom ad blocker rule(s) and the page will load as expected.