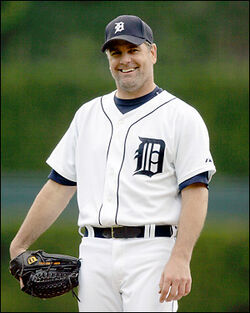 by Harold Friend
On July 28, 1994, Kenny Rogers became the first American League left-hander to pitch a perfect game, joining National League lefties Sandy Koufax and Tom Browning. In a vastly underrated career, Rogers won 219 games, lost only 156, and has a 108 ERA+. Although he never won 20 games in a season, his win total was in double figures in thirteen of his seasons, which is remarkable considering he pitched primarily in relief during four of those years. In 1993, Rogers set a record for the most wins in a season for a Texas Rangers' left hander with 16.
Kenny Rogers Helps the Yankees Win
In Oct. 1995, Rogers filed for free agency and signed with the New York Yankees after going 17-7 with a remarkable 3.38 ERA, having pitched in a hitters' park and in an offensive league. Kenny had a 144 ERA+, with a WHIP of 1.288.
Kenny Rogers helped the Yankees become World Champions in 1996. He won 60% of his 20 decisions and in the post season, Rogers appeared in two first round playoff games. The Yankees won both. He started one game in the second round against the Orioles, which the Yankees won, and he started the World Series game in which Jim Leyritz hit his dramatic game-tying home run, which the Yankees won.
The Yankees Needed a Third Baseman
Following the 1997 season, the Yankees felt that needed an everyday third basemen. The Oakland A's coveted the left handed Rogers, and sent the Yankees Scott Brosius, who was coming off a season in which he hit .203. It was a great trade for both teams.
In 1998, Rogers had another outstanding season, winning 16, losing only 8, and pitching to an almost unheard of in the American League 3.17 ERA. Kenny had a 143 ERA+ and a 1.182 WHIP.
Kenny Rogers Helps the Mets Make the Playoffs
In 1999, New York's other team was in desperate need of a left hander. They acquired Kenny's services and it paid dividends as he won 5 vital games that the Mets needed in order to qualify for the playoffs. Kenny was an integral part of a Mets team that almost became the first win the second round of the playoffs after trailing, three games to none.
A Great 2006 Post Season Run
Following his stint with the Mets, Kenny pitched for Texas and Minnesota before becoming a Tiger for the 2006 season. Always a winner, he helped lead Detroit to its first flag since 1984 by winning 17 games. Rogers won his start against the Yankees in the first playoff round, he won his start against Oakland in the second round, and he was the only Tigers' pitcher to beat the Cardinals in the World Series, cementing his legacy as a clutch performer.
Hall of Fame?
Upon close scrutiny, it would not be out of the question for Kenny Rogers to wind up in the Hall of Fame. The best argument is to compare his career to Hall of Fame left hander Hal Newhouser.
Kenny won 219 games and lost 156 (.584). Newhouser won 207 and lost 150 (.580). Although Newhouser had a better ERA (3.06 to 4.27), Rogers pitched most of his career in a league that had the designated hitter, and he pitched in one of baseball's most offensive eras. Adjusting ERA, Rogers had a 108 ERA+, while Newhouser's was 130. Newhouser averaged a control-challenged 99 walks a season, compared to Kenny's 65.
A case is not being made for Kenny Rogers' inclusion in the Hall of Fame, but it is not an unreasonable consideration when one compares his career to that of Hal Newhouser, Don Drysdale, or Jim Bunning. Kenny Rogers was a fine pitcher whose all-time ranking should be higher. Ask any Mets' fan.
Reference:
Kenny Rogers at Baseball-Reference
Ad blocker interference detected!
Wikia is a free-to-use site that makes money from advertising. We have a modified experience for viewers using ad blockers

Wikia is not accessible if you've made further modifications. Remove the custom ad blocker rule(s) and the page will load as expected.