After having opted for a headline like that, I'm well aware of the "Oh, and is Brett Favre giving decision-making seminars now?" and "Right, and Ozzie Guillen's probably touring the country, teaching toddlers the immeasurable values of kind language," thoughts scurrying through readers' minds at the moment. Well played, reader. Well played.
In spite of your clever mental retorts, the headline remains an unwavering truth. One particular Chicago GM ought to look to his Bulls' counterpart (yeah, that guy) for advice. No, seriously.
The GM? Jerry Angelo. His team? A train wreck -- one befitting the ungodly appearance of its lakefront stadium.
Now, before you wig out, allow a moment for clarification: in saying Angelo ought to take heed of Paxson, I hardly mean (1) signing players that have proven themselves to be nothing more than complementary to long-term deals, believing them to be capable of achievements commonly associated with players deserving of that sort of money, or (2) wasting countless draft picks on those with "high character" from "winning programs" in the stead of taking the best players available, or (3) signing aging, over-the-hill free agents and assigning them to the task of restructuring an aspect of the team weakened by age in the first place to be in the Bears' best interest. Hardly.
Quite simply, I mean Angelo's given the fan base no reason to hope.
While I'd certainly not count myself among those sent into a tizzy over Paxson's drafting of Derrick Rose ("Really, 2,000 words in favor of Beasley, and you wouldn't count yourself amongst Paxson's faithful? Seriously?"), I'd be a liar if I told you goosebumps weren't sent reverberating throughout the majority of Chicago at the mere thought of Rose slashing through the lane and dishing to an open teammate -- whether or not I count myself as a member of that majority matters not. Chicago adores the thought of Rose; finally, one worthy of the term superstar -- and while the franchise as a whole would've been infinitely better off with Beasley (what, a championship-caliber frontcourt falls outside your definition of "better off"?), it appears as though "what could've been" has been banished to the back burner in favor of foolish, ungrounded, optimism. Sure as you're reading these words, this city will work itself into a froth as the NBA season approaches; nevermind the fact that the frontcourt is one of the league's worst, that Deng and Gordon may very well be wearing different uniforms, that a man with the same amount of coaching experience as Paris Hilton's purse-dwelling chihuahua will be stalking the UC sidelines, and that Rose will undoubtedly experience the unavoidable rookie struggles ... all you'll hear is "Derrick Rose is a Chicago Bull! That's all we need, baby! Wooooooooooooooo!"
Reason to hope, my friend.
While the lottery gods are the party most deserving of a doffed chapeau, it certainly behooved Paxson to grab a player capable of sending his fanbase into a tittering gaggle of schoolgirls, whether or not Beasley would've done the same, and provided the formidable frontcourt presence they've sorely lacked since.. well, anyone cares to remember. Rose, the first superhero to prowl the city's streets since Christian Bale & co. filmed here, will find not a critical word outside this blog; his production (or lack thereof) on the court will matter little to his adoring mass of fans, if at all -- Chicago's unchecked happiness over having a superstar to call its own will be enough to allow the rookie mistakes, turnovers and 25-57 record to fly through one ear and slip easily out the other. For all I've ripped Paxson over what I still consider to be an inconceivable brainfart, to not throw him this bone would be an egregious crime -- one I'm not about to commit.
Yet, across town, Angelo's done nothing even resembling bone-throwing.
In spite of the local media's glowing portrayal of the Bourbannais-located group just entering training camp, and, in spite of the garbage I've heard on talk-radio, from friends and Bear fans alike, there's no reason to hope for anything better than a pleasantly high draft pick out of this '08-'09 squad.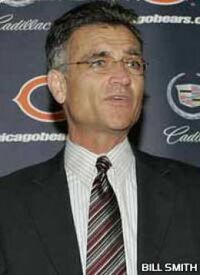 The outlook is bleak. 3-13 type bleak.
Disagree?
One could take a gander at the team's quarterback situation, (if it's even worthy of the term "situation" -- I'd tab "hellacious rigmarole" as more apt to describe this near indescribable putresence that's plagued Chicago football over the past handful of miserable seasons).
If Rex Grossman's 52 career turnovers (33 interceptions, 19 fumbles) in 30 career starts aren't enough evidence, consider the known fact that when faced with even the slightest amount of pressure, Grossman acts as though he's been caught lifting a bag of M&M's at Walgreens: skittish, nervous, prone-to-sigh-inducing-decisions, and, usually, on the ground within seconds -- courtesy of either a hard-charing defensive lineman, or, in the Walgreens scenario, the nearby, able-bodied cashier. For now, Orton remains this particular fan's choice, if only because he's the lesser of two awfuls. When posed with the choice between Britney Spears and Lindsay Lohan, Britney's the gal; she's offered society an (albeit scarce) amount of what some would consider decent work, and Lohan's done nothing but drive whilst intoxicated and refuse food.
(Note: If searching for a better reason to doubt the potential for success from the hellacious rigmarole -- yeah, that does work better -- surrounding the Bear quarterbacks, search no further: the best comparison is one involving both Britney and Lindsay. That's really all you need to know.)
Or, one could consider the state of the running game.
While taken significantly lower in the draft, Matt Forte is as equally celebrated and highly-touted as since-departed Cedric Benson was immediately following his drafting (I'm not entirely sure, but I feel as though it's safe to say a workable comparison to Cedric Benson is never, ever a good thing). Of course, Forte's offered no contract squabbles, and has appeared to be a great deal more agreeable with teammates, media and fans alike, I'll believe nothing until I see it -- even with the daily, glorifying quotes from Lovie Smith and Ron Turner peppering the papers. Kevin Jones, widely considered option #2, is an injury concern more than anything else; if healthy, even, he's not a fix-your-offense type running back. Garrett Wolfe can't run between the tackles; Adrian Peterson is headed back to special teams (sorry, only so many carries to go around), and, even in the unlikely event of last year's 30th ranked run-offense striking gold in one of the three aforementioned candidates, I'm itching to ask: whom, exactly, will block? A single addition (rookie Chris Williams) hardly improves a line as poor as last year's -- and that's even if Williams proves to be a Pro-Bowl sort of left tackle (still, a monstrous if). The offensive line remains as large a question mark as it was last season, when it was undeniably the most pressing and urgent must-fix area on the team -- Angelo's done little, other than the potentially impact-less Williams' selection, to address it.
Not enough? Perhaps a glance at the wide recievers?
Which of Mark Bradley's six catches from last season proved he was capable of assuming the role occupied league-wide by playmakers such as Terrell Owens, Randy Moss and Chad Johnson? Marty Booker is a still a few years from being ready to replace Muhsin Muhammad in the team's now gaping "Elderly Reciever Good for Two Or Three TD's A Season" role; wait, is he? Can Devin Hester remember the assigned play long enough to run his route and, subsequently, perhaps make a catch or two? Can Brandon Lloyd produce enough to quiet a few of the "Wait, the guy from Illinois? He's still in the league?" questioners?
It appears obvious, but for the sake of organization, it must be said: last season's Bear offense, the offense which could grow worse in no possible or conceivable manner, has, definitively, grown worse. If the offense can't score points, it's likely sa...
Oh, but the defense! You're forgetting the defense, Tripp!
Right. And you remember how well relying on a defense to score the majority of the points works, don't you?
Uh, Devin Hester! We still have Devin Hester!
Until our entire offensive playbook consists of the infallible "Set up in punt formation, drop Hester behind the line 20 yards, snap it, block, celebrate yet another Hester touchdown" play, the speedster from Miami fails to serve as a main source of offense; a secondary, occasional contributor he remains. (In all seriousness, anyone know why that wouldn't work?) Besides, consider: (A) teams will kick away from him more and more, or (B) a good number of the few chances he'll be granted might be squandered by his increasingly problematic fumbling problem.
Things aren't as rosy as the training camp optimism may have you believe, are they?
Now, as poor as my accurate descriptions have made the team's offense look, I'm not about to decry the Williams pick. I'm not about to criticize Angelo for making an (albeit horrifyingly feeble) attempt at improving one of the team's weakest links.
But was an offseason splash totally out of the question, Jer?
How about a quarterback to compete with the Orton/Grossman pupu platter other than an undrafted rookie from Division II Southern Illinois? A running back other than a Detroit Lions' castoff? A wide reciever other than a seldom used, oft-injured backup? An offensive lineman other than an unproven (you remember Marc Colombo, don't pretend with me) rookie?
Seriously? And the fanbase is supposed to be excited about this miserable looking crew? Hilarious! Funnier stuff I've not seen since Jim Gaffigan stand-up -- yeah, the Hot Pocket guy; you know who I'm talking about.
I'll tell you something: only thing Bears related about which I'm even remotely excited is the possibility of #1 draft pick-to-be Tim Tebow wearing Bears' blue next season.
Yep, Jer, I'm looking forward to the '09 draft already. Your fault, too!
Sincerely, if this was the best Angelo could do, I'd understand. I wouldn't make a peep. I'd slam the kibosh on the complaining, buckle the seatbelt, and prepare for what's shaping to be a rather bumpy ride.
But it wasn't. And if you disagree, think back to this offseason's commencement.
What'd you have in mind? Maybe Donovan McNabb? Oh-ho, boy, wouldn't that have been swell? A Chicago product makes his glorious return; quite the reason to hope, wouldn't you say?
Perhaps Browns' QB Derek Anderson was on your radar. He'd have looked great in Bears' blue, too.
Chargers' running back Michael Turner? Could've boosted the running game a tad, I would think.
Maybe you had a rookie in mind. Chad Henne from Michigan? Joe Flacco from Delaware? Rashard Mendenhall, the Chicagoan, the ex-Illini, the one who had said he'd love to play for his hometown Bears?
At least Paxson had the sense to make the pick that would please his city most -- while I'd still have taken Beasley, you can't argue with the level of excitement at which Paxson's fanbase currently resides. Angelo's? Well, at least they have a left tackle.
(I said I wouldn't decry that pick; I lied. It happens.)
---
I know. Really, I do. I know this city loves its Bears enough that it would work the excitement to a fever pitch and sell every ticket even if the man scheduled to take the season's first snap was Steve Bartman (actually, he might be a smidge more popular than Rex 'round these parts).
I'm aware of the fact that the city, the media and the fans will talk this team's playoff chances like tomorrow ain't comin'; I know, offseason splash or not, reason to hope or not, the fans will be excited for Week 1. It's an unavoidable truth; one I'm not about to question.
It's just, in spite of all my Rose and Paxson-related criticisms, perhaps the Bulls' optimists have legitimate reason behind their tizzy; Rose will be the city's first basketball superstar since MJ bolted in '98, and, should the team flounder (a likely scenario), at the very least, he'll be fun to watch, and a reason to cheer -- a reason to hope for the future.
If you're aware of a similar situation currently gracing the Bears with its presence, please, let me know. In that case, it would appear as though I've severely misguided my criticisms regarding Angelo.
Although, truthfully, that's doubtful. Just like the chances of the '08-'09 Bears falling outside the '09 draft's top 10 picks.
Jer, you know who to call should you seek some advice. It's right there in the headline.
Ad blocker interference detected!
Wikia is a free-to-use site that makes money from advertising. We have a modified experience for viewers using ad blockers

Wikia is not accessible if you've made further modifications. Remove the custom ad blocker rule(s) and the page will load as expected.