We see this happen every year.
A team--usually a sixth seed who just barely squeezes in to the postseason--turns up the heat and slices through their opponents unexpectedly.
Last year, it was the Cardinals, who reached the Super Bowl after putting up 30+ in all three of their playoff games against Atlanta, Carolina and Philadelphia.  Because of their 9-7 record, there were doubters each of those three weeks as Arizona was just one defensive stop away from pulling of the ultimate upset in the Super Bowl.
The year before that it was New York's other franchise, the Giants, led by today's highest-paid quarterback Eli Manning.  Manning, with the help from a drive-saving helmet catch by practice squad member David Tyree, conquered the "giants" (the then 18-0 New England Patriots), 17-14.
Pittsburgh's near-impossible fifth Super Bowl victory came in 2005, coming in as the AFC's sixth seed.  Sophomore quarterback Ben Roethlisberger and Dick LeBeau's nasty, blitz-happy defense became road warriors, winning three consecutive games away from Heinz Field.  They then beat the NFC's top team, Seattle, to help future Hall of Famer Jerome Bettis go out on top.
Through the first two weeks of the playoffs, rookie head coach Rex Ryan seems to be leading his Jets to the same destiny as Cowher's Steelers.  Ryan's intensity, especially on the defensive side of the ball, is what is keeping this team in it.  With rookie Mark Sanchez under center, Ryan has pounded the ball away with the solid running back tandem of Thomas Jones and the explosive rookie from Iowa, Shonn Greene.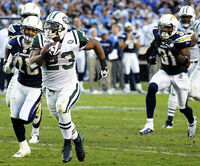 During the regular season, New York had the top running game in the league, out-gaining the Titans (second-most) by nearly 200 yards.  The fact that they were also had the least amount of passing attempts says a lot about Ryan's offensive game plan: run early and often, keep ball out of Sanchez's hands.
The defense has shut down opponents as well, meaning they could get away with running the ball a lot more.  New York finished with the no. 1 overall defense (first against pass, eighth against rush) and eighth in turnovers forced.
All-Pro cornerback Darrelle Revis deserves a lot of credit for the success.  Revis shut down several Pro Bowl receivers throughout the season, which includes Andre Johnson, Terrell Owens, Steve Smith and Chad Ochocinco (twice).  The fact of the matter here is, New York is the most dangerous team right now after taming the powerful Chargers offense and shutting Ochocinco up during the Wild Card game.  If they can run the ball against Indianapolis as well as they have in the past two weeks, I have no doubts that they will be able to keep up with Peyton Manning.
Revis should be able to slow down Reggie Wayne, forcing Manning to hold on to the ball longer.  It's no coincidence that the Jets' opponents have posted a 58.9 QB rating throughout the season, they know how to pressure the quarterback and are bound to get to Peyton at some point.  Indianapolis will not be able to win this game through the ground.  I really think that, if Sanchez can stay mistake-free like he has recently, New York will be able to send Jim Caldwell's team home.
New York may be Super Bowl Bound.
Photo Credit: Sipkin/News
Also posted here: http://talksportswithromdawgandbigben.blogspot.com/
Ad blocker interference detected!
Wikia is a free-to-use site that makes money from advertising. We have a modified experience for viewers using ad blockers

Wikia is not accessible if you've made further modifications. Remove the custom ad blocker rule(s) and the page will load as expected.