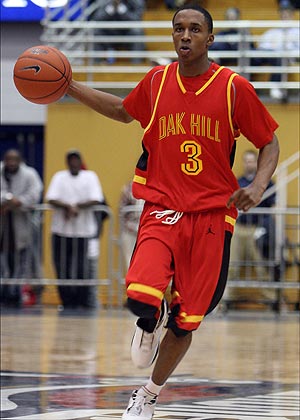 For once, it is ok to believe a young star athlete when they say they made a career decision for reasons other than money. Last week, Brandon Jennings decided that he would spend a year playing basketball in Europe instead of playing a season at the University of Arizona. Jennings claims that money was not a motivating factor in his decision, and that the quality of play in Europe will better prepare him to play in the NBA. Before I move on, I want to clear a couple of things up...First, Brandon Jennings really had no choice. He tried three times to get his test scores high enough to qualify at Arizona (This may sound hard, but most 5th graders would have a decent shot at needing the scores a top recruit needs) and there was really no other choice but for Jennings to play in Europe once he realized that he wouldn't qualify to play college ball last week. Second, the competition in Europe is not really that much better than at the Division one level. And finally, Brandon Jennings was going to get paid a nice amount of money either way.
When Terrelle Pryor signed with Ohio State earlier this year, don't kid yourself about his motivations for signing. Maurice Clarett was not an isolated incident, and athletes receiving extra gifts doesn't just happen at Ohio State. But Pryor did not sign with the Buckeyes because of superior athletic facilities, or because he thought he would fit their offensive system the best. Terrelle Pryor chose Ohio State because they won the bidding war. It is not a coincidence that the University with the highest athletic department budget in the country landed the biggest football recruit in recent memory. For those of you arguing that college athletes should get a cut of the billions that they bring in for their schools, dont worry, they are.
I am sure I was not the only one who found it more than just a little bit odd that Michael Beasley signed with Kansas State, one of the most out of nowhere programs for a top recruit ever. Yes his AAU coach slash god father does coach there (Who by the way is now the highest paid assistant in the country at 450K a year for 5 years) but there were a lot more reasons to go to Kansas State. Talk to any number of people close to the story, and they will most likely tell you the now infamous fairytale type story of what Beasley received to play ball at Kansas State for 6 months. Most likely unbelievable to the average sports fan, Beasley is rumored to have received up to 120K in cash, as well as brand new 2008 cars for himself and his mother, a house in Manhattan for his family to live in, and to top it all off, a job for his mother.
College athletics is a dirty business and is not for the faint of heart. Just think Sopranos withouth all of the killing. Except in this business, the authorities go after only who they want to catch. The NCAA is for the most part fully aware of what goes on, but choose to overlook it most likely because the athletes who are illegally taken care of make them so much money.
So back to my point about Jennings. The reason Jennings passed up on a season of college ball was not because he felt Europe would be better for his game. Who would decide to pass up an opportunity to have all of the beautiful college girls in Tucson throwing themselves at you, cash, cars, and houses, all just a one hour flight from home? Sounds a lot better than spending a year in a foreign country, half a world from home, with no friends or family to be there with you. Brandon, why don't you do all of us a favor and just come clean and say you couldn't pass the test to qualify for college, even though you had the answers given to you. (Just like Mike) People respect honesty a lot more than they do someone trying to protect their own good image.
Ad blocker interference detected!
Wikia is a free-to-use site that makes money from advertising. We have a modified experience for viewers using ad blockers

Wikia is not accessible if you've made further modifications. Remove the custom ad blocker rule(s) and the page will load as expected.