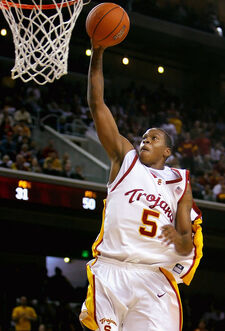 Earlier this week the Los Angeles Times reported that USC freshmen forward Davon Jefferson is leaning toward declaring for the NBA Draft following this season.
"Jefferson's steadiness on the court has elevated him to a late first-round selection in the NBA draft in the estimation of one league executive. A source close to Jefferson said he intended to declare for the draft after this season."
Let it be clear that Jefferson is quite the talent and in the right system, he could become an excellent pro player. However, if he were to declare for the draft following just one collegiate season, than he would be jeopardizing his future in the NBA. As of right now, Jefferson's game does not translate well to the association for several reasons.
At 6'8" and 215 pounds, Jefferson is the prototypical tweener, who is not an ideal fit at either the small or power forward. If Jefferson is going to play small forward in the NBA, he must be capable of facing up to shoot and scoring off the dribble. So far this season, the 6'8" freshmen has struggled do either of these things. During multiple games this season, Jefferson has proven to be incapable of handling the ball consistently in traffic. On multiple occasions, defenders will strip him of the ball as he attempts to dribble down court.
If Jefferson is to become a power forward in the NBA then he will need to greatly improve his strength and post game. At just 215 pounds, even Keith Wilkinson is heavier, Jefferson will have trouble battling forwards and centers for rebounds. In addition to his slim frame, Jefferson lacks a solid repertoire of post-up moves that are necessary to become a power forward in the NBA.
Through numerous quotes in the newspapers, Jefferson has become to be known as a fairly cocky player, calling UCLA and other Pac Ten teams out. Because of this attitude, he could easily be influenced by agents, who will encourage him to test the waters of the NBA Draft. Clearly, Davon would be best served to return to USC for at least another year in order to work on his game, but as of right now, I wouldn't bet on it.
Ad blocker interference detected!
Wikia is a free-to-use site that makes money from advertising. We have a modified experience for viewers using ad blockers

Wikia is not accessible if you've made further modifications. Remove the custom ad blocker rule(s) and the page will load as expected.