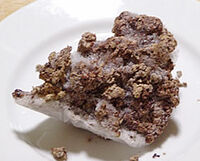 First DePaul is quartered and drawn. Now it is Northwestern that faces Jay Mariotti's cleaver.
One has to admit, if anything, Jay is extremely consistent and predictable with his growing list of character assassination of Chicago sports teams.
Check out the rather remarkable similarities between the recent columns* concerning the basketball programs of DePaul and Northwestern.
Step #1. Reminesce Over the Past
Quite a few of you commented favorably on the Tony Soprano quote concerning the redundant and boring nature of talking about the past. Well, the mob boss would've left the newspaper on the end of the driveway in complete disgust if subscribing to the Chicago Sun-Times.
A few days ago, Jay bemoaned (in his best Around the Horn acting chops) over DePaul not living up to its past. True to the Mariotti formulaic method of redundant journalism, he whines :
Not that we've come to expect much more from Northwestern, the only program in America that has hosted a Final Four -- look it up: 1939, Patten Gymnasium -- while failing to attain even one NCAA tournament berth in 70 years of trying.
Jay seems quite proud himself for discovering the wonderful information revealed on wikipedia. No doubt that he also visited his infamous bio page while surfing. Yup, it is still locked.
Step #2. Blame the Coach
Lord knows what evil sins were committed by Northwestern's coach Bill Carmody to warrant no less than four paragraphs of bashing by the all-time expert of basketball. After all, Jay did watch Michael Jordan shoot hoops, as he once bragged on the air, thus fully qualifying him as the second coming of John Wooden. Mariotti pulls out all the stops to attack Carmody, including the patented "And your hair sucks too!" indisputable argument:
When he loses his poise like that, the man's gray hair starts flopping, and for a second, he kind of resembles a fussy Conan O'Brien.
DePaul's Jerry Wainwright and Carmody apparently don't cut Jay's grade for coaching acceptance. No worries fellas, as neither does Ozzie Guillen, Lou Piniella (when the Cubs are losing), Lovie Smith or that guy who coaches the Blackhawks. (yes, yes Killer, I know.... Denis Savard).
Step #3. Blame the Establishment
Borrowing a page from the Mariotti Journalism 101 textbook, I will just copy what I wrote on my last post:
In the Mariotti Proclamation for Sports Success, it is so written that sports teams experiencing adversity should never be optimistic towards the future, fire everyone carrying a coach's whistle and spend colossal amounts of cash to buy free agents. In the proceedings of Mariotti vs DePaul, athletic director Jean Lenti Ponsetto is promptly stoned by the back page dwarf for the audacity of not believing that hurling fire and brimstone upon all involved in the basketball program.
Lo and behold, Mariotti stays true to form:
A couple of weeks ago, Northwestern president Henry Bienen emerged from his cave to speak up about Carmody in the Chicago Tribune. Although Bienen is a lame-duck who is expected to depart his seat in 2009, he said Carmody's status is safe and secure, describing him as a ``close friend and ``great coach.'
Nice to know that Jay has finally learned that in order to really get any information on local sports, one has to read the Chicago Tribune rather than the back page of the Sun-Times.
Step#4. The "Nobody's Care Anymore" Shtick
Jay really needs to get a grasp on his abandonment issues. First he pisses and moans over a "cavernous" Allstate Arena during DePaul home games. Today, he attacks the Northwestern student body:
And what happens on a Thursday evening at the Big Ten tournament, with about three dozen NU fans (I counted them) in the seats inside quiet Conseco Fieldhouse?
Mariotti seems quiet please with himself that he took the necessary time to carefully count the number of Northwestern fans in attendance. That is indeed a remarkable accomplishment and quite the multi-tasking feat to do such a strenuous mental exercise while also carefully observing Bill Carmody's hair.
Step #5. The "Big Picture"
Seems I have more respect for Northwestern's potential than Northwestern has for Northwestern's potential. I see a cozy gym on a leafy street that could serve as a monstrous home court. I see a prestigious university on a nice lake. I see a huge city just an L ride away. I see a football program that pulled it off with Gary Barnett and Randy Walker.
Yes, you read that correctly. Jay Mariotti is actually cherishing the Northwestern career of Gary Barnett. Being such a moralizing soapbox preacher, this is rather remarkable considering this was the same Barnett that quit on Northwestern to coach at Colorado.
Ask Katie Hnida about the type of coach Gary Barnett truly is.
Sorry but this column* has way too much freezer burn for ingestion.
Ad blocker interference detected!
Wikia is a free-to-use site that makes money from advertising. We have a modified experience for viewers using ad blockers

Wikia is not accessible if you've made further modifications. Remove the custom ad blocker rule(s) and the page will load as expected.