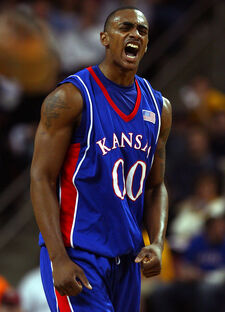 After a crazy weekend of College Basketball, I felt that it was time to compose a list of my current top tens teams. When I conduct polls, particularly college hoops polls, I base it on how good the teams actually are and not just their achievement. If I did the latter, than the undefeated and one-loss teams would be at the top. However, sometimes teams benefit from a loss or two. So without further ado, here is my top ten:
1. Kansas: As said last week, the Kansas Jayhawks are the nation's top due to their depth. They have a great front line with Darrell Arthur and Darnell Jackson dominating the glass. However, its their backcourt with Mario Chambers and Brandon Rush that makes them such a great team. They due an excellent job at dictating the temp of the game, which is something that Memphis struggles with at times. Most of all, there is lots of depth on the Jayhawks' roster.
2. North Carolina: Despite the loss to Maryland on Saturday, I would still take the Tar Heels in a head-to-head matchup with Memphis. They have the nation's top big man in Tyler Hansbrough and other great players in Wayne Ellington and Ty Lawson. The loss of Bobby Frasor hurts, but they still have the depth and explosiveness to make up for his loss.
3. Memphis: The Tigers have been one of the most impressive team so far this year. Their December victory over top ten Georgetown has been the most impressive win for anyone this year. They dictated the style of play that game and took apart the Hoyas in the second half. What concerns me about this bunch is their inability to play a slow, grind-it-out game. Against USC, the Trojans slowed the game down and the Tigers struggled to score at times. When they play in the open court, their athleticism is very obvious and their defense also improves.
4. Washington State: They've been pretty impressive so far with their lone defeat coming on the road against UCLA. The Cougs force teams to play their style of play by slowing down the game. They are able to do this as a result of their great defense. This just a solid team overall that doesn't beat themselves.
5. UCLA: While they did beat Washington State two weeks ago, they've looked really bad against USC and Texas this year. However, they're still a pretty good team with Darren Collison leading the way. Collison controls the game and gets the ball to the playmakers, three point ace Josh Shipp, quick guard Russell Westbrook, and imposing big man Kevin Love. So far this season, Love is averaging a double-double right now and is a strong candidate for Pac-10 Player of the Year.
6. Duke: The Blue Devils are one of the deepest teams in all of college basketball with nine guys playing at least eleven minutes per contest. Six of those guys are scoring about eight points per game. Their trio of Nelson-Singler-Henderson is one of the best in the country. It seems as if they finally have some athleticism, which is what they really lacked last year.
7. Tennessee: When the shots are falling, they can beat anyone anytime anywhere. However, when their shots are not falling than they have a tough time beating anybody (see last night against Kentucky). Chris Lofton and company are hard to guard because of their fast-paced style but like Memphis they struggle in the half court sets. This must improve if they want to reach the Final Four in March.
8. Indiana: Depth is a serious concern with the Hoosiers. Outside of star freshman Eric Gordan and D.J. White, the Hoosiers lack a deep bench that can carry them through March. Despite this perceived weakness Eric Gordan and the rest of the Hoosiers are getting better every single game so this team might even be more dangerous come March.
9. Georgetown: The Hoyas are the ant-Memphis. When playing in half court sets they're an imposing bunch, especially with Roy Hibbert in the middle. However, they struggle against up-tempo teams like Memphis, who play really fast. When teams take away Hibbert, the Hoyas are far less dominating. However, they aren't terrible without a dominating Hibbert. The Hoyas are a surprisingly versatile, and talented ball club with efficient guards. As the season progresses Georgetown will continue to improve and become much more explosive.
10. Michigan State: I think the Spartans may surprise people come tournament time in March. They are great defensively under Tom Izzo and have one of the nation's top players in Drew Neitzel. The lefty just seems to hit one big shot after another. They have done pretty well so far this year, and with a lot of freshman, they'll get even better.
Just missed...
Texas
Pittsburgh
Wisconsin
Vanderbilt
Stanford
Your thoughts? What changes would you make?
Ad blocker interference detected!
Wikia is a free-to-use site that makes money from advertising. We have a modified experience for viewers using ad blockers

Wikia is not accessible if you've made further modifications. Remove the custom ad blocker rule(s) and the page will load as expected.