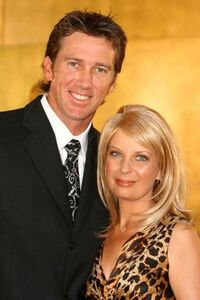 Jane McGrath
, wife of retired Australian fast bowler,
Glen McGrath
, finally lost her battle to cancer. She had battled breast, hip and brain cancer for eleven long years before it finally took a toll on her. McGrath who retired from international cricket in 2007 was deeply upset at the loss of his 'beautiful wife' and stated that she had passed away peacefully with him and their two children by her side. Jane started the McGrath Foundation to help women with breast cancer. Glen also stated that Jane would want all women fighting cancer to stay strong and to enjoy life. They could learn from her that she not only fought cancer for 11 years but also lived life to the fullest.
Ricky Ponting
who is currently leading his side in the Caribbean sympathized with the Mcgrath family and spoke very highly of Jane. The team will wear pink ribbons and their bat grips will also be pink for the first one day against the West Indies tomorrow as a tribute to Jane. Pink is the colour for the McGrath Foundation. Jane was born in England 42 years ago. Kevin Rudd, the Australian Prime Minister along with other well known dignitaries all payed tribute to Jane. She truly was a great person and a wonderful mother. May her soul rest in peace.
Ad blocker interference detected!
Wikia is a free-to-use site that makes money from advertising. We have a modified experience for viewers using ad blockers

Wikia is not accessible if you've made further modifications. Remove the custom ad blocker rule(s) and the page will load as expected.