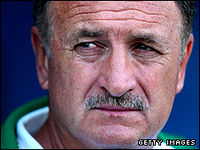 Luis Felipe Scolari or 'Big Phil' as he is known to many will take over the reigns at Stamford Bridge from the first of July. I'm a bit shocked at this as he came into the scene very late and I guess it was also due to the fact that all Italian managers had turned the job down and I had a feeling he was happy at his current job. Big Phil is currently boss of the Portugal National side who entered the Quarter Final stage with a 3-1 win over the Czech Republic last night at the ongoing Euro2008. Big Phil is the fourth manager of Chelsea under Roman Abramovic and has some big shoes to fill after Claudio Ranieri, Jose Mourinho and Avram Grant. However after seeing his record over the past few years, he seems to be the right man for the job. He has nine domestic titles in Brazil, a world cup win with Brazil in 2002, and also led Portugal to the finals of the last edition of the European Championship. He has never coached a European club before and it will be interesting how he handles his first assignment, that too a club like Chelsea. He has won the Copa Libertadores twice, a Brazilian Championship in 1996, three Brazilian cups, and three South Rio Grande Championships. However, it is adifferent level of coaching in Europe and in Brazil and I'm sure he would love to add a list of European titles to that list. The only major problem facing Big Phil at Chelsea will be his lack of communication skills in English. His first major game will be the opening game of the Premiership in the middle of August. I really wish him all the best.
Ad blocker interference detected!
Wikia is a free-to-use site that makes money from advertising. We have a modified experience for viewers using ad blockers

Wikia is not accessible if you've made further modifications. Remove the custom ad blocker rule(s) and the page will load as expected.