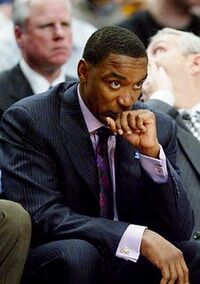 Isiah Thomas is never short of confidence in his New York Knicks. He voices the words contender, championship, powerhouse, development to describe the Knicks.
Such bold statements would be accurate 10-15 years ago. However, in the last four years Thomas's continuous loyalty to such daring words have been deemed ludicrous and comical given the state of a team that has psychologically defeated itself year after year.
Currently the Knicks are 17-38; furthermore, they have lost 10 of their past 13 and are 7½ games out of a playoff spot. To make matters worse there are no band aid solutions this year. Around the league it seems that no one wants Thomas's overpriced, underachieving, and uninspired players
Still, there were published reports in the New York papers that expressed Thomas's ambition to make a trade. The speculation centered on Thomas trying to move Zach Randolph and also acquire some help at point guard.
According to the New York daily news in moving Randolph to the [Denver Nuggets]], the Nuggets tried to get the Knicks to take back a big contract in Nene. The Knicks wanted a package that included Linas Kleiza, but the Nuggets wouldn't give up the promising forward.
Another report by Frank Isola, daily news sports writer, stated that Thomas offered Randolph to the Milwaukee Bucks for a package of players, but Bucks owner Herb Kohl nixed the deal. There also were rumors of interest in New Jersey Nets guard Vince Carter, but those were dispelled.
While Thomas has remained mum on trade issues, it is safe to say that after Thursday night's NBA trade deadline neither of Thomas's speculated moves happened.
Maybe it was divine intervention that prevented the Knicks to take on big contracts via trade and keep the current team intact for the final 28 games. While there can be strong case made that the Knicks could improve themselves via a trade, the wise decision at this point is play the season out, aim for a high lottery pick and start rebuilding from scratch.
This philosophy may or may not suit Thomas. The compulsive forceful head of basketball operations has been fixated with transforming the Knicks into a championship contender the last three years. The New York media have had field days condemning Thomas's constant failures over the course of time. This year Thomas seems to exercise patience; furthermore, his demeanor has cooled down and he has expressed remarkable tolerance given a public campaign to have him fired. Maybe this is a sign that he is becoming more articulate and sensible, which he better be since he has no choice.
Thomas displayed his gift of persuasiveness by convincing his boss James Dolan to give him a multiyear contract extension on March 11 2007 reportedly worth $24 million when the Knicks were 29-34. Thomas record since the extension is 12-33.
Everything is on the line for Thomas given the Knicks record of 132-220 under his tenure. Thomas is desperate to prove naysayers wrong and redeem his tarnished credibility with the Knicks. Given his at times stubborn nature, perhaps it is best he just keep his thoughts private, let the season end, and let others have a say in the direction the Knicks go from here.
Ad blocker interference detected!
Wikia is a free-to-use site that makes money from advertising. We have a modified experience for viewers using ad blockers

Wikia is not accessible if you've made further modifications. Remove the custom ad blocker rule(s) and the page will load as expected.