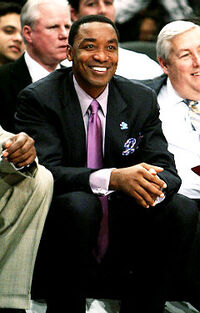 Isiah Thomas
Already seen as a disgrace and a joke of a franchise, the New York Knicks are not doing its discontent fans any favors by keeping Isiah Thomas.
Thomas has by most accounts become the official virus in the Knicks's cancerous state of affairs. The president and head coach has done a fabulous job in creating a four-year disease of losing records, playoff failure, and deplorable mismanagement. The Knicks have not had a winning season with Thomas in charge and he was also was at the center of an embarrassing sexual harassment case that saw a jury rule in favor of a former Madison Square Garden female executive
In most cases it should be no surprise that Thomas gets extinguished from Knickland this summer; however, as painful as this sounds it should be no surprise if Thomas stays with the organization.
The apparent arrival of Indiana Pacers CEO Donnie Walsh as the Knicks new president has been regarded as the first sign of good news for the miserable franchise. However, with the Knicks in a terrible, long-term financial mess and more importantly under the dictatorship of a stringent owner in James Dolan, there model for rebuilding is going to take more than just the hiring of a general manager, head coach and fixing the salary cap
According to the New York Daily News, Walsh has a handshake agreement with the Knicks, but there are still some issues that need to be resolved before the deal is announced.
People close to Walsh claim that money will not be an issue; however, Walsh wants assurances from Dolan that he can run the basketball operation his way. That would include everything from having the final say on all player transactions to revamping the team's suffocating media policy.
There is talk that Walsh will bring in a new coach if he takes the job, Mark Jackson, Scott Skiles and Tom Thibodeau head the list of coaching candidates, leaving Thomas out of the equation. Thomas has made it known that he still wants to steer the ship even though it is apparent that the Knicks have become the modern version of the Titanic. Nevertheless, Thomas can count on his blessings and the incredulous impact he has had on Dolan.
Dolan still wants Thomas to remain in the organization in some capacity. There are rumblings in the New York media circles that Dolan merely wants Thomas to earn his money, while there are rumors that Dolan still admires Thomas and wants to remain loyal to him. Whatever Dolan is thinking there is an eerie feeling seeing Thomas's posture and trademark smile for another year.
The chronic digression of the once storied franchise has been rampant since the 1999 NBA finals loss to the San Antonio Spurs. If Walsh or any other executive comes in they will accomplish almost nothing for at least a year. In a strange way accomplishing nothing can be good news in that it cannot get any worse in Knickland. For instance the Knicks would have to win four of their last 11 games to avoid becoming the first team in franchise history to lose 60 games.
So there you have it, for the Knick faithful the gloomy and gray skies are going to prevalent in the upcoming future, thus, brace yourselves for dreadful days ahead.
Ad blocker interference detected!
Wikia is a free-to-use site that makes money from advertising. We have a modified experience for viewers using ad blockers

Wikia is not accessible if you've made further modifications. Remove the custom ad blocker rule(s) and the page will load as expected.