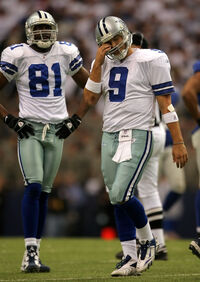 I am beginning to believe that the city of Dallas, Texas, is under some sort of curse after the Cowboys became the latest Dallas pro sports team to choke in the playoffs. While it's certainly not uncommon for a team to undergo a playoff collapse, no city has been more subject to these postseason meltdowns than the Big D. Take a closer look:
Texas Rangers The Rangers might be the only team here not to have choked in the playoffs. Wait a second, the Rangers have been so poorly managed that they have failed to even come close to reaching the postseason. Despite a collection of talented players such as, Alfonso Soriano, Michael Young, Hank Blalock, and Francisco Cordero, the Rangers have failed to be even remotely competitive in the four team AL West. Since 2000, the Rangers have failed to finish higher than third in the division despite having one of MLB's highest payrolls.
Dallas Desperados For those who aren't familiar with sports outside of the Big Three, the Dallas Desperados are an Arena Football League team owned by Jerry Jones that began playing in 2002. Despite just six seasons of play in the AFL, the Desperados have done pretty well going 13-3 in 2006 and 15-1 in 2007. However, the Desperados have made a name for themselves with their annual playoff chokes. In both 2006 and 2007, they have failed to reach the Arena Bowl despite having the league's top record.
Dallas Cowboys No team has been failed to meet expectations more often than the Dallas Cowboys. When Bill Parcells was introduced as Cowboys coach in 2003, many expected America's Team to become an NFL dynasty once again. However, that idea never came to fruition as the Boys suffered through three years of Drew Bledsoe lining up behind center. The results weren't too pretty either as Dallas failed to win one playoff game under Parcells. After Parcells resigned, Cowboys owner Jerry Jones hired Wade Phillips, who had been known for his numerous playoff collapses. With the young, hotshot quarterback Tony Romo entering his first full year of starting, the Cowboys got of to a hot start in 2007 going 12-1 with their only loss coming at the hand of the undefeated Patriots. Dallas eventually ended the regular season at 13-3, while also holding homefield advantage. However, their Super Bowl dreams were dashed quickly as they lost at home to the Eli Manning led New York Giants. They lost has made all Cowboys wait one more year before they can hopefully see their team win its first postseason game in over a decade.
Dallas Mavericks After their last two playoff performances, it might be possible to pronounce the Dirk Nowitzki led Mavericks the biggest chokers in NBA history. In the 2006 Finals, the Mavs appeared ready to take home their first NBA title as they held a 2-0 series lead over the Dwyane Wade led Miami Heat. In Game 3, Dallas held a twelve point lead with just over five minutes to play but ended up losing the game in overtime. Much to the dismay of Mark Cuban, the Heat went on to win the next three games, capturing their first NBA title. A year later, the Mavs appeared ready to avenge their disappointing finals performance by winning 67 regular season games, best in franchise history and sixth best in league history. After such a successful regular season, not even the most pessimistic Dallas fan would predict what would happen next. Former Mavericks coach Don Nelson led the 8th seeded Golden State Warriors to a shocking upset over the top seeded Mavs.
After horrendous regular seasons and playoff collapses, it seems pretty clear that city of Dallas is under some sort of curse. While a curse seems all but certain, its exact origin is a true mystery. Without any clear beginning, the curse lacks a proper name and title like Philadelphia's Curse of William Penn. So, if anybody out their has an idea where this curse originated from, I'd be more than happy to hear your thoughts.
Ad blocker interference detected!
Wikia is a free-to-use site that makes money from advertising. We have a modified experience for viewers using ad blockers

Wikia is not accessible if you've made further modifications. Remove the custom ad blocker rule(s) and the page will load as expected.