The
New York Mets
have done nothing but suffer and get killed since dealing with the injuries of shortstop
Jose Reyes
, center fielder
Carlos Beltran
and first baseman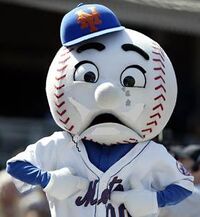 Carlos Delgado
.
The failure to provide run support still hangs around with nobody being able to grab it. It's just crazy how the Mets can only score one run against the Washington Nationals and Pittsburgh Pirates. Two teams that haven't mattered since black and white television.
Not being able to make the right moves to succeed plays of a huge part. Trading away right fielder Ryan Church to the Atlanta Braves for right fielder Jeff Francoeur sounded great, even though both players haven't been impressive throughout the season.
Francoeur is known for his ability to produce in the field, but he already has three errors playing with the Mets. It's almost like he's turning into one of these minor league players the Mets have in their line-up.
The Mets are currently 10 games back of the NL East lead, with the Philadelphia Phillies leading the way. They're fourth in the NL East, trailing the Florida Marlins, Atlanta Braves and Phillies. Trailing the Phillies seemed realistic coming into the season, but not the Braves and Marlins. This team is broken into pieces and the parts are hard to put back together.
Is it over?...Yes. The chances of the Mets winning the NL East are the same as horses being able to play soccer. Blame it on the injuries, because the confidence of this team went down. Players made many "stupid" mistakes in the field and the fire was just lost.
Ad blocker interference detected!
Wikia is a free-to-use site that makes money from advertising. We have a modified experience for viewers using ad blockers

Wikia is not accessible if you've made further modifications. Remove the custom ad blocker rule(s) and the page will load as expected.