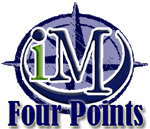 Gone one full week with the "Four Points" feature ... so hopefully news keeps rolling in and out and this becomes somewhat of a source for some news rather than some bland press releases, hoping someone reads them. But we call can dream right?
While this weekend is a big one in terms of the U.S. Nationals going on in Las Vegas, there's a few things I'll be entertaining this weekend here in Lancaster. Tonight, it's the 2006 Atlantic League Champion Lancaster Barnstormers home opener. It's an independent baseball league franchise starting its fourth season. When I bought my house in December, the ballpark was a bonus ... I live literally 100 yards from the gate. I'll be having some folks over to pre-game and then walk on over.
Other things on the agenda include announcing an intrasquad roller derby battle within the Dutchland Rollers Women's Flat Track Roller Derby League. On Saturday, it'll be the Barn Razors taking on the Distel Finks. Get this. I actually dress up in Amish gear (it was my Halloween costume ... check my myspace if you don't believe me). I also have a "derby name" -- Horace N. Buggy. I'm NOT kidding. I'm kinda twisted like that.
Other notes before we get on with today's Four Points. I finally own an iPod. I just gotta get my ears used to these earbuds. I already had nearly 4,000 songs, but now I can listen to them when I travel. Also have a deck in my truck that will allow me to control it, making those road trips that much more bearable.
Also, new Atmosphere album was released on Tuesday ... good stuff for those of you that like hip-hop that's not exactly like the crap stuff MTV and the radio plays. Atmosphere and Rhymesayers are from Minneapolis, so chances are, folks up there have already heard about them. Brother Ali is good too.
Weather : 69 and breezy
Gas Prices : Steady at $3.65 at Sheetz in Mt. Joy, Pa.

Onward!
Craziness in Women's Freestyle
In looking through the brackets in the Women's Freestyle Division at the U.S. Nationals, there were some notable finishes, upsets and general unpredictability. Things that did go as planned were off-set by things that simply made you go "what the ...?"
Randi Miller, a Texas native, was named the Outstanding Wrestler after knocking off 2004 Olympian and multiple-time world medalist Sara McMann in the finals at 63kg. McMann is one of three U.S. Olympic hopefuls training in Gaffney, S.C. at Limestone College. Mary Kelly and Jenny Wong are the other two and both had mixed results. Wong found success moving up at 55kg, finishing second to 2007 World Team teammate Marcie Van Dusen.
What could be argued as the best weight in the tournament was the field at 72kg. Two former World Champions and three previous U.S. World Teamers were in the mix, with two of the 2007 World Teamers meeting in the semifinals.
Nine-time World Medalist Kristie Marano finished fourth ... so think about how tough that tournament is. She's tied with Bruce Baumgartner for the most world-level medals in U.S. Wrestling history. After falling to rival/teammate Katie Downing in the semis, Downing would await the winner between Ali Bernard and former World Champion Iris Smith. Bernard topped Smith and then Downing to take the title. She's currently wrestling collegiately in Canada at the University of Regina in Saskatchewan and is a New Ulm, Minnesota native.
Also picking up a title of note was veteran Erin Tomeo. The U.S. champion has represented the U.S. on a world team prior, but was missing the national championship. After winning, Erin sent me a message via facebook pointing out there would be no more buffets. Last year at the World Team Trials, Erin suffered from "the itis" after hitting the Rio seafood buffet. I wasn't that far behind. Congrats on your title.
Wrestling on TV, Wrestling on TV!
Yes, you read that correctly. And on ESPN no less. The ESPN documentary team that produced a few of "The Season" series back with Iowa wrestling and one of the Central Bucks High School football teams has again picked up a wrestling theme.
Brandon High School, one of Florida's long-time powerhouse wrestling programs, will be featured on Tuesday at 9 p.m. Eastern with "The Streak." In case you weren't aware, Brandon's 30-something year dual meet win streak was snapped this past season. The culprit wasn't a national powerhouse, as many had predicted, but another Florida power ... South Dade.
For as much crap as he takes, what can you expect coach Russ Cozart to do when his team was handcuffed from traveling out of state for nearly two decades before Hillsborough County rules were let up so they could attend the Beast of the East and Ironman tournaments?
I was probably 19 when I first met Russ in an elevator at the Southeast Regionals in Jacksonville. I asked him "Why don't you come to the Virginia Duals?"
His response was eloquently simple, and while it's been almost eight years, I'm slightly paraphrasing here. He basically said why would he want to pay out of their pocket, travel a long way and have referees not from their own area to put the streak on the line. I mean, it does make sense. If you want to snap that streak, go down and do it. Don't taunt from several states away and then call someone chicken because they won't come.
I mentioned this on themat.com after the streak came to an end, but I think it ended the way Cozart would have preferred. In state, to an in-state program. Be sure to watch "The Streak" on Tuesday.
The lovely Academic Progress Report
For equivalency sports like wrestling, the APR can be a scary thing. As in the case with Eastern Illinois blaming APR numbers as the culprit which doomed the wrestling program (which is complete crap, as we all know), wrestling has issues with the APR because of the very limited opportunities to "start" in our sport.
This topic has already come up on themat.com and thankfully, someone posted the link to a blog written by recently retired Florida Atlantic University baseball coach Kevin Cooney. The APR is damaging to equivalency sports because, like Title IX, it doesn't involve common sense. Sure the numbers don't lie, but at the same point, there is NO wiggle room for athletes on partial scholarships.
Of the 87 (Oregon still counting) Division I wrestling programs, only eight schools were recipients of Public Recognition Awards regarding the APR. Men's sports were severely outnumbered by women's sports in this recognition. One of my theories behind this is more scholarship money is available for women's sports, so there's less incentive to leave. Wrestling's a sport where if an athlete desires to start, and cannot, he'll bolt for a better opportunity. Cooney's case can be taken one further here. Is it the sign of a bad coach that you produce All-Americans and Scholar athletes and the "backups" see the situation and look for greener pastures, whether they want to leave or not.
For example, I'll use an athlete from my alma mater.
Billy Chamberlain was a Pennsylvania state champion and nationally-ranked coming out of high school. He gave Old Dominion a chance. Well, an Iowa state champion named James Nicholson did the same thing. They both redshirted as true freshmen. Nicholson earned the starting spot and eventually became an All-American this season, the program's first in 13 years.
Where's the incentive for Chamberlain, now? It's not a Big Ten or Big 12 program and kids aren't exactly like Jesse Whitmer anymore.
No start, no stay.
There are scenarios at EVERY school that are similar to Chamberlain's. You could try to win the spot, but if he, like many wrestlers, wants to be a D-1 All-American, why sit behind a kid that's already an All-American AND in the same class? So you transfer, and lose an APR point, costing the school.
However, there's one caveat to this ... one I was unaware of. If you transfer out with higher than a 2.6, you do not lose a point. Odd and not exactly publicized, but in that case, Chamberlain, and his giant GPA won't be hurting his old school. But how many kids aren't in that upper academic echelon?
So if you transfer out with lower than a 2.6, you're hurting your old program. The fact the APR doesn't take in consideration sports with ONLY 10 starting spots is another problem that could end up dooming us as a sport. Other equivalency sports have more opportunity to "see starting time," compared to wrestling. Mike Moyer here at the NWCA brings this point up when talking about wrestling scholarships.
"In football, you can make a linebacker a defensive lineman. You can make a guard a forward in basketball. In wrestling, you can't make a 165-pounder a 133-pounder."
There needs to be some common sense involved with this APR.
And to those of you sick of the school you're attending and want to transfer out, make it that much easier to get your release and at least have good enough grades to not screw over a program when you leave. It'll actually do more for the sport than you think it will.
Sean Bormet in the Premium Service
Today's Premium Service item is the first of four clips from Sean Bormet's NWCA Clinic held at the NCAA Division I Wrestling Championships. Bormet, the guy behind the Overtime School of Wrestling, puts on a great clinic.
Still not a member of InterMat's Premium Service? It's only $34.95 a year ... that's less than three bucks a month and less than a tank of gas! Sign up here and see what else is out there.
Ad blocker interference detected!
Wikia is a free-to-use site that makes money from advertising. We have a modified experience for viewers using ad blockers

Wikia is not accessible if you've made further modifications. Remove the custom ad blocker rule(s) and the page will load as expected.