on July 20th, 2009 the Minnesota Twins played the A's. In what looked to be a total blowout (12-3) going into the 3rd inning became a close grudge match, thanks to the help of Matt Holliday, (6 RBI's and two homers) Orlando Cabrera,(3 hits 2 RBI's) and others. The game ended up coming down to the final play!


The only problem was that the final play was inaccurate! Catcher
Kurt Suzuki
lost sight of the ball, giving
Michael Cuddyer
an opportunity to score from 2nd.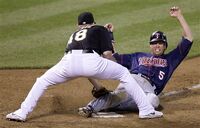 As the play moved on, Suzuki threw the ball in to the pitcher (
Michael Wuertz
) who tagged Cuddyer who just slipped under the tag by Wuertz. I knew as soon as the ump shifted his wait back to get every thing in his fist pump that
Ron Gardenhire
would not be pleased. This in my mind this was robbing the twins of a game they should have had. they really needed it as well considering how tight the AL Central is. So putting this game into prospective should the MLB have instant replay on this??
When instant replay was added to help out on home runs I was happy to see that change made. and I haven't noticed much of a change in game speed. However, if they did decide to have instant replay on everything I would miss not having it. No more Lou Piniella coming out to yell at the home plate umpire while Carlos Zambrano breaks the Gatorade machine. Also baseball is a very slow game any way so would this make things better or worse? But then again what if at the end of the season the the AL Central comes down to the Twins being one game out of the playoffs? And this is not the only time where instant replay has been needed. Please leave comments on your thoughts and thanks for reading!
<pollembed title="Should Major League Baseball have instant replay?"></pollembed>
Ad blocker interference detected!
Wikia is a free-to-use site that makes money from advertising. We have a modified experience for viewers using ad blockers

Wikia is not accessible if you've made further modifications. Remove the custom ad blocker rule(s) and the page will load as expected.