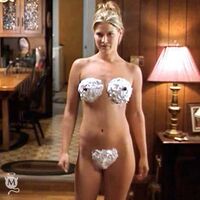 Lou Redwood: Jackie Moon is Flint's favorite son. And he has done more for this city than any human being who's ever lived on this planet! Dick Pepperfield: With the possible exception of eh, Henry Ford... Jackie Moon has done a lot for this city, you're right about that.
I was going to post a pic of Mr. Celtic Gangsta bellowing smack into the ear of a dejected Ben Gordon.
But if you are a Bulls fan, you already witnessed that little debacle. And kudos to Stacey King for calling it exactly the way it was during the conclusion of last night's broadcast. Yeah, that's right Garnett. Sit there all game long and then get brave and trash talk only once the game is at hand.
At least our guy was on the floor last night. Ben Gordon is a keeper. The guy is all heart with or without the painkillers required to sedate the throbbing strained hamstring. And he gave everything he had and then so more. Unlike Garnett, who sat on the bench and did nothing with the exception of chastising Gordon. No, I don't give a damn if his knee was ripped out of its hinge.
Kevin Garnett is a cowardly trash talking worthless gimp. And my sincere apologies to those offended with the political incorrect assessment. And no, I don't take any of those nasty adjectives back.
But all the matters is that the Bulls right now feel the same way. And I hope they do. To pull out Game#6 tomorrow night requires a little hate. Okay, how about a whole lot of hate? And it should be begin with Kevin Garnett. And then filter the rage towards Doc Rivers. Admittedly Rivers bitches and whines with more ferocity than Del Negro. For the love of God, Vinnie please put your hands down and out of prayer position when complaining to the officials. Shake those fists! Don't plead with 'em!
Rajon Rondo did what he was supposed to do. Of course, Rivers afterward had to rub the salt in the Bulls wounds by declaring it a "great foul". And yes, it was. Too bad the officials didn't make the proper call. It should have been a flagrant foul. Reverse the players in the situation. Rondo would get that call. But Brad Miller does not. Not last night, today, or tomorrow. Such is life in the NBA.
The stars were all aligned for Brad Miller to be the hero. And it was excruciating to watch Big Brad slowly barrel down the open floor to attempt that layup, dunk, short shot or whatever the hell he had in mind. Did I say slow? Yeah, really slow. As in watching Billy Bob chug down the field for the game winning touchdown (now you understand the Ali Larter obligatory photograph). Only Billy Bob delivered (in all of his former 300+ lb glory) while a dazed and bleeding Miller missed the first foul shot and failed to hit the rim on the second. And suddenly, it was point and match for the Celtics.
Cue Kevin Garnett's courage...
I hate this Celtics team. Even more so than Joakim Noah. Game# 6 in the United Center should be a bloodbath. Garnett should be greeted with the same warmth as a midnight noire feline prancing around the Cubs on deck circle. Elliott Harris offered the following assessment:
Any resemblance between the Celtics as a championship team of last season and of this season is purely coincidental. Boston without Kevin Garnett is like what the Bulls would be if they had a player as good as KG but he would be sitting out the postseason. Gee, aren't the Bulls fortunate not to have to worry about losing a player of that caliber.
Invite Milton Bradley to sit on the Bulls bench for Game#6. That should even out the verbal haranguing.
But let's have a little fun here. Bulls win tomorrow night. And fast forward to Game#7. Justice would be a game winning shot from Brad Miller. The TD Banknorth Garden is silenced. Only the jaw belonging to Doc Rivers can be heard with an echoing thud against the floor. Kevin Garnett's eyes begin to mist. A lot.
And just to rub it in a little more, Joakim Noah decides its time to jig. As in river dancing.
So Noah dances and dances. He weaves. He bobs. It is a spectacle to behold. He serves up a baffled and confused (also rather quiet) Kevin Garnett. The cowardly trash talking worthless gimp is so utterly confused that he pulls out his checkbook and donates a million dollars to the Asperger Syndrome Research Foundation. Anything to make the horror go away.
And Ben Gordon picks up the game basketball and hands it over to Brad Miller who promptly boots it into the rafters. The ball strikes the 2008 championship banner, tearing it down and smothering Doc Rivers' entire team.
Good luck to the Bulls on their quest to killing off the hopes and dreams of a repeat championship for these ingrate leprechaun worshippers.
'Cause like you said Kevin at the conclusion of last season, anything is possible.
Note: Its been a long while for to be this assertive about Bulls basketball. Tonight's game is going to be epic.
Ad blocker interference detected!
Wikia is a free-to-use site that makes money from advertising. We have a modified experience for viewers using ad blockers

Wikia is not accessible if you've made further modifications. Remove the custom ad blocker rule(s) and the page will load as expected.