By David J. Cohen

Joe Abunassar is the founder of Impact Basketball. He has worked with and helped in the development of players like Kevin Garnett, Chauncey Billups, Tayshaun Prince, Baron Davis, Dwight Howard, Ron Artest, Chris Bosh, Paul Pierce, Al Jefferson, Josh Smith, and many others. This year he has been credited with the physical transformation of Kevin Love before the draft, and is already working with other rookies like Joe Alexander, J.J. Hickson, and Marreese Speights.
Abunassar started as a manager under Coach Bobby Knight for four years at Indiana in the early 90s. In 1993 he became an assistant coach at Wyoming.
In 1997 he was headed for another coaching opportunity when he was approached by an agent to work with three players: KG, Billups, and Joe Smith. Abunassar always had an interest in health and training and had strength and conditioning certification while coaching. He took that role with the agent's players and things branched out from there.
In 2001 he started the IMG Basketball Academy in Florida. Eventually that led to Joe founding Impact Basketball. Through hard work and application, Joe has become one of the most sought after specialists in American Basketball. The Impact Basketball Camp has become the biggest off-season NBA player camp available to players looking to improve on their game.
I got a chance to ask him some questions about the camp, his experiences with players in the training world, and about the NBA in general.
Q: What do you feel you and Impact Basketball can offer to a player that separates you guys from the field?
Joe : What we do really is integrate everything. We're able to take a basketball approach and look at a basketball player and then put in the nutritional component, the weight lifting, the explosion, but all that stuff is focused on improvement on the court. Whereas a lot of strength people know how to get people stronger or faster, to integrate that into basketball is very difficult. So what we manage to do is to really approach guys from a basketball perspective but also lock down the other parts of it so they're able to improve on the court. A lot of guys have good skill coaches, good strength coaches, good nutritionists out there, but to integrate it into understanding how these guys move and play, we've studied their movements on the court and we've designed programs to improve specific on-court movements.
We've managed to get improvement on the court, which is really what has made us successful.
Q: What is a day in the Impact Camp like?
Joe : The guys come in around nine. They go an hour and a half on the court, in small groups (guards, smalls, bigs). Then they go about an hour and a half in the weight room with performance issues, whether it be explosion or balance or weight lifting that day. They take a break for lunch and then come back every day at 1:30 and play for about an hour and a half until 3:00 or 3:30 or a little longer, depending on how many guys are there and how long they want to play. After that we do specialty work, a lot of shooting, maybe a few guys stick around and just do ball handling. So they're really in there from 8:00, 8:30, 9:00 until 4:00, 4:30, or 5:00. Then they get treatment. Our trainers, our therapists are there to give them treatment and everything afterwards. A lot of guys come in for most of the day. Some of the veterans make it like a ten to three day where they come in and get all their work done and work right through lunch, and then they play and then they're done when they're done playing.
Q: How much of the game is physical and how much is mental?
Joe : You know, Coach Knight used to say 4 to 1, mental to physical is 4 to 1. I think you have to have the physical in place; you can't disregard the physical, but it does become more of a mental game. Seeing so many young guys come in the NBA talented and just not make it, it really boils down to their mental approach.
The physical is critical, especially in the NBA. These bodies are going to break down over 82 games. Garnett as many as he played, Billups over the last 5 years, if you disregard the physical, you're going to have problems, but in order take care of the physical, you have to have your mental approach in place.
Q: I know for me on the court I'm a player who tends to overanalyze everything and now I'm starting to understand the negative effects of this. Clyde Frazier has a saying during Knicks games that sometimes a player is thinking, not reacting. How much of that do you see in players and how big of a problem is it?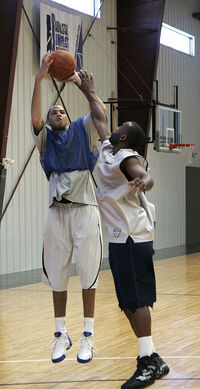 Joe : It's a problem, especially because I train them, so when I see them in the gym they're always analyzing their jump shot and their release. If you ask any of those guys, if you ask Garnett or Billups or Baron Davis, any of those guys when they have their best games, they probably couldn't tell you. There's a lot of guys who mentally over think.
You got to have a feel. They talk about "the zone", all those types of things. I think it's a big deal, especially guys with their shots and they're always analyzing their release. Once they miss one shot you're thinking about what you have to do on the next, and you know as a player, once that comes into play you're in trouble.
Q: Do you think that has something to do with the declining free-throw percentages?
Joe : I think people say big guys aren't shooting as well in the NBA. The game has changed a lot. There are a lot of great shooters that can't play [in the NBA] because the speed of the game is so fast. A lot of great shooters are not even getting into the NBA these days because it's just so fast, they can't guard anyone, and they're not functional out there.
Q: You started out working with Billups, KG, and Joe Smith for an agent. What is the interaction between agents and players that you've seen that the general public doesn't get to see?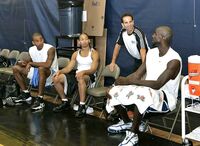 Joe : Most of the time you hear about the negotiations with the teams and the endorsements. I think good agents help build their players' career, communicating with them daily, weekly during the course of the season, giving them advice. It's no different in the NBA. A rookie comes in and they have a hard time; they don't get along with the coach. There's a lot of counseling, a lot of guidance from a good agent that people don't really get. They think it's all about getting that $100 million or $60 million but in order to get to that point, that's why guys that sign big contracts, a lot of times it's such a great accomplishment because the agents had to go through so much with that player to get them there.
Counseling, through rough times as a rookie or a second year player, deciding whether to be traded, not be traded, there are things like that. A good agent guides a player's career and sets him up. It's not just going into the general manager's office and beating him up for money. There's a lot of relationship there I think most people don't get.
Q: You work mostly with pros, college players, and high school players. Which group gives you the most gratification?
Joe : I think I love them all. I mean the draft is great because you see a guy like Kevin Love lose 25 pounds and move, where some people were questioning his upside, now he's the fifth pick in the draft and he did really well in Las Vegas (averaged 27 minutes, 18 points, 13.5 rebounds, 48% shooting). I think people are seeing what a good player he is. Then there's also, sitting here watching KG this year win a championship. It's taken him ten years of work. It's all really great.
But we get a lot of gratification from high school kids, you know a kid that couldn't have played then gets with us, and we get him better, and all of a sudden he's in a great situation. Or a kid whose dream is to play D-1, he worked hard, and got himself a scholarship. Stuff like that is all great.
I think it's equal at every level. I think there's different good things about every level.
Q: You kind of touched on it but how does it feel to see someone like KG or Chauncey, who you've worked with since your beginning, win an NBA championship?
Joe : It's great. It's not about the money. That part's over and done with. It's all about winning, and especially when Chauncey won the MVP of the Finals, it was an amazing thing. He said to me 'you never thought this would happen' and I said 'no I wouldn't'. We went back so many years working out in back doors, back gyms in Denver, and bringing him up through the whole system, seeing him get traded, that's great. Also, for a guy like Garnett, who has such a passion for the game and works so hard, to see that. It's great. Really, really great.
Q: Which players have you worked with in your career are you the most proud of?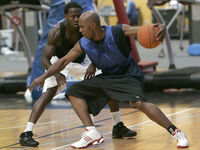 Joe : I think Billups for sure, being with him ever since Colorado, there's no question. Al Harrington is a guy; he's my son's godfather, coming in out of high school, growing as a person, becoming such a solid player. Tyronn Lue is another guy. You know, not a major guy in the league in terms of role but he's a guy that's come up and that I've been very, very close to, and also Tayshaun Prince. He and I had dinner when the Olympic Team was here and I asked him 'could you imagine when you were a kid that you'd be on the Olympic team getting ready to represent the country in the Olympics'? So those are guys, you know, they're not just clients, they're friends, so it's great to see them grow and become the kind of players they become.
Q: You have several high profile rookies at the camp. I know you've been a big part of Kevin Love's development as you've mentioned. As a Gator fan I've seen a huge improvement in both the physique and work ethic of Marreese Speights in the Summer League. Which rookies whom you've worked with stand out the most to you and why?
Joe : This year Speights was great. I told everyone from the beginning in terms of upside and potential he's probably the best guy I've had. He's a really, really good player and worked hard for us and you saw he looked a lot better. He got a little tired toward the end of the Summer League but he's been going strong for three and a half months now. I think J.J. Hickson showed what he can do in the first game, he really came along. I think Joe Alexander was terrific. [Kosta] Koufos was great too. You'll see from him, with his body cleaned up, coming from Ohio State, he had kind of that football player look with the big shoulders, and we chiseled him up and worked on his game and got him quicker. This year's rookie class is going to be great.
There were a lot of guys that made a lot of improvement. With Speights and Hickson and Love and Alexander, it's just a lot of fun to get those guys and improve them. We had a lot of time with each of them.
Q: What player and team habits do you see that drives you nuts?
Joe : The worst thing is the eating. I hate that. It drives me crazy what they do. They just don't eat right. A lot of them. For the most part it's a struggle for them. That drives me nuts. Guys that wait all summer and start working in August. Guys who come to us and say 'O.K. I have to be in shape in three, four weeks'. And what ends up happening is, you work so hard to get in shape, their bodies are tired by the time they get to training camp. They all drive me nuts everyday. I just wish guys could keep themselves in shape all year.
Abunassar also says there are many good and even great players in the league that could really improve themselves through nutrition, not for health reasons but for energy. For instance, a player's team might have a week with a back-to-back Tuesday and Wednesday and then Friday-Saturday, and if the player would just eat right and make the right choices, he would perform much better on the tail end of those games.

For the 2008 Impact Basketball camp, KG, Billups, Prince, Harrington, and Jermaine O'Neal will be participating, as well as several high-profile rookies like Kevin Love. For more information about Impact Basketball, go to www.impactbball.com
Ad blocker interference detected!
Wikia is a free-to-use site that makes money from advertising. We have a modified experience for viewers using ad blockers

Wikia is not accessible if you've made further modifications. Remove the custom ad blocker rule(s) and the page will load as expected.