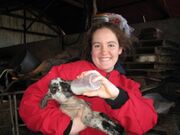 I haven't really felt the true effects of being so far from home until this past week. I was in Ireland, in West Cork, and staying with my roommate's cousins. They live on a farm, and it's now lambing season. We spent two or three hours everyday out in the fields, tending to the sheep, feeding the lambs and hanging out with a pair of wonderful sheepdogs named George and Rodney. On Sunday afternoon, we went to Cork City, and spent the rest of the day drinking cider (four and a half pints) and watching soccer (ManU-Liverpool and Chelsea-Arsenal) in five different pubs. I felt very Irish indeed. We legitimized our drinking by going to church for three hours in the past two days.
I feel separated now more than ever because of March Madness. I filled out my bracket, without watching college basketball for three months. I had still followed it pretty closely, but I missed out on Josh Shipp going bananas and convinced myself that Pitt was so hot, they'd go all the way to the Final Four. On Saturday afternoon, the disconnection came to a head, when I had no idea why the head coach of Western Kentucky was talking to Greg Gumbel on NASN (the North American Sports Network...I wish I had discovered this sooner).
I didn't think it would be so bad, because you can "watch" the live streams on CBS' website. Ends up I can usually only hear the audio, because the stream is crappy and will freeze for 45 seconds at a time. I fell asleep at the beginning of the USC-Kansas State game, and I got to hear a little bit of Gus Johnson doing the Pitt game, which made me happy, but I didn't get to see anything too exciting. But I did get to see a sheep give birth, drive a tractor, get super muddy and listen to Irish people talk for the three straight days.
Some more thoughts on the tournament...
I heart Stephen Curry. I always get into great shooters from smaller/lesser known schools (like Marquette's Steve Novak a few years ago). They have this massive chip on their shoulder from not getting recruited by the bigger schools. Curry fits this bill, looks like he's 13, and just took down one of the best teams in the tournament, basically by himself. I, of course, predicted all of this and had Davidson in the Sweet Sixteen.
Wildcats...pretty much my favorite animal. I had not only Davidson in the Sweet Sixteen, but also the Villanova Wildcats. Behind the best dressed coached in college basketball (maybe all of sports) in Jay Wright, Nova has rid themselves of the mediocrity that plagued them for much of the regular season and taken out Clemson and Siena to get to the third round. Big East Pride!
Speaking of the Big East...West Virginia being good again. The last time I remember West Virginia basketball being awesome was two or three years ago, when they played in one of the greatest games I have ever seen in any sport, and upset Chris Paul and Wake Forest in double overtime. They made it all the way to the Elite 8 that year, behind the guy with all the tattoos and the coach's son. Beating Duke gets you automatic brownie points.
Loving UConn, Duke and Notre Dame all losing in the second round...that's all of my NCAA Axis of Evil going down. Fabulous.
God damn George Mason...that had 5-12 upset written all over it. Okay, maybe it didn't, but I was banking on my brother's proud Mason alumnus status to pull them through. Oh well.
The path is getting clearer for my X-Men to get all the way to the Final Four. They can take out West Virginia, and they can give UCLA a damn good game. Unless, of course, Western Kentucky takes out Kevin Love and Co. How facking awesome would that be...Western Kentucky-Xavier in the ELITE EIGHT! God I love March.
Mississippi Valley State should seriously consider a move to Division II. That being said...
UCLA is looking awfully sexy right now.
UNC looks sexier, though. I have them as my national champs.
Ad blocker interference detected!
Wikia is a free-to-use site that makes money from advertising. We have a modified experience for viewers using ad blockers

Wikia is not accessible if you've made further modifications. Remove the custom ad blocker rule(s) and the page will load as expected.