by I am a cpcp
Those of you on the 'chair late spring and early summer may remember my long, drawn out defection and prodigal-eque return as a fan of the Cleveland Browns. After yesterday's game, I kind of wish I would have stayed out why the staying out was good.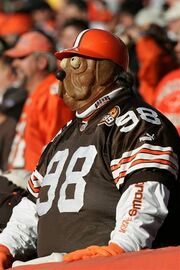 The Browns loss to the hated Steelers was not only bad, it was flat out ugly. The Browns were not ready to start the season. As much as I like Crennel as a coach he did not have the team prepared, specifically with the QB decision (or rather the lack of a decision at all).
Crennel should have realized very early in the preseason that it wasn't going to matter who was going to be playing QB for the Browns, the major weakness of the team -- as it has been since the team's return in '99 -- is the offensive line. Even with the addition of a big-name rookie and a high-profile free agent, the line hasn't gelled and is not prepared to protect any quarterback. Peyton Manning could be the Browns' starting QB and he's end up with 75 yards a TD and 2 INTs.
Romeo needs to name a starter (preferably Charlie Frye) and stick with him for the entire game (or until he gets hurt). It's not going to get any better no matter who's in the game. Swapping QBs every five minutes only makes the chaos on the field even more out of control.
What made the game worse is the ignorance of the fans at the stadium. Why in the world would they chant for Brady Quinn to be put in the game? The only logical sense would be if they dislike him as much as me (for those that missed the defection series, I left originally solely because of the drafting of Quinn), but that's not the case. Those fans actually think Quinn is going to go out onto the field and save the franchise.
Quinn's only been around long enough to learn 10-15 plays and those don't even matter because the only plays the Browns QB needs to know are Pass Duck and Cover and Handoff Duck and Cover. Why would you want your so-called franchise savior to be piled under eight defensive players of the Steelers, Bengals, Raiders, Ravens and Dolphins who would love to get in some extra-curricular hits on the pretty boy rookie?
The key word for Browns fans is patience and a lot us (particularly the ones at the game yesterday) don't seem to have a grasp on that concept. Impatient fans with a bad, rebuilding team is going to make for a long season and some painful Sundays.
Let's hear it for the Tribe and Cavs.