On my last Saturday in London, I spent the afternoon at Portobello Road market, the longest market in the world. It was 70 degrees and sunny, the best day weather-wise since I've been here. I walked through the market in flip flops, thinking about my experiences over the past three months. I could have stayed out all day, but by the time 3pm rolled around, I wanted to get back to my flat for football (soccer).
That's pretty much my love for the Premiership in a nutshell; I can feasibly drop everything I'm doing to go watch or listen (on this particular day, listen). It's somewhat inexplainable, as I still know next-to-nothing about the game of football, but I've been enveloped by so many different elements of it. I shall now attempt to explain, for my own therapeutic purposes and hopefully the enjoyment of all of you, why I love the EPL.
THE GAME As previously stated, I still know very little about the rules, techniques and intricacies of football. But I have conditioned myself to appreciate the skill and stamina of the players (I'll get to them later) and strategy of managers required to play the game at a high level. The extent of my knowledge is still limited, but I feel that I have the acumen to determine whether a team played good or bad in a scoreless draw. More importantly, I am now motivated to learn more about the game, follow it more closely, and be more knowledgeable about the sport. Never thought I'd say that about soccer.
THE MEDIA Today was my second go-round with listening to games on the radio, and I was very impressed. My first experience was on Tuesday, tuning in to Manchester United beating Barcelona in the UEFA Champions League semifinals (we only get five tv channels). Today, I listened to my boys from Fulham take on Birmingham in a fight to the death for Premiership livelihood (more on that later too). The announcing was very exciting (albeit in an exciting and important game), and even-handed.
After the day's matches, what is billed as "the UK's biggest football debate" commences, what I assume is the equivalent of sports talk back home. It was hardly a debate, and hardly like sports talk back home. Every caller is dignified, composed, using words like "dumbfounded," asking how the hosts are doing, congratulating other teams who had done well, and logically expressing their views. The hosts simply listen in, and don't offer much agreement or disagreement; it truly is a show of the fans' knowledge and opinion. What an extraordinary concept...I should send the link along to Costas and Bissinger.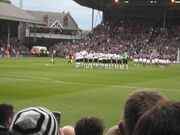 THE VENUES I had the chance to attend two games in the Premiership, one at Chelsea and another at Fulham. The stadiums could not be more different, but both were equally enjoyable. Chelsea's Stamford Bridge is a moderately-sized, glistening, sparkling beacon of cobalt blue in West London, fully pimped out by Adidas. Fulham's Craven Cottage is a comparatively tiny, simple stadium on the bank of the Thames River, with a small cottage, Craven Cottage, situated in a corner of the away end. Polar opposites, but each stadium has it benefits. Two particular instances gave me chills: leaving the concouse and looking out onto the field at Stamford Bridge, and the Fulham squad walking (almost marching) in to an operatic crescendo of classical music. Unreal.
THE GEAR It's very unique from what the states offer. There aren't many sweatshirts or baseball caps to be seen, but there are plenty of scarves and backpacks. Jerseys (or football shirts, as the Brits like to call them) are a popular form of attire, but I would have to say the scarf is king. Not only are they practical for those cold games in December and January, but they are excellent for Terrible-Towel-like expressions of jubilation in victory. There's an element of chic and style about them that no other form of football gear can lay claim to.
THE SYSTEM I was referring earlier to Fulham and Birmingham fighting for their Premiership livelihood, I'll explain here. Each year, out of 20 teams, the bottom three teams in the standings (based on points: three points for a win, two points for a draw, zero for a loss) get relegated to the Championship, the next level down in English League football. Sort of like a player getting sent down to AAA in baseball. In turn, the top three teams in the Championship at season's end will play in the Premiership next year. It adds a sense of desperate, now-or-never chaos at the end of the season. Fulham has been in the bottom three since Christmas, and with their win over Birmingham, they are fourth from the bottom, and with a win next week (the final week of the season), they'll stay up. The system of promotion and relegation forces teams to try and improve every year to stay in the Premiership.
Also, the scheduling is beautifully simple. Everyone plays everyone. 20 teams, one team, let's say Fulham, plays every other team twice, once at home, once away. 19 other teams, 38 matches. And the season is looooooooooooong, August to May.
THE GLOBAL REACH I just wrote an entire paper about how the Premier League is the most watched sporting league in the world, and there's something really profound about that, I think. The fact that people all over the world are so passionate about football in a small European country is really cool. The best talent in the world want to come and play in England. Serie A in Italy and La Liga in Spain are also popular, but not really close in how they are popular on a global level. I spent Easter Sunday in Ireland, and it went like this: church in the morning, followed by the entire afternoon and evening in four different pubs with my roommate's cousin and her crew of Premiership-loving friends, watching ManU-Liverpool and Chelsea-Arsenal, downing four pints of cider in the process. Best. Easter. Ever.
THE PLAYERS These players live and die for their teams. It's a unified passion for greatness that expresses itself in how hard they play. There's no fines for showboating, so everybody gets to jump one another, rip their jerseys off, fall to their knees on the pitch, flip like a gymnast, run around like a little kid, dance with surprising skill or celebrate however they choose. Of course, they flop like champs too, but it's overshadowed by the dedication and reckless abandon that everyone else plays with.
They don't look bad, either. I came to England with the knowledge that Cristiano Ronaldo was incredibly attractive. 40 goals, a place in the UEFA Champions League final against Chelsea, 27 interviews in adorably broken English on the BBC website and hundreds of pictures in free newspapers later, needless to say, he has achieved a pretty much untouchable status as far as sexiness goes. Although, upon discovering my second favorite website, he has some competition from a Spaniard on Arsenal and a Swede on West Ham. But I think it's safe to say, until he gets married, his status is pretty safe.
Who cares about Kobe jumping an Aston Martin? I'd rather see Cristiano race a Bugatti any day.
THE FANS As a Boston fan, I consider myself incredibly lucky to be among some of the most passionate fans in American sports. To be honest, they can't really hold a flame to Premiership fans at a match. They yell, they scream, they sing, they drink, they cheer, they whistle, they applaud, they leap, they curse, they dance...pretty much every emotion you have ever felt in your life as a sports fan is expressed by fans at a single match in the Premiership. The singing is probably the most distinctive element of a Premiership fan. I imagine it's like being at a political rally in foreign country...you don't understand what they're saying, but you're trying so hard to understand; it's not particularly pleasing to the ears, but you can't help but listen. It doesn't stop, either...they continue singing up until they get on the Tube to head home. Some of the most vile words in the English language come spewing melodically from the lips of fans with deafening volume. There's nothing like it.
As I walked through the market, and thought about how there's no place I'd rather be, I changed my mind. I wished I were at Craven Cottage, soaking up the sunshine with a bunch of drunken fans, passionately willing Fulham out of the bottom three. As I heard the roar of the crowd on the radio after the match ended, I just smiled.
Ad blocker interference detected!
Wikia is a free-to-use site that makes money from advertising. We have a modified experience for viewers using ad blockers

Wikia is not accessible if you've made further modifications. Remove the custom ad blocker rule(s) and the page will load as expected.