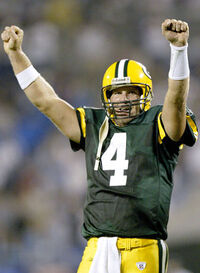 (Also published at www.chicksinthehuddle.com)
When you grow up in New Orleans, you can't help but be a Saints fan.  Even if you don't watch football, even if you don't like football, you're a Saints fan.  I've theorized that the doctor in my delivery room wasn't wearing a white coat but a black and gold jersey.  With all that said, it's no wonder I grew up watching and loving the Saints.  But it wasn't until about high school, when I truly started to understand the game, that I understood respecting football meant respecting its players, even if they're not wearing the right colors.
It was around this time that a young man of 21 who hailed from New Orleans' backyard, Kiln Mississippi, got selected in the second round of the draft by the team I loathed with the same exuberant passion that I loved the Saints: the Atlanta Falcons. That young man's name: Brett Favre. One year later, Favre left those Dirty Birds and flew North to the bitter cold of Green Bay, Wisconsin.   When I look back at what Favre has been able to accomplish over the span of his 17-season career, I can't help but selfishly think, "Thank God he didn't bring all that good fortune to the Falcons."
I think of all the countless contentious Saints v Falcons games I've attended, particularly in my adult life when the alcohol and fury would oft times take over.  No matter what the scoreboard read, I could always hang over the head of those funky Falcons fans that their team had never won a Super Bowl, their team never had back to back winning seasons, and their team generally waded in the shit hole of the NFL, right alongside the likes of the Saints, Bengals and Cardinals.  
But imagine if Favre had stayed with the Falcons.  Imagine if he had given them their first Super Bowl Championship ring, the breathtaking comebacks, the boyish charm, the heroism of that Oakland Raiders game when Favre pulled off a Monday night miracle the day after his dad's death, and that amazing season in 2007 that, although it did not yield another ring, is sure to catapult him to legendary status.   Had Favre stayed a Falcon, what ammunition would I have against my enemy?  
The Saints would have faced Favre's Falcons twice a year, and likely would have been beaten twice a year.   Saints fans would have nothing to hold over the head of their division rival, other than "At least we can drink in the streets after our game.  Take that!"    In my desperation and frustration, I may have drowned my sorrows too heavily at a Saints game against Favre's Falcons in the dome.  Maybe in my drunken haze, I would have leaned too far over a railing, and plummeted to my death.  Or maybe after the game, in the drunken walk to Bourbon St., I would have passed out on the sidewalk, leaving myself vulnerable to rapists, robbers, and rats.  Maybe I would have abandoned football altogether and hopped in a car one Sunday afternoon in October (instead of watching the game) and taken a ride to the mall and dropped a bottle of water on the floor and reached down to get it and in the split second I took my eyes off the road, an 18 wheeler cuts me off, but I don't see it in time, and I swerve, right off the bridge and too my death.
So today Brett Favre, as we honor your retirement and reflect on your 17 seasons in the league, I want you to know that you mean more to me than just another great football player.  There's a good chance I owe you my life.  Thanks
Ad blocker interference detected!
Wikia is a free-to-use site that makes money from advertising. We have a modified experience for viewers using ad blockers

Wikia is not accessible if you've made further modifications. Remove the custom ad blocker rule(s) and the page will load as expected.