It's been, what, a week since Chicago Cubs pitcher Carlos Zambrano no-hit the 'Stros at a "neutral" site after hurricane Ike forced the game out of the state? Yet why are the Astros still complaining about the game, played in Milwaukee's Miller Park, feeling like an away game.
The stadium was packed with Cubbies fans as Zambrano pitched the Cubs' first no-hitter in 36 years! That is a long time. It was also the first neutral no-hitter thrown in MLB history. Yet Houston found a way to ruin it for the Cubs, and their passionate fans.
Their argument was that the game was played too close to Chicago (less than a hundred miles from Wrigley). I agree with Houston to some extent. Yes, I think it was unfair to the Astros, who arrived a few hours before the first pitch. However, to continue to complain, and say it ruined the team's shot at a wild card berth!?
No, that's just stupid. You have to win more games than you lose in the last week or two of the regular season, and the Astros just haven't been doing good enough to even think about complaining to Major League Baseball about this.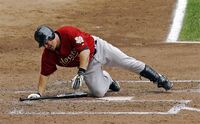 Before the Miller Park no-no, the Astros were on a hot streak, winning six straight and 14 of their last 15 games. But, since the 5-0 loss to Zambrano and the NL Central champion Cubbies, Houston is 2-5. They have a combined 20 runs in the past eight games, and were swept by the Florida Marlins.
Although their schedule favors them, the Astros are 4.5 games behind the NL wild card leader New York Mets with six games remaining. The odds are obviously against them, but it can be pulled off.
I will support the Houston Astros if they do make the playoffs, but I just really don't agree with their side of this mess. Yes, yes, Major League Baseball made a mistake in moving the game closer to Chicago, but can we just get over it and move on? Were the Astros too distracted by all the screaming that they couldn't even get one hit? I think if they feel they are worthy enough to be a playoff-bound team, they should've been able to walk out of Miller Park with a W.
In September and October, it's all about doing what it takes to win games when it counts, and Houston just didn't do that back on September 14. If the 'Stros want a legit shot at winning the fourth playoff spot, they will need to sweep both the Cincinnati Reds, and Atlanta Braves. Houston will have to prove to me that they deserve to be in the playoffs by winning at least four of their final six scheduled games, all of which will be played at home in Minute Maid Park. Win and pray both Milwaukee and New York lose the rest of the games is all Houston can do at this point.
Ad blocker interference detected!
Wikia is a free-to-use site that makes money from advertising. We have a modified experience for viewers using ad blockers

Wikia is not accessible if you've made further modifications. Remove the custom ad blocker rule(s) and the page will load as expected.