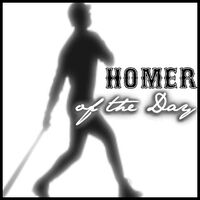 | Batter | Team (B) | Inning | Pitcher | Team (P) | Situation |
| --- | --- | --- | --- | --- | --- |
| David Ortiz (7) | Red Sox | 7th | Nate Robertson (6) | Tigers | 0 on, 1 out, 3-0 |
| Manny Ramirez (7) | Red Sox | 7th | Freddy Dolsi (1) | Tigers | 0 on, 1 out, 4-0 |
| Chipper Jones (10) | Braves | 3rd | Chris Young (6) | Padres | 1 on, 0 out, 2-1 |
| Mark Kotsay (3) | Braves | 4th | Chris Young (7) | Padres | 0 on, 0 out, 4-1 |
| Jhonny Peralta (6) | Indians | 4th | Andy Pettitte (6) | Yankees | 1 on, 1 out, 0-1 |
| David Dellucci (4) | Indians | 8th | Joba Chamberlain (1) | Yankees | 2 on, 2 out, 2-3 |
| Nate McLouth (8) | Pirates | 3rd | Jonathan Sanchez (4) | Giants | 1 on, 1 out, 1-0 |
| Adam LaRoche (3) | Pirates | 4th | Jonathan Sanchez (5) | Giants | 1 on, 0 out, 3-0 |
| Nate McLouth (9) | Pirates | 6th | Brad Hennessey (2) | Giants | 0 on, 2 out, 8-0 |
| Jose Castillo (2) | Giants | 8th | Sean Burnett (1) | Pirates | 2 on, 2 out, 2-12 |
| Eric Hinske (7) | Rays | 6th | A.J. Burnett (3) | Blue Jays | 0 on, 1 out, 4-3 |
| Mike Jacobs (9) | Marlins | 3rd | Jeff Suppan (5) | Brewers | 1 on, 2 out, 1-0 |
| Nick Johnson (5) | Nationals | 2nd | Shawn Chacon (4) | Astros | 0 on, 0 out, 0-0 |
| Aaron Boone (2) | Nationals | 7th | Shawn Chacon (5) | Astros | 0 on, 0 out, 3-3 |
| Austin Kearns (3) | Nationals | 8th | Doug Brocail (2) | Astros | 0 on, 0 out, 4-4 |
| Garret Anderson (4) | Angels | 4th | Briain Bannister (5) | Royals | 2 on, 0 out, 0-3 |
| Jermaine Dye (4) | White Sox | 6th | Nick Blackburn (2) | Twins | 0 on, 0 out, 3-1 |
| Chris Iannetta (3) | Rockies | 5th | Braden Looper (3) | Cardinals | 0 on, 0 out, 1-5 |
| Rick Ankiel (5) | Cardinals | 8th | Manny Corpas (3) | Rockies | 0 on, 0 out, 5-2 |
| Eric Bruntlett (2) | Phillies | 3rd | Randy Johnson (3) | Diamondbacks | 1 on, 1 out, 0-1 |
| Stephen Drew (4) | Diamondbacks | 4th | Adam Eaton (4) | Phillies | 2 on, 2 out, 3-2 |
| Jayson Werth (5) | Phillies | 6th | Randy Johnson (4) | Diamondbacks | 0 on, 0 out, 3-6 |
| Ryan Church (5) | Mets | 1st | Hiroki Kuroda (5) | Dodgers | 0 on, 1 out, 0-0 |
| Blake DeWitt (2) | Dodgers | 5th (ITP) | Nelson Figuera (1) | Mets | 1 on, 2 out, 3-4 |
| David Murphy (3) | Rangers | 3rd | Miguel Batista (2) | Mariners | 1 on, 0 out, 3-0 |
| Josh Hamilton (7) | Rangers | 3rd | Miguel Batista (3) | Mariners | 2 on, 2 out, 7-0 |
ITP stands for (inside-the-park).
For the people who have not been introduced to the "Home Runs of the Day" yet, let me just clarify a couple of things:
The "situation part" (the part that states the score) is the score BEFORE the home run is it.

And, on a second note, the first part of the score is the score of the home run hitter's team. The second number represents the opponent's team.
Dellucci, Tribe Give Joba a Big Surprise
New York Yankees
and
Cleveland Indians
played again about a week later. The Yankees were on and off during the six game span between the two series, as they got swept by the
Detroit Tigers
and rejuvinated right after that by sweeping the
Seattle Mariners
. Since the Yankees didn't have a game the day before, people were wondering whether this would slow them down or help them. It could help them because pitchers and everyday players could always use some more rest. However, they
did
just get off a hot streak against the Mariners, where they defeated two pitchers who considered to be two the best pitchers in the game this season:
Erik Bedard
and
Felix Hernandez
.
On the other hand, there's Cleveland, who was given an off day on May 2nd. They got the better of Seattle in 3 games, but weren't able to win either of the two games they played against the Kansas City Royals right before they faced New York. So they had to wonder how the Yankees would feel after they had a day off right before they played Cleveland. With an day off from work, you should take advantage of it, whether you're playing for the team or against the team.
A rematch of Game 2 of the 2008 ALDS between Fausto Carmona and Andy Pettitte was underway. Pettitte pitched somewhat better, giving up one less run than Carmona and being able to go through 1 1/3 more innings as well. The Yankees' defense definitely made Pettitte's day a little easier, as Jose Molina was able to throw out Ben Francisco at second base from his knees and Robinson Cano making a basket catch while facing center field.
With one on in the top of the fourth, and the score being 1-0 in favor of the Yanks, Jhonny Peralta saw an 88 mile per hour fastball right down the middle and took it for a ride over the right-center field wall for a two run shot, making it 2-1 (Indians). However, in the same inning, the Yankees retaliated with 2 runs of their own. One inning later, Eric Wedge believed he was done and pulled him out, going through 95 pitches. He was mainly concerned about Carmona's control. He had already walked 5 batters, which was the third time it has happened so far this season, and the sixth start out of the seven games he's pitched where he has allowed 4 or more walks.
"He needs to do a better job getting the baseball over the plate," Wedge said of Carmona. "He's a great competitor and he can get himself out of trouble because he can put the ball on the ground. But he hurts himself when he gets behind in the count."
After both starters were done, they both now had to turn to their bullpens. Rafael Perez, Jensen Lewis, Rafael Betancourt did a good job late in the game, sending a combined 3 runners on base in which none of them crossed the plate. On the other hand, after the seventh inning, the Yankees decided to go with Joba Chamberlain, and he (unfortunately) wasn't able to get on the right foot during this game that could possibly get them further away from the .500 mark (for once). With two runners on and two outs, Wedge decided to make another decide: take Franklin Gutierrez out and put David Dellucci in to pinch hit for him.
"He's one of those guys who goes up there confident," Wedge said about Dellucci. "I think he likes being up in those situations."
Dellucci came up big, hitting his 10th career pinch-hit home run, a three run homer, and (eventually) the game winning homer, giving the Indians a 5-3 lead. It was the first home run given up by Chamberlain this season, and looked completely devestated after giving up that home run.
"His at-bat against Grady, he threw a first-pitch curveball and a second-pitch slider," Dellucci said. "When you see a guy who can throw 98 [mph] getting those pitches over, you know it's going to be tough." After studying Joba's first couple of pitches, he knew what was coming to him, and he just swung and it flew over the wall.
"I was just kind of out of whack," Chamberlain said. "I just couldn't get out there, and my hands were separating late." He later on claimed that things like this were going to happen, as they happen to every single pitcher in the Bigs.
"Nobody's perfect,"  he said. "It's going to happen to you. I don't know anybody that's ever pitched that it's not happened to. Everybody's going to take their lumps. It's tough to say as a person because you want to compete, but you understand that this game is set up for us to fail. You keep that in perspective."
"Fortunately, I got one elevated and I put a good swing on it," Dellucci said about his first and last at-bat of the game. "[Pinch-hitting] is a tough role. It's a do-or-die situation, and the statistics are against you. You've got to try to get your hacks."
It really is tough to hit a pinch hitting home run when every fan of your team, as well as your coaches and every member on your roster is counting on you to do something. David Dellucci has been in situations like that before, which is probably why Wedge used him late in the game against one of the most dominating set-up men in baseball right now.
Three Homers: Not Enough
The Washington Nationals were locked in a seesaw battle against the Houston Astros on May 6th. When looking at the teams, it looked like either team could've won. Washington was red hot before this game, winning 6 of their last 7 games. On the other hand, the 'Stros swept the Milwaukee Brewers in a few exciting games, making it to the .500 mark for the second time this season. If the Astros beat the Nationals, it would be the first time this year where the Astros were above .500.
The game was back and forth, as there was at least one run scored in 9 of the 17 frames that were played. After a scoreless first, Nick Johnson hammered his fifth homer of the year over the tall left field wall in Minute Maid Park to get things started for the Nationals' offense. The Astros would then answer back with two more runs (one in the 2nd, and one in the 3rd) to give the Astros aa 2-1 lead. After a scoreless fourth, back-to-back RBI doubles by Christian Guzman and Ryan Zimmerman would put the Nationals on top, once again, 3-2. After an outfield assist by Hunter Pence, he drove in Lance Berkman to make it a 3-3 game. Neither team would score a run for another inning. Nationals starter Shawn Hill was taken out out the sixth inning, as he already pitched 107 pitches and was getting a little rusty.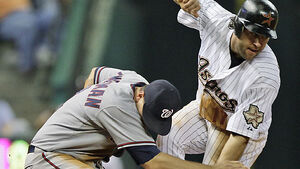 To the seventh they went. Aaron Boone, who hit a home run in the Nationals' last game, thought he saved the day when he hit another solo dinger this game off of Shawn Chacon, who was on the mound for the seventh time this season and has yet to receive a decision so far. However, that was not the case. The bottom of the seventh was very exciting, as Lance Berkman doubled, stole third base (which was his second stolen base of the night), and got "balked in" by Saul Rivera to tie the game at 4.
In the eighth inning, Austin Kearns gave the Nationals hope to win by homering, making it a 5-4 game. That was the third home run by a National in this game. With Berkman on first, Miguel Tejada on third, and 2 outs,Carlos Lee was up to bat trying to drive in at least one run to tie the game. He swung at an 0-2 an hit it to the opposite field, and the rightfielder (Kearns) thought that if he could do it with the bat, he could do it with the glove; boy, was he wrong. He dove for the ball, which scored both Tejada and Berkman, which gave the Astros the lead, and eventually the comeback win, 6-5.
"I can't keep going through this," Cooper said after watching his Astros' fourth comeback win in a row. "This is killing me. Pretty nerve-wracking, sitting over there, praying for base hits."
On the game-winning hit, rather than watching the fielder, Berkman kept his head down as he took off from first, saying that he would react to the crowd noise rather than watch the ball, which is actually a very smart concept.
"I knew he was going to dive for it so I put my head down and I listened for the crowd," Berkman said. "I figured if he caught it there would be a groan. I heard a cheer so I said, 'You've got to score.' So I was running as hard as my little legs would carry me."
Berkman then went on saying, "It's one thing to come back and tie the game, but to come back and go ahead, and then Jose did a great job of closing the game up quickly... you can't overstate the importance of that when it comes to building a good winning feeling.
Morals of the story:
*Don't try to be the hero. *Home runs aren't "everything"... and they aren't the "only thing" either.
On a couple of side notes:
*The Astros have given up 44 home runs, which is more than any other team in the Major League (as of May 6th).
Shawn Chacon has received a no-decision for the seventh consecutive start. When is he going to get one?

"It's kind of crazy," Chacon said after the game. "To go seven starts in a row without a decision either way is pretty unbelievable. You can go a lot of starts without getting a win, but to come out without having a loss either says a lot about our team and the guys picking me up on the offensive end." He then went on talking about the Astros' season by saying, "If I keep going 0-0 and we keep winning ballgames, there's no complaining on my part."

Lance Berkman had, a career high, 5 hits in one game, which set a franchise record for the most hits in a 9 inning game.
Lance Berkman had a perfect game: 5-for-5, 2 stolen bases, an RBI, and 4 runs scored. He was involved in 5 of the 6 runs that scored in the game for 'Stros... and he did it without hitting any home runs!

Combining this game and the Astros' previous one, Berkman hit 9-for-10, with 6 runs scored, 4 doubles, a home run, and 5 RBIs. He raised his batting average from .303 to .353, his on-base percentage from .406 to .441, and his slugging percentage from .702 to .754 in just two games. UNBELIEVABLE!
Homer of the Day (May 5, 2008)
And the Homer of the Day for May 5, 2008 goes to...
Click here for the details of the home run. It's under the subtitle: "How Good is the Blue Jays' Rotation?"
Others who received votes:
Garret Anderson of the Los Angeles Angels (2 votes) Brandon Wood of the Los Angeles Angels (1 vote)
On Another Matter:
Thank you so much, fellow AGMers, for waiting so patiently for these articles, once again. I have taken a little break after completing 5 projects and finishing my exam (religion); yeah, apparently, they have to "teach" us how to be a correct Muslim so that we don't end up like... you know. As always, I thank you guys for your support. Hopefully, I'll be able to catch up soon.
Thanks to everyone who has been voting, especially those who have since the very beginning (you know who you are). Like I said, the more votes we have in these articles, the better. It makes it more interesting, and makes me feel better when I post these articles.
Ad blocker interference detected!
Wikia is a free-to-use site that makes money from advertising. We have a modified experience for viewers using ad blockers

Wikia is not accessible if you've made further modifications. Remove the custom ad blocker rule(s) and the page will load as expected.