Article:Home Runs of May 4, 2008
Talk

0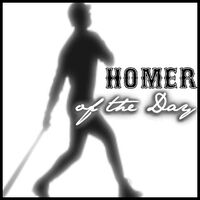 | Batter | Team (B) | Inning | Pitcher | Team (P) | Situation |
| --- | --- | --- | --- | --- | --- |
| Miguel Olivo (4) | Royals | 9th | Rafael Betancourt (4) | Indians | 0 on, 2 out, 1-0 |
| Adrian Beltre (6) | Mariners | 1st | Darrell Rasner (1) | Yankees | 1 on, 2 out, 0-0 |
| Melky Cabrera (6) | Yankees | 3rd | Carlos Silva (4) | Mariners | 1 on, 1 out, 3-2 |
| Robinson Cano (3) | Yankees | 3rd | Carlos Silva (5) | Mariners | 0 on, 1 out, 5-2 |
| Dan Uggla (7) | Marlins | 2nd | Greg Maddux (5) | Padres | 0 on, 0 out, 0-1 |
| Adrian Gonzalez (8) | Padres | 3rd | Andrew Miller (4) | Marlins | 0 on, 2 out, 1-1 |
| Chipper Jones (9) | Braves | 2nd | Bronson Arroyo (8) | Reds | 2 on, 1 out, 4-0 |
| Paul Bako (3) | Reds | 3rd | Tom Glavine (3) | Braves | 0 on, 1 out, 0-7 |
| Mark Kotsay (2) | Braves | 8th | Jared Burton (1) | Reds | 0 on, 0 out, 13-7 |
| Aaron Boone (1) | Nationals | 4th | Ian Snell (3) | Pirates | 0 on, 0 out, 2-0 |
| Adam LaRoche (2) | Pirates | 5th | Tim Redding (5) | Nationals | 0 on, 1 out, 0-3 |
| Rich Aurilia (3) | Giants | 6th | Cole Hamels (5) | Phillies | 1 on, 2 out, 2-4 |
| Carlos Ruiz (1) | Phillies | 8th | Vinnie Chulk (1) | Giants | 0 on, 1 out, 4-5 |
| Carlos Pena (7) | Rays | 6th | Jon Lester (1) | Red Sox | 0 on, 1 out, 0-4 |
| Kevin Youkilis (3) | Red Sox | 7th | Dan Wheeler (2) | Rays | 0 on, 0 out, 4-3 |
| Lance Berkman (10) | Astros | 2nd | Ben Sheets (3) | Astros | 0 on, 0 out, 0-2 |
| Mike Cameron (2) | Brewers | 3rd | Chris Sampson (2) | Astros | 0 on, 0 out, 2-1 |
| Mike Cameron (3) | Brewers | 4th | Dave Borkowski (3) | Brewers | 2 on, 1 out, 3-2 |
| Hunter Pence (4) | Astros | 12th (GW) | Mitch Stetter (1) | Brewers | 1 on, 1 out, 6-6 |
| Curtis Granderson (5) | Tigers | 1st | Boof Bonser (4) | Twins | 0 on, 0 out, 0-0 |
| Andre Ethier (3) | Dodgers | 5th | Aaron Cook (3) | Rockies | 0 on, 1 out, 0-3 |
| Gary Matthews Jr. (5) | Angels | 1st | Steve Traschel (4) | Orioles | 0 on, 0 out, 0-2 |
| Torii Hunter (5) | Angels | 1st | Steve Traschel (5) | Orioles | 2 on, 1 out, 1-2 |
| Melvin Mora (4) | Orioles | 3rd | Joe Saunders (4) | Angels | 0 on, 0 out, 2-4 |
| Robb Quinlan (1) | Angels | 3rd | Steve Traschel (6) | Orioles | 1 on, 2 out, 4-3 |
| Nick Markakis (6) | Orioles | 7th | Ryan Speier (4) | Angels | 0 on, 0 out, 4-6 |
| German Duran (1) | Rangers | 3rd | Greg Smith (4) | Athletics | 0 on, 0 out, 0-0 |
| Jack Cust (4) | Athletics | 7th | Scott Feldman (3) | Rangers | 1 on, 0 out, 0-1 |
| David Wright (6) | Mets | 4th | Dan Haren (4) | Diamondbacks | 0 on, 0 out, 1-0 |
For the people who have not been introduced to the "Home Runs of the Day" yet, let me just clarify a couple of things: * The "situation part" (the part that states the score) is the score BEFORE the home run is it. ** And, on a second note, the first part of the score is the score of the home run hitter's team. The second number represents the opponent's team.
The Loser is Stetter; Hunter Gets Better
This may sound boring, as this is the third time in a row that the "Homer of the Day" includes a couple of paragraphs pertaining to the Houston Astros/Milwaukee Brewers games. However, this is the last game of the series, and it was ended in the best way possible: a walk-off two run homer by Hunter Pence. The Astros relied on the long ball a lot during the last three games mentioned, hitting 9 home home runs altogether. However, none of those home runs were game winners. That final home run was the home run that put an ending to a small, but major chapter of the Astros' 2008 season, as well as Pence's little slump he has had since the beginning of the season. We all know what he is capable of, so let's see what he will do for the Astros for the rest of the season.
"You know he's a guy who throws a pretty nasty cutter inside, so I was trying to relax my hands and just try to put the barrel on it," Pence said. "That's a huge win for us, a tough win and one we fought for. We showed a lot of resilience. They had a great guy in [ace] Ben Sheets on the mound, and somehow we managed to scratch a few runs off him and found a way to tie it up."
Even though Sheets didn't have his best outing (surrendering 4 runs in 6 1/3 innings pitched), he was able to able to redeem himself with the bat, hitting an RBI double to add more run support for himself. Mike Cameron of the Brewers hit 2 home runs and drove in 4 more runs, which left Sheets safe when he left the game. However, things got rough, and Sheets had to watch Eric Gagne give up yet ANOTHER couple of runs for his fifth blown save of the season.
"I put myself in positions I shouldn't have been in," Gagne said. "We played a really good game and I came in and messed it up."
Although Gagne didn't get the three outs he needed to he score was still tied at 6 though, and the two teams had to battle it out in extras. By that time, Pence was already 0-for-5 when he was up to bat. Mitch Stetter threw a 2-0 slider that Pence knew he could drive. He took a whack at driving the ball, and he really got a hold of it, driving into the deep left field section of the stadium.
"I just told [bench coach] Jackie Moore, 'Hunter's 0-for-5 here, he's not going to go through him six times,'" Cooper said. "He was due to get one right there. I said he was going to get him, and he did."
Once again, the Astros made another comeback win, and continued their home winning streak to 6. Also, they are, as of May 4th, at the break even point (.500). They have really done much better as an offensive unit, and have scored runs late in the game, when they were needed, in order to win ballgames.
Welcome to the [at least] One Home Run Club, German
Things were not looking too great for the Texas Rangers about a week ago. They were 9-18, and there were rumors about Ron Washington getting fired. However, after a couple wins in Kansas City and two more wins against the Oakland Athletics, the Rangers had a chance to sweep the A's and epand their winning streak to 5 games. They were the hottest American League team in baseball at the time, as they had the longest winning streak on that day.
Athletic's rookie starter Greg Smith was on the mound for the A's, as he was attempting to impede the Rangers from sweeping them. Overall, he pitched really well, giving up only 1 run, 3 hits, and 2 walks, while striking out 10 in only 6 innings pitched. Surprisingly, Oakland manager Bob Geren took him out with score in favor of the Texas Rangers after a certain rookie of the Rangers hit a home run in the top of the third. You might not know him, as he's only played 11 games as of May 4th. His name is German Duran. The 23 year old rookie from Mexico crushed a ball into deep left field for his first career home run on an 85 mile/hour fastball. That gave Rangers starting pitcher Scott Feldman a little bit of relief, as he now had a 1-0 lead. Smith then retired 12 of the next 14 batters.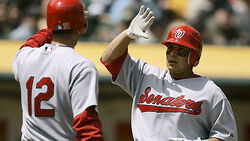 With the Rangers on their way to what they thought was going to be their fifth consecutive victory, they didn't realize that they needed to watch out for Jack Cust, as he already extended his hitting streak to 7 games earlier in the game; that's not bad for someone who had an average below .240 coming into the game. With Rajai Davis on second, Cust came up big, hitting his 4th homer of the season, which we found out later was the game winning home run. The A's would then tag one more run, as the A's avoided the sweep by winning 3-1. The heart of the Rangers' lineup (Josh Hamilton, Milton Bradley, and David Murphy) were 0-12 with 10 of those 12 at-bats being strikeouts.
"We would have loved to have swept," shortstop Michael Young said. "We would have loved to have gone to Seattle 3-0 on this trip. It didn't happen. We've got to take the positives out of this. Feldman pitched well; we just didn't push enough runs across. We'll be all right. We're playing good ball, we just have to continue what we were doing."
"It was one of those days, that's all it was," Rangers manager Ron Washington stated. "We did what we wanted to do, and that's win the series. When we came in here, those guys were in first place. Now we go to Seattle and hopefully we can do the same thing."
I'm sure we all hope to see more of that guy who hit the solo jack for the Rangers: German Duran. He said that he's "here to help out in whichever way he can." Hopefully, we can see Ramon Vazquez, an experienced utility infielder, teach him a few things about the game, and guide him to the right path.
"He's a good player and a guy I look up to," the rookie said. "Being a utility player is mentally challenging, and he's really helped me with that and has been an influence in helping me mature as a player."
Homer of the Day (May 3, 2008)
And the Homer of the Day for May 3, 2008 goes to...
It was the bottom of the seventh inning, with the score being 2-1 in a game in favor of the Minnesota Twins against the Tigers. Justin Verlander was on the mound pitching pretty well compared to his first couple of starts. However, he was getting tired as time and pitches went by. Craig Monroe was up, and he hammered his former teammate's 104th pitch over the left field wall to double the Twins' lead (4-0). The home run was his 2nd homer of the season, and his second homer as a Twin. Yet again, the Tigers were unable to score enough runs to satisfy what was a close game.
Others who received votes:

On Another Matter:
Thank you so much, fellow AGMers, for waiting so patiently for this article. My AP exams are over (finally), and I have one week of school left starting today. As always, I thank you guys for your support. Hopefully, I'll be able to catch up soon.
There will be no more Astros/Brewers games written for the "Homer of the Day" for a while... if you call a while the time between May 4th and whenever the two teams play against each other next. After three straight times talking about them, I'm sure you want me to mix it up a little. Hopefully, some exciting home runs can be hit by players from other teams so that all baseball fans can be happy with what I write (eventually).
Thanks to everyone who has been voting, especially those who have since the very beginning (you know who you are). Like I said, the more votes we have in these articles, the better. It makes it more interesting, and makes me feel better when I post these articles.
We need more votes! We only had 3 in the last edition!
Ad blocker interference detected!
Wikia is a free-to-use site that makes money from advertising. We have a modified experience for viewers using ad blockers

Wikia is not accessible if you've made further modifications. Remove the custom ad blocker rule(s) and the page will load as expected.