| Batter | Team (B) | Inning | Pitcher | Team (P) | Situation |
| --- | --- | --- | --- | --- | --- |
| Jack Hannahan (3) | Athletics | 5th | Andy Sonnanstine (7) | Rays | 0 on, 1 out, 3-0 |
| Jack Cust (6) | Athletics | 5th | Andy Sonnanstine (8) | Rays | 1 on, 1 out, 4-0 |
| Jack Cust (7) | Athletics | 7th | Jason Hammel (4) | Rays | 1 on, 0 out, 7-0 |
| Jonny Gomes (4) | Rays | 8th | Dana Eveland (3) | Athletics | 0 on, 0 out, 0-9 |
| Chipper Jones (12) | Braves | 5th | Mike Pelfrey (4) | Mets | 0 on, 0 out, 3-1 |
| Jeff Francoeur (4) | Braves | 6th | Pedro Feliciano (2) | Mets | 1 on, 2 out, 6-1 |
| Alex Rodriguez (6) | Yankees | 3rd | Garrett Olson (1) | Orioles | 0 on, 0 out, 3-0 |
| Jacoby Ellsbury (4) | Red Sox | 1st | Brett Tomko (5) | Royals | 0 on, 0 out, 0-0 |
| Jason Varitek (6) | Red Sox | 5th | Brett Tomko (6) | Royals | 0 on, 1 out, 1-2 |
| Xavier Nady (6) | Pirates | 4th | Ben Sheets (7) | Brewers | 0 on, 0 out, 0-1 |
| Rickie Weeks (6) | Brewers | 6th | Ian Snell (4) | Pirates | 0 on, 2 out, 3-1 |
| Richie Sexson (8) | Mariners | 3rd | Kenny Rogers (6) | Tigers | 0 on, 0 out, 0-2 |
| Marcus Thames (3) | Tigers | 3rd | Jarrod Washburn (8) | Mariners | 3 on, 0 out, 4-1 |
| Yuniesky Betancourt (2) | Mariners | 6th | Kenny Rogers (7) | Tigers | 0 on, 0 out, 3-9 |
| Vladimir Guerrero (5) | Angels | 1st | Shaun Marcum (7) | Blue Jays | 0 on, 2 out, 0-0 |
| Vladimir Guerrero (6) | Angels | 3rd | Shaun Marcum (8) | Blue Jays | 2 on, 1 out, 1-1 |
| Stephen Drew (6) | Diamondbacks | 4th | Ricky Nolasco (7) | Marlins | 0 on, 0 out, 0-0 |
| Cody Ross (5) | Marlins | 5th | Brandon Webb (3) | Diamondbacks | 0 on, 2 out, 1-1 |
| Pedro Feliz (7) | Phillies | 2nd | Matt Chico (8) | Nationals | 0 on, 0 out, 1-0 |
| Shane Victorino (2) | Phillies | 5th | Matt Chico (9) | Nationals | 0 on, 1 out, 2-0 |
| Ryan Howard (11) | Phillies | 5th | Matt Chico (10) | Nationals | 0 on, 2 out, 3-0 |
| Ryan Howard (12) | Phillies | 6th | Chris Schroder (1) | Nationals | 1 on, 1 out, 9-0 |
| Derrek Lee (11) | Cubs | 1st | Shawn Chacon (10) | Astros | 1 on, 1 out, 0-0 |
| Carlos Lee (10) | Astros | 3rd | Sean Gallagher (2) | Cubs | 2 on, 1 out, 1-3 |
| Michael Young (5) | Rangers | 6th | Nick Blackburn (3) | Twins | 0 on, 0 out, 0-0 |
| Ian Kinsler (5) | Rangers | 6th | Nick Blackburn (4) | Twins | 2 on, 2 out, 4-0 |
| Gerald Laird (4) | Rangers | 9th | Bobby Korecky (1) | Twins | 0 on, 2 out, 9-1 |
| Michael Aubrey (2) | Indians | 2nd | Javier Vazquez (5) | White Sox | 0 on, 2 out, 0-0 |
| Jermaine Dye (7) | White Sox | 6th | Paul Byrd (11) | Indians | 2 on, 1 out, 0-2 |
| Jermaine Dye (8) | White Sox | 7th | Jorge Julio (2) | Indians | 0 on, 2 out, 5-2 |
| Jim Thome (9) | White Sox | 7th | Craig Breslow (1) | Indians | 0 on, 2 out, 6-2 |
| Adrian Gonzalez (12) | Padres | 1st | Braden Looper (6) | Cardinals | 1 on, 2 out, 0-0 |
| Rick Ankiel (7) | Cardinals | 8th | Justin Germano (8) | Padres | 1 on, 1 out, 9-3 |
| James Loney (5) | Dodgers | 7th | Jeremy Affeldt (2) | Reds | 0 on, 2 out, 4-2 |
Bartolo Who?
Things were looking pretty good for the Boston Red Sox as of May 20th. After losing 5 of their last 6 games from May 9th to May 14th, the Red Sox were able to create what was a 5 game winning streak, with the 4th win being the no-hitter by Jon Lester and the 5th one being Justin Masterson's first Major League win in his second career appearance. After a sweep against the Milwaukee Brewers, the Red Sox were attempting to take the third consecutive game in the four game series against the Kansas City Royals at Fenway Park and win their 9th straight at home. On the other side of the field, the Royals were not only trying to impede the Red Sox from winning this third game, but they were also trying to get back to winning again. Before facing the Sawx, the Royals won 6 of 7 games, which was pretty darn good for a team that had a lousy 15-21 record before the streak.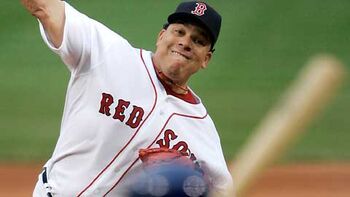 Now, when's the last time you heard Bartolo Colon's name mentioned in Major League Baseball, excluding all the conversations about how "horizontally challenged" he is? Well, it would've probably been last year since he hasn't pitched in a Major League game since then. If you guys might recall, Colon wasn't really doing that well either, as he did not receive a win in 8 straight starts, including 6 losses in that span. However, Colon has spent a lot of time in the Minors trying to get his Cy Young arm back, and made a pretty striking impact in Spring Training. Let's see how well he could do against the Royals. Could he match up with Brett Tomko (2-4, 5.32 ERA) and rack up his first win in over 11 months? Read on and find out…
Colon was definitely on the mound to make a statement that he still got it. However, it was a little difficult for him getting out of the first inning, as he allowed two runners on base; one was via walk, and the other one was via single. He was in trouble early, but he got out of the inning without letting anyone score. Brett Tomko had the same vision statement on the mound as Colon: get the win. Judging from what he did in the first month and a half of the season, Tomko either does really well or really bad. Things were not looking good from the very start, as Jacoby Ellsbury, the first batter he faced, homered on the fourth pitch Tomko threw. Thankfully, for the Royals, that was Tomko's only run he surrendered in that game.
Both starting pitchers were on different seesaws as innings went by: each pitcher would either have a good inning or a bad one. It got a little easier for both of the pitchers in the 2nd inning though. Bartolo Colon retired the side in order on 13 pitches. Tomko settled down as well, but he gave up a double to Mike Lowell first. The third inning was all Brett Tomko, as Colon got into a lot of trouble got into some trouble, as he had to face six batters to get out of the inning. He gave up two singles and a walk, and the effect was that Joey Gathright scored to tie the ballgame up at 1. Tomko retire the side 1-2-3 this time, as Boston couldn't regain the lead. The 4th inning was nothing special, as both sides were retired in order, yet again. However, things got better…
Moving onto the 5th inning, where all the good stuff happened. Just when it looked like Bartolo was getting back to his old 2005 Cy Young award winning self, another run scored off him. This time it started with a leadoff bunt single by Joey Gathright, making his way past Kevin Youkilis and his attempt to tag him. David DeJesus then singled to put Gathright in scoring position. Mark Grudzielanek delivered his second sacrifice hit of the season, bunting both Gathright and DeJesus, putting two men in scoring position. Alex Gordon, the second year man out of the University of Nebraska, brought Gathright in easily. However, he was the only one who scored in the inning, as the third base coach held DeJesus at third and Colon got the final two outs he needed to finish the inning. His last pitch was a 92 mile-per-hour fastball that Mark Teahen watched go right into Jason Varitek's glove on the inside corner. He only threw 74 pitches, but Varitek had a feeling why he was done, besides the fact that he was in trouble in his last inning of his Red Sox debut.
"The veteran felt like a rookie again," the veteran catcher said. "Probably more so because there is previous history of expectation on Bartolo. The young guys don't have as much expectation. When they throw well, they get a big pat on the back. When they don't, well, they're not ready." That makes a lot of sense, as the Red Sox have been wondering when Bartolo Colon was ready, and when the Red Sox were ready to call up Colon and put him in the rotation.
He then went on saying, "Tossing 94 is pretty good. You've got to remember, this is his first outing. He's still building strength. This is a good first step. He's going to help us."
Gathright had something to say about Colon as well: "He doesn't throw as hard, but he still has good stuff," Joey Gathright said. "He kept the ball down, kept us on our toes. He still has good stuff not matter where he's been and how long he's been gone. He's still Colon."
So the Red Sox were trailing the Royals for the first time in the series (2-1), but the Red Sox still had a lot of chances to come back. They did so in the bottom half of the inning, as Jason Varitek hit a solo home run to tie the game up.
"The big inning. It happened real fast in that fifth inning," Tomko said. "I tried to bury a slider to Varitek on the home run, and it kind of hung in the middle of the plate."
Little by little, the Red Sox came back, and in the middle of the inning. After the homer by 'Tek, a double by Coco Crisp, a wild pitch, and single by both Julio Lugo and Jacoby Ellsbury, the Sawx took the lead.
"Any time you give up four hits in a row, you're asking for it," Tomko declared. "They pieced together the four hits, and that was it."
Trey Hillman saw enough of Tomko and took him out since he knew that this was going to turn into one of Tomko's bad days if he didn't take him out as soon as possible. So Hillman brought in Ron Mahay, who was pretty reliable for a Royals reliever with a 2.84 ERA. Matters just got worse when the ball was in Mahay's hands. Dustin Pedroia singled, which loaded the bases, David Ortiz got a run in with a sacrifice fly, and just 15 pitches after Tomko's wild pitch, Mahay threw a wild pitch of his own, allowing Ellsbury to score the 4th run of the inning (the 5th run in total). The inning ended with Manny Ramirez striking out two pitches after Mahay's wild throw.
"It's a tough lineup," Tomko said after his mediocre outing. "It's the reason they're at the top of their division. They've got guys that are pesky, that have speed. You try to keep the firs couple of guys off base to go through the heart of their lineup, but there's a reason for what they did last year and what they're doing this year. They've got a good ballclub."
The rest of the game all relied on the Red Sox bullpen and whether or not the Royals were able to get at least 3 runs and get back in this game. The Red Sox gave the ball to Craig Hansen first, who needed to redeem himself after giving up 3 runs in one inning in his last appearance. Well, he got through the inning without surrendering any runs. With Ron Mahay getting into a little more trouble, putting two more runners on base, Joel Peralta helped him by subbing in and taking care of business, getting the last 2 outs that the Royals needed to change up once again.
In the 7th inning, lefty Javier Lopez subbed in for Craig Hansen, and the Royals only managed to get one man on base (via walk). As for the Royals, it seemed like none of Trey Miller's choices were good, as neither Mahay nor Peralta could retire a side 1-2-3. Jacoby Ellsbury singled again, stole second base, and scored off a Dustin Pedroia single. Jimmy Gobble, the third reliever in less than three innings, replaced Peralta after that, and the fans finally witnessed a reliever retire the Red Sox in order (sort of). Manny Delcarmen, a pitcher who had been struggling for the Red Sox in late April/early May, then took care of the Royals' 4, 5, and 6 hitters in order. Surprisingly, Miller took out Gobble, the only relief pitcher who had a good outing, and replaced him with Joakim Soria, the underrated closer. At first, things were looking good. He struck out Kevin Youkilis, walked Jason Varitek, and completely fooled Coco Crisp… so badly that his helmet almost fell off. But then Julio Lugo singled, and Jacoby Ellsbury walked, and we have ourselves another 5th inning situation. However, this is Joakim Soria we're talking about, not Tomko or Mahay. In other words, Soria reluctantly got Dustin Pedroia to fly out to right field for that final out he needed.
We move ahead to the 9th inning; many of you are probably thinking, "Finally". In the correct move (in my opinion, as well as many others), Alex Cora subbed in for Julio Lugo to play shortstop. He wasn't the only one who was subbed in; Mike Timlin came in to possibly get his ERA down to below 8.00. Unfortunately, that didn't happen. His ERA is high for a reason: he gave up another run thanks to a Joey Gathright walk, a case of defensive indifference, and a single to right field by David DeJesus. So the score was now 6-3. The pitching coach visits the mound, and Timlin says that he'll take care of the last out. He lived up to what he said and got the final out, as the Red Sox won the ballgame with that same score, increasing their winning streak to 6 games, their home winning streak to 9 games, and Bartolo Colon got his first win in a Red Sox uniform. How 'bout that?
"I was very nervous in the first inning," Colon said. "I felt like my first professional outing, actually. But after the first inning I was able to settle down and really enjoy the moment."
On another note:
Bartolo Colon's first win was in Fenway Park. It was only fitting that he racked up his first win in 11 months, and his first win while on the Red Sox roster, in Fenway.
Colon was the eighth pitcher to start a game for the Red Sox this season.
The Red Sox racked up their 30th win this season, being the first Major League team to do so.
Colon is now 15-7 against the Royals.
Against the Royals at Fenway, Boston is now 16-5 against them since 2003.
Kansas City's third baseman Alex Gordon reached base 7 consecutive times (4 hits, 3 walks) before relief pitcher Javier Lopez struck him out to end the streak. "That doesn't really matter unless we win," Gordon said. "I'm just trying to take what they give me. If they're going to walk me, I'll take it."
Jason Varitek is actually tied with George Scott for 15th place in franchise history in home runs in a career (154). But who really cares? I just found it on mlb.com.
The A's won their game, 9-1.
The White Sox won their game 7-2.
The Angels won their game 4-3, with all of the RBI's coming from Big Vladdy!
Homer of the Day (May 20, 2008)
And the Homer of the Day for May 20, 2008 goes to...
Everyone's vote really does count! Just ask Tmil42, since he was the only user who voted for this Homer of the Day in 2 days! Uggla hit a game tying solo home run in the 6th inning against Arizona Diamondbacks' own, Micah Owings. This home run tied him with Chase Utley and Lance Berkman for the MLB lead.
Congrats, Uggla, on winning a very popular one.
On Another Matter:
Thanks to everyone who has been voting, especially those who have since the very beginning (you know who you are). Like I said, the more votes we have in these articles, the better. It makes it more interesting, and makes me feel better when I post these articles.
Stiles, don't worry. I'll get an article for you that's "current". There's only two things that have been stopping me: lack of time (well, sorta: I had to say goodbye to my sister, who I won't be seeing in 6 months.), and the fact that I'm somewhat close to winning the Weekly Users Points Report.  

And I know you're going to say that the Red Sox aren't in first place anymore. It just goes to show how far behind I am. It's a quote, so I can't really change it… although I've always wanted to have the power to go back in time and change things.
Trying to catch up. Don't think I will, but at least I'm trying, right?
Ad blocker interference detected!
Wikia is a free-to-use site that makes money from advertising. We have a modified experience for viewers using ad blockers

Wikia is not accessible if you've made further modifications. Remove the custom ad blocker rule(s) and the page will load as expected.