| Batter | Team (B) | Inning | Pitcher | Team (P) | Situation |
| --- | --- | --- | --- | --- | --- |
| Jhonny Peralta (7) | Indians | 7th | Santiago Casilla (1) | Athletics | 0 on, 0 out, 3-1 |
| Andruw Jones (2) | Dodgers | 7th | Ben Sheets (4) | Brewers | 0 on, 0 out, 0-0 |
| Jeff Kent (4) | Dodgers | 7th | Ben Sheets (5) | Brewers | 0 on, 1 out, 1-0 |
| Gary Bennett (1) | Dodgers | 7th | Ben Sheets (6) | Brewers | 2 on, 1 out, 3-0 |
| Ryan Braun (10) | Brewers | 8th | Jonathan Broxton (1) | Dodgers | 0 on, 2 out, 6-1 |
| Nate McLouth (11) | Pirates | 1st | Joel Pineiro (4) | Cardinals | 0 on, 1 out, 0-0 |
| Jason Bay (8) | Pirates | 8th | Jason Isringhausen (3) | Cardinals | 2 on, 0 out, 5-5 |
| Jose Guillen (4) | Royals | 4th | Kenny Rogers (5) | Tigers | 0 on, 2 out, 5-1 |
| Matthew Joyce (3) | Tigers | 7th | Gil Meche (9) | Royals | 0 on, 0 out, 2-7 |
| Carlos Lee (9) | Astros | 8th | Tyler Walker (3) | Giants | 0 on, 1 out, 3-7 |
| Darin Erstad (1) | Astros | 8th (PH) | Tyler Walker (4) | Giants | 2 on, 1 out, 4-7 |
| Lance Berkman (15) | Astros | 9th | Vinnie Chulk (2) | Giants | 0 on, 0 out, 7-7 |
| Akinori Iwamura (3) | Rays | 1st | Ian Kennedy (2) | Yankees | 0 on, 0 out, 0-0 |
| Shawn Riggans (3) | Rays | 4th | Ian Kennedy (3) | Yankees | 1 on, 2 out, 2-0 |
| Pedro Feliz (6) | Phillies | 2nd | Chuck James (5) | Braves | 0 on, 0 out, 0-0 |
| Ryan Howard (9) | Phillies | 3rd | Chuck James (6) | Braves | 0 on, 1 out, 1-0 |
| Shane Victorino (1) | Phillies | 4th | Chuck James (7) | Braves | 1 on, 1 out, 3-0 |
| Chris Snyder (3) | Diamondbacks | 5th | Aaron Cook (4) | Rockies | 2 on, 1 out, 2-0 |
Red Hot Team vs. Red Hot Pitcher
The Houston Astros were quite a shocking surprise in May. They have won 10 of their last 12 games, proving to everyone that they are not a team to count out when come September. Lance Berkman has been on an absolute tear, and many players have come up big when they need to. Many of the Astros players believe it is because of the team chemistry. They feel like they're working much better as a team, which is why they have won so many games in the beginning of May.
"It's pretty special," utility infielder Mark Loretta said. "I've always been asked about team chemistry and what it is. A lot of people say team chemistry is as good as the next starting pitcher. But that's usually from people that don't have team chemistry. I really feel this team chemistry is as good as I've ever seen. You just feel everybody pulling for each other, mixing young guys, older guys. It's just a real cohesive unit. At this point we expect to come back, no matter what. It's pretty cool."
With the Astros' great run and only 1 1/2 games behind the leading Chicago Cubs for first place, they weren't only trying to get one step closer to claiming the lead in their NL Central division, but they were also trying to show the whole baseball world what they were truly made of. However, it wasn't going to be easy, as they had to face the San Francisco Giants, and one of the nastiest, filthiest pitchers in the league: Tim Lincecum. Chris Sampson was on the mound for Houston, and it looked like an easy Giants win on paper, as Sampson had a 2-3 record with a 6.27 ERA. However, he was coming off a tremendous outing against the Los Angeles Dodgers: 7 shutout innings, 3 hits, and 1 walk. If you were wondering, as of May 15th, Lincecum had a 5-1 record with a 1.61 ERA.
Things were already looking bad, as many people thought, in the 1st inning. Sampson had surrendered two runs after two straight singles by Omar Vizquel and Randy Winn, which was followed by a fielding error by Mark Loretta at shortstop (Miguel Tejada got a rare day off) and a sacrifice fly by John Bowker. San Francisco then scored 4 more runs in the 3rd to make it look like a complete blowout (6-0) after an RBI double by Winn, an RBI single by Aaron Rowand, and a two-run double by Bowker. Astros manager Cecil Cooper still had faith in him though, as he kept him in until the 7th inning started.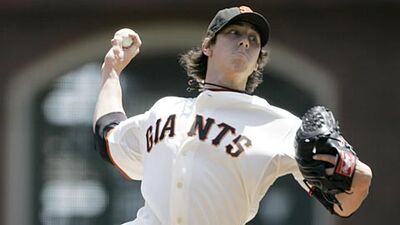 Tim Lincecum was pitching an absolute gem until the 4th inning started. Lincy had only allowed one runner on base in the first 3 innings, striking out 4 out of a possible 9 batters. This is where many teams go wrong: as the Giants had a big lead, the persisting Astros kept battling back, and answered back with 3 runs in the 4th to cut the lead in half, 6-3. The Giants were able to get one run back though, on another fielding error by Loretta that pulled Lance Berkman off the bag for another unearned run to score. I think Loretta is better off playing second base, don't you?
Although the 'Stros were down by 4, that didn't let that get to them, as they knew that they could still win this thing with 5 more innings left to play. Lincecum didn't make it easy for them though, as he didn't give up any runs in the next two innings, while striking out his 10th batter in the process. It was his first double-digit strikeout game for him this season. However, he threw 105 pitches after the 6th inning was over, and with a 7-3 lead, Giants manager Bruce Bochy took Lincecum out of the game, as he didn't want to overuse his best pitcher. Lincecum struck out 7 of the 9 different batters that he faced at least once, including red hot Lance Berkman, who expanded his hitting streak to 14 after a two-run single in the 4th inning.
The game's score didn't change until the 8th inning, after both pitchers were long gone. Tyler Walker was on the mound for the Giants, as they were only 6 outs away from sealing the deal on what should've been an easy win for San Fran. After a relieving Lance Berkman ground out to second base. Walker felt a little more relieved. However, as always, the Astros took advantage of the pitcher underestimating the batter, and Carlos Lee got a hold of a 91 mile-per-hour fastball right down the middle that eventually landed in the left field seats to make it 7-4, San Francisco. Geoff Blum struck out swinging, but the pitch got away from Steve Holm, which allowed Blum to reach base with one out. The next batter was Mark Loretta, who was involved in just about every single run scoring play so far (on both sides). With that being said, Loretta delivered, singling up the middle to situate the tying run at the plate. Cecil Cooper made a shrewd decision in replacing Darin Erstad for J.R. Towles, who was 0-for-3 with 3 strikeouts. Erstad came up big. In fact he came up HUGE, hitting a three-run shot that tied the ballgame up at 7, erasing the six-run deficit they had just over 4 innings ago.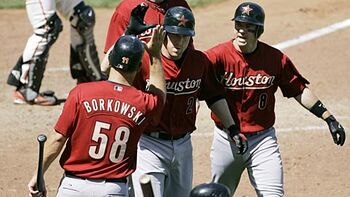 "You can't just sit there and rely on Lance and Miggy [Tejada] and Carlos [Lee] every single day," Erstad said. "Yeah, they're doing great. But to sit back and wait fro them to do is the wrong way to do it. All the guys around them have to help out, and right now, we're doing that."
"It's probably one of the worst pitches I've thrown all year," Tyler Walker said after the game.
With the Astros just one out away from completing one of the biggest comebacks in the 2008 season so far, they needed someone who knew how to get it done... and boy, did they! Leading off the 9th inning was none other than Lance Berkman. The first pitch by Vinnie Chulk in that inning was driven deep into right field, and everyone knew it was gone when they heard the bat make contact with the ball. In fact, it was a "Splash Hit", meaning it landed in the McCovey Cove. Not only was it an amazing feat for Berkman to come up with a homer to erase what was a six-run deficit, not only did the Astros (eventually) win (Jose Valverde pitched a perfect 9th inning for his 11th save to seal the deal), but Berkman also became one of only 16 opponents against the Giants to send a baseball into the bay.
"What a distinction," Berkman said. "What an honor. That's the most important thing, clearly."
About the game itself, and how the Astros were doing so far in their first 42 games, he said, "What can you say? I'll take as many as we can get. It seems like we're never out of a game. Today might be the best comeback I've ever seen since I've been here, just because of who was on the mound for them, it's getaway day, there's a lot of factors. What an unbelievable job by Darin, coming in off the bench and drive the ball out of the ballpark. That was unbelievable."
He couldn't have said that any better. The Astros seem to be unstoppable now, but as the saying goes, "What goes up, must come down." Eventually, the Astros will actually lose some games. They took 3 of 4 in San Francisco, but what's going to happen later on in the season. Could the 'Stros possibly be as good as they were back in 2005 when they made it all the way to the World Series? They have been quite the shocking team as of late, and I wouldn't be surprised if the Astros put up a good fight for (at least) the NL Wild Card.
On another note:
The last time the Astros came back from a six-run deficit was on May 9th, 2000, when the Astros defeated the Colorado Rockies by erasing what was a 7-1 deficit, and eventually winning 13-8.

Lance Berkman is the only member of both of the 2000 and the 2008 Astros.

Berkman is on a 14 game hitting streak.

During that time span, Berkman has hit .556 (30-for-54) with 7 home runs, 20 RBI's, 20 runs scored, and 14 extra base hits. What a fortnight it has been for him.

Hunter Pence has a hitting streak of his own… just one game less than Berkman's (13).
The three-run blast by Darin Erstad was his first pinch-hit home run.
The game was played in 95 degree heat, which made this game the second hottest game in the ballpark's nine season history. The hottest it has ever been in AT&T Park.

The hottest it has ever been at AT&T was back on June 14th, 2000, when the Giants battled against the Cincinnati Reds in 97 degree heat.
It was only the third time a game was played at AT&T in 90 degree weather.

Randy Winn needs one more double to notch #300.
Omar Vizquel singled his first three at-bats, giving him a total of 2,606 hits, advancing him to 7th place in career among switch hitters.
As of May 15th, who do you think has the most home runs in the Majors? If you guessed Chase Utley, you are wrong. Berkman now has solo possession of the lead in the home run category. He hit his 15th on May 15th. How 'bout that?
It was Tyler Walker's 32nd birthday on the day he gave up 4 earned runs and the tying homer to Erstad. It just wasn't his day I guess. Or maybe it was Darin Erstad's way of saying "Happy Birthday".
Homer of the Day (May 14, 2008)
And the Homer of the Day for May 14, 2008 goes to...
Carlos Quentin, who hit a grand slam in the 8th inning in a 1-1 ballgame against the Los Angeles Angels against Scot Shields, won the Homer of the Day.
Congratulations, Carlos! Keep hittin' those homers for Chi-Town.
On Another Matter:
Thanks to everyone who has been voting, especially those who have since the very beginning (you know who you are). Like I said, the more votes we have in these articles, the better. It makes it more interesting, and makes me feel better when I post these articles.
I hope you're enjoying these articles as much as I like finding more about what has happened over a month ago!
Ad blocker interference detected!
Wikia is a free-to-use site that makes money from advertising. We have a modified experience for viewers using ad blockers

Wikia is not accessible if you've made further modifications. Remove the custom ad blocker rule(s) and the page will load as expected.