Article:Home Runs of May 1, 2008
Talk

0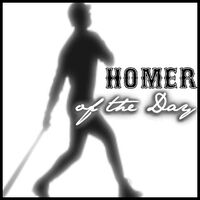 | Batter | Team (B) | Inning | Pitcher | Team (P) | Situation |
| --- | --- | --- | --- | --- | --- |
| Jonny Gomes (3) | Rays | 4th | Brian Burres (2) | Orioles | 0 on, 1 out, 1-0 |
| Adam Jones (2) | Orioles | 4th | Matt Garza (3) | Rays | 1 on, 2 out, 0-2 |
| Cody Ross (1) | Marlins | 5th | Hiroki Kuroda (4) | Dodgers | 1 on, 0 out, 1-3 |
| Ian Kinsler (2) | Rangers | 1st | Zack Greinke (3) | Royals | 0 on, 0 out, 0-0 |
| Ramon Vazquez (1) | Rangers | 6th | Zack Greinke (4) | Royals | 0 on, 1 out, 1-1 |
| Carlos Zambrano (1) | Cubs | 3rd | Yovani Gallardo (2) | Brewers | 0 on, 0 out, 0-0 |
| Ryan Braun (4) | Brewers | 6th | Carlos Zambrano (3) | Cubs | 0 on, 1 out, 0-1 |
| Bobby Abreu (4) | Yankees | 1st | Nate Robertson (5) | Tigers | 2 on, 0 out, 0-0 |
| Miguel Cabrera (6) | Tigers | 7th | Jonathan Albaladejo | Yankees | 1 on, 1 out, 6-4 |
| Adrian Gonzalez (6) | Padres | 1st | Adam Eaton (3) | Phillies | 1 on, 1 out, 0-0 |
| Ryan Howard (6) | Phillies | 8th | Joe Thatcher (1) | Padres | 0 on, 0 out, 2-2 |
| Richie Sexson (6) | Mariners | 10th | Masahide Kobayashi (1) | Indians | 0 on, 0 out, 1-1 |
| Alexis Rios (3) | Blue Jays | 7th | Tim Wakefield (4) | Red Sox | 0 on, 0 out, 2-0 |
| Ryan Doumit (5) | Pirates | 4th | Odalis Perez (4) | Nationals | 0 on, 1 out, 0-2 |
| Freddy Sanchez (1) | Pirates | 7th | Odalis Perez (5) | Nationals | 0 on, 1 out, 1-2 |
| Willie Aybar (1) | Angels | 2nd | Justin Duchscherer, (1) | Athletics | 2 on, 2 out, 1-4 |
| Mike Napoli (7) | Angels | 4th | Justin Duchscherer (2) | Angels | 0 on, 1 out, 5-5 |
| Jack Cust (2) | Athletics | 5th | Dustin Moseley (5) | Angels | 0 on, 0 out, 6-6 |
For the people who have not been introduced to the "Home Runs of the Day" yet, let me just clarify a couple of things:
The "situation part" (the part that states the score) is the score BEFORE the home run is it.

And, on a second note, the first part of the score is the score of the home run hitter's team. The second number represents the opponent's team.
Is Ryan Howard Going to do Something or What?
Adam Eaton had a very good start (compared to how he usually does) in his first game in April. Since then, he has pitched worse and worse ever since, with his ERA increasing every single appearance he's been on the mound so far; as of April 30th, it was at at 5.08. During his last game, he only lasted 3 2/3 innings, throwing only 60 pitches. Let's see how well he could do against his former team, the San Diego Padres, and Randy Wolf (a former starter for Philly). Wolf was pitching for the first time at Citizens Bank Park since leaving Philadelphia as a free agent in 2006.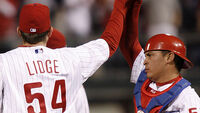 Both starters did very well, surrendering only 2 runs in 6 innings each. However, Wolf was able to strike out 9 in a dominating effort, and did very well aside from two possible hits that Scott Hairston needed time to get to after diving on both plays. In the top of the first inning, with one on, Adrian Gonzalez tatered the first pitch he saw for a 2 run blast to quickly make it 2-0. Two innings later, in the bottom of the third, the Phils battled back with 2 runs to knot the game at 2 after back-to-back doubles by Ryan Howard (who scored Shane Victorino) and Pat Burrell. Other than that, only one hit was allowed by both pitchers: a Chase Utley single.
With the score being tied for 4 1/2 innings, Howard came up big, once again, to prove that May was the start of a whole new month. With Joe Thatcher on the mound, Howard crushed a 2-0 cutter for a solo jack, making it his 6th long ball of the season. That home run was eventually the game winner, as Brad Lidge pitched a scoreless ninth for the save to secure the victory. The Phils just keep on rolling for their 16th win of the season. They're moving away from .500 (16-13), which is a great thing for Phillies fans to see with Jimmy Rollins still being injured.
"The bullpen has been outstanding," Eaton said. "Every day it seems they come in and get big outs for us. They're definitely holding their own and need to be recognized as one of the better bullpens in the majors."
"The last couple days, I've had good swings and I'm seeing the ball better," Howard said. "To come through like this, it makes it that much better."
San Diego's manager, Bud Black, said, "He's eventually going to get hot and maybe this is the start of it. It's just a matter of time before he gets to .200 then .250. He's just too good of a player to be kept down too long."
As many of know, Howard had a really slow start last April as well. He had a .221 average with 3 homers and 13 RBI's by the end of the month in 2007, so this won't be the first time seeing Howard bounce back from an early slump if it happens. In April, he hit only .172 though, with 5 homers and 12 RBIs. I'm sure all of us, except the NL East fans who aren't Phillies fans, want to see Howard do better from now until the end of the season. The question is: will he? Only time will tell...
Two Little Mistakes
Two little mistakes can turn into two big mistakes if you don't have the offense to score runs. Kansas City Royals' Zack Greinke (who has been on a tear since he first stepped on the mound this season) and Texas Rangers' Sidney Ponson (who, ironically, has probably been the only pitcher the Rangers can rely on for a decent outing right now) met at the Rangers Ballpark in Arlington on May 1st in a game that was "all pitching". It's pretty weird how two teams who score 14 runs one game, 20 runs (and 7 home runs) the next game, and then have the ability to score only 3 runs (yes, combined) the next day. That's what baseball is all about: it's unpredictable, which is why I love it so much.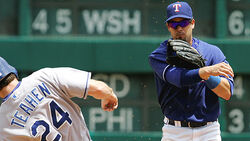 Anyways, getting back to the subject, Kansas City vs. Texas. Zack Greinke pitched a gem: 7 innings pitched, 2 earned runs, 9 strikeouts, and only 4 hits allowed. He also ended Michael Young's 14 game hitting streak. It's too bad that he had to surrender 2 home runs, one to Ian Kinsler and the other to Ramon Vazquez (his first homer since September 11th, 2007), because he got the loss. His opponent, Sidney Ponson, pitched more efficiently, as he only surrendered one run, thanks to a Mark Grudzielanek RBI single. Other than that, Ponson was able to go 8 innings, only surrendering 1 run, striking out 5 and surrendering only 6 hits. Although Zack Greinke pitched exceptionally well, Ponson surprisingly gave Greinke (3-1) his first loss of the season.
Homer of the Day (April 30, 2008)
And the Homer of the Day for April 30, 2008 goes to...
Click here to see the details of the home run.
On a side note, Owings became the first pitcher to win the Homer of the Day. Congrats, Micah!
On Another Matter:
Again, I apologize for procrastinating, once again. I've just been really busy with catching up on my APs. I can't tell you how much I appreciate you waiting for these. Thanks guys, for your support.
Thanks to everyone who has been voting, especially those who have since the very beginning (you know who you are). Like I said, the more votes we have in these articles, the better. It makes it more interesting, and makes me feel better when I post these articles.
Ad blocker interference detected!
Wikia is a free-to-use site that makes money from advertising. We have a modified experience for viewers using ad blockers

Wikia is not accessible if you've made further modifications. Remove the custom ad blocker rule(s) and the page will load as expected.