| Batter | Team (B) | Inning | Pitcher | Team (P) | Situation |
| --- | --- | --- | --- | --- | --- |
| Joey Votto (2) | Cincinnati Reds | 3rd | Oliver Perez (1) | New York Mets | 2 on, 2 out, 1-3 |
| Curtis Granderson (2) | Detroit Tigers | 3rd | Rick Romero (1) | Toronto Blue Jays | 0 on, 2 out, 0-0 |
| Aaron Hill (2) | Toronto Blue Jays | 5th | Rick Porcello (1) | Detroit Tigers | 0 on, 1 out, 1-2 |
| Aaron Lind (2) | Toronto Blue Jays | 6th | Rick Porcello (2) | Detroit Tigers | 0 on, 0 out, 2-2 |
| Marco Scutaro (1) | Toronto Blue Jays | 6th | Juan Rincon (1) | Detroit Tigers | 1 on, 2 out, 4-2 |
| Mark Teixeira (1) | New York Yankees | 4th | Alfredo Simon (1) | Baltimore Orioles | 0 on, 0 out, 0-1 |
| Nick Swisher (1) | New York Yankees | 4th | Alfredo Simon (2) | Baltimore Orioles | 1 on, 1 out, 1-1 |
| Luke Scott (1) | Baltimore Orioles | 4th | A.J. Burnett, (1) | New York Yankees | 0 on, 1 out, 1-3 |
| Robinson Cano (1) | New York Yankees | 7th | Brian Bass (1) | Baltimore Orioles | 1 on, 2 out, 7-2 |
| Matt Joyce (1) | Tampa Bay Rays | 2nd | Daisuke Matsuzaka (1) | Boston Red Sox | 0 on, 0 out, 0-0 |
| Evan Longoria (2) | Tampa Bay Rays | 3rd | Daisuke Matsuzaka (2) | Boston Red Sox | 1 on, 1 out, 1-0 |
| Shawn Riggans (1) | Tampa Bay Rays | 4th | Daisuke Matsuzaka (3) | Boston Red Sox | 0 on, 1 out, 3-0 |
| Jason Varitek (2) | Boston Red Sox | 9th | Troy Percival (1) | Tampa Bay Rays | 0 on, 0 out, 2-4 |
| Marlon Byrd (1) | Texas Rangers | 1st | Carl Pavano (1) | Cleveland Indians | 2 on, 1 out, 2-0 |
| Kelly Shoppach (1) | Cleveland Indians | 2nd | Brandon McCarthy (1) | Texas Rangers | 0 on, 2 out, 0-5 |
| Ian Kinsler (1) | Texas Rangers | 2nd | Carl Pavano (2) | Cleveland Indians | 1 on, 0 out, 5-1 |
| Grady Sizemore (1) | Cleveland Indians | 3rd | Brandon McCarthy (2) | Texas Rangers | 1 on, 0 out, 1-9 |
| Grady Sizemore (2) | Cleveland Indians | 6th | Scott Feldman (1) | Texas Rangers | 1 on, 2 out, 3-11 |
| Victor Martinez (1) | Cleveland Indians | 7th | Scott Feldman (2) | Texas Rangers | 0 on, 0 out, 5-11 |
| Travis Hafner (1) | Cleveland Indians | 9th | Eddie Guardado (1) | Texas Rangers | 0 on, 0 out, 7-12 |
| Coco Crisp (1) | Kansas City Royals | 9th | Bobby Jenks (1) | Chicago White Sox | 1 on, 1 out, 0-0 |
| Adrian Gonzalez (1) | San Diego Padres | 8th | Will Ohman (1) | Los Angeles Dodgers | 0 on, 1 out, 1-3 |
The Rubber Match of the Return ALCS Series
It was only the fifth time the two previous ALCS teams would meet in the opening series, and the two teams did not disappoint in entertaining the fans in their first two games of the 2009 season. Josh Beckett pitched an absolute gem in the first game, surrendering only 1 earned run on 2 hits in 7 innings of work. He also struck out 10 batters (3 of them with Carlos Pena being the victim) en route to a 5-3 victory for the BoSox; James Shields didn't have his best stuff that game as he was responsible for all 5 of Boston's runs. The next game was when Tampa Bay evened the score, as it was Scott Kazmir's turn to pitch. He did extremely well, going through 6 innings with only 1 run allowed. Jon Lester only made it through 5 innings and allowed 5 runs, as the series evened up at one win for each team, as the Rays defeated the Red Sox in the second game, 7-2. It was time for the rubber match. Who would be triumphant in this series?
With one starter dominating each of the last two games played in this series, we should be asking ourselves if there was a pitcher who would dominate in this game. The answer is yes (for both sides). Matt Garza, who started for the Rays on Thursday, has done well against the Sawx before. Garza won games 3 and 7 in the 2008 ALCS, pitching [a combined] 13 innings, and allowing only 2 runs, earning an ERA of 1.38. On the other hand, Daisuke Matsuzaka, although he cannot find the strike zone at times, there is a reason why he was fourth in the Cy Young voting last year, and why he had an 18-3 record with a 2.90 ERA (and 94 walks... but that's beside the point). Dice-K didn't dominate in the playoffs against his ALCS opponent like Garza did, but Dice-K did well in the regular season against them. There were two occasions where he only surrendered 1 run and no less than 3 hits on two separate occasions. If he can throw strikes and get his pitches where they need to be, we could see a great pitcher's duel.
The Actual Game Recap of Game 3
So, now that the long introduction is out of the way, let's learn about what happened in the final game of the ALCS rematch. The first inning looked promising for both offenses to score some runs. Dice-K was able to get the first two batters of the ballgame out, but he surrendered a two-out double to Evan Longoria. He was able to get Willy Aybar to strike out (after a Carlos Pena walk). As for the BoSox, Jacoby Ellsbury led off with a single and, later on, moved to third base after stealing second base and advancing to third after catcher Shawn Riggans overthrew the ball. However, with runners on first and third (Kevin Youkilis walked) J.D. Drew wasn't able to get anything done in his at-bat.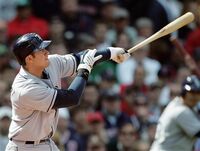 The Rays were up again at the top of the 2nd inning, and Dice-K threw had already thrown 19 pitches. You could tell that after looking at the second inning that Dice-K didn't have his best stuff. After looking at the stats after the game, his average fastball for that particular game was only 86.8 miles/hour. Matt Joyce didn't want to waste any time getting anything started this inning, as he went deep for the first time this season, giving Tampa Bay a 1-0 lead.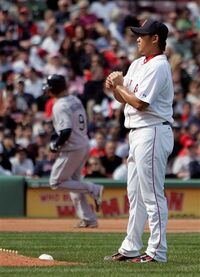 Moving on to the third inning, Evan Longoria was up for the second time after Akinori Iwamura stole second base on the midst of a Carl Crawford strikeout; that was good for his second stolen base of the season. Anyways, back to the Longoria at-bat, Dice-K threw a hanging slider that "The Longlorious One" rocketed over the Green Moster for a two-run jack. The next inning was when Shawn Riggans made up for that error he committed earlier in the game, as he hit a dinger of his own to make it a 4-0 contest.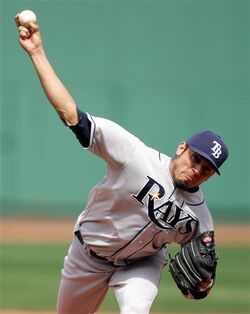 While Dice-K was struggling early in the game, while Matt Garza was cruising right along as if it was the 2008 ALCS all over again. The 25 year old starter didn't allow anyone to score until the 6th inning, when he allowed a Kevin Youkilis double that led off the 6th inning, and a Jason Bay triple two batters later. When he left the game, he only allowed 4 hits in 7 innings with 1 earned run with  5 K's to add to his [at least] decent outing.
"He's got dominant stuff when he settles in. You saw it last year," Pedroia said. "He's got some of the best stuff in the major leagues."
"We just wanted to establish ourselves early in the season, set the tone and let the people know it wasn't a fluke," said Garza. "We're here to battle for a while."
When Garza was pulled out of the game, manager Joe Madden decided to put 40 year old Brian Shouse in. Shouse is probably one of the two acquisitions (him and Joe Nelson) on the Tampa Bay roster who are going to help improve the bullpen. Shouse has the experience, as he has pitched in 10 seasons, and his ERA as the go-to guy with the Brewers last year was 2.81. Shouse pitched to David Ortiz, Kevin Youkilis, and J.D. Drew. Ortiz led off the inning with a ground out to Carlos Pena, but Youk tried starting a rally with a single to right field. Drew then grounded out to Pena once again, but the Rays weren't able to get the double play. Maddon then decided to replace Shouse (a lefty) with the other new acquisition in Joe Nelson (a righty). Nelson's debut as a Ray couldn't have been better, as he retired three straight batters like a reliable set-up man. This time, I think it's safe to say that he didn't have as good of an outing. He walked Jason Bay, and then gave up an RBI double to Mike Lowell (the man of the inning); he saved what probably would've been a double by Jason Bartlett as he caught an absolute rope down the third base line. With Bay on third and Lowell (the tying run) on second, the Sawx were back in the game. However, next up was Jed Lowrie... and he Nelson sent him back to the bench, getting him to whiff.
With Boston's new acquisition in Ramon Ramirez tossed 1 2/3 perfect innings, Red Sox manager Terry Francona decided to put Hideki Okajima in to redeem himself for his last outing he had: 1/3 IP, 1 walk, 1 hit batsman, and 2 earned runs; nothing positive there. After getting the first two outs, Okajima got Red Sox fans nervous, as he walked both Carlos Pena and Willy Aybar, and then loaded the bases when he surrendered a pinch hit single by Pat Burrell. He finally ended the late threat by getting Gabe Kapler to fly out to center field; actually, Jacoby Ellsbury ended the inning when he made the amazing running catch.
It was the bottom, and it was all or nothing for this game. The Sawx were down by two runs and were looking to find a way to come back from the deficit. Closer Troy Percival replaced Joe Nelson, and was ready to get the three outs the Rays needed to win the game and the series. First up was Jason Varitek, and he got things started by hitting a solo homer to cut the lead in half. Now, it was back to the top of the lineup. Jacoby Ellsbury's Dustin Pedroia's at-bats ended up as two outs. David Ortiz was next up, and the count was full. He ended up getting walked, which brought up the most successful Red Sox player of this game up to the plate. Youk scored the only two runs before the 9th inning started, and was 3-for-3 with a walk. On the 1-1 count, Youkilis hit a high fly ball to the deepest part of the ballpark. Kapler ran back, back, and finally had a good sense of where the ball would land, and caught it a few feet away from the wall.
Your final score: Tampa Bay Rays: 4... Boston Red Sox: 3
On Another Note:
Tampa Bay heads to the Orioles, a team the Rays have beaten 12 straight times. Now that is sad.
The Rays won two straight games at Fenway Park for only the second time in franchise history. The only other time that has happened was on the 9th and 10th of September of last year. It took them 14 innings to win the game on the 10th.
Matt Garza is now 4-1 against the Red Sox with a 3.40 ERA; this does not count the two phenomenal games he pitched in the ALCS.
The Rays improved their franchise record against Boston to 69-121. Boy that sure doesn't look good on paper for a competitive team in the AL East.
Dustin Pedroia was presented with his 2008 Gold Glove and Silver Slugger awards.
Trivia Question:
There are three other players who won both the Gold Glove and Silver Slugger award in the same season with the Red Sox, just like Pedroia did. Name them.
Other Notable Home Runs:
Homer of the Day (April 8, 2009)
And the Homer of the Day for April 8, 2009 goes to...
Yovani Gallardo of the Milwaukee Brewers  got a win against the Giants and hit a three run homer off of future Hall of Famer Randy Johnson.
Others who received votes:

Joey Votto (1 vote)
Don't Forget to vote for the April 9, 2009 Homer of the Day before April 12, 6:30 PM
...And don't worry, you guys. I hope to catch up before Monday at most.
Ad blocker interference detected!
Wikia is a free-to-use site that makes money from advertising. We have a modified experience for viewers using ad blockers

Wikia is not accessible if you've made further modifications. Remove the custom ad blocker rule(s) and the page will load as expected.