| Batter | Team (B) | Inning | Pitcher | Team (P) | Situation |
| --- | --- | --- | --- | --- | --- |
| Brian McCann (2) | Atlanta Braves | 1st | Joe Blanton (1) | Philadelphia Phillies | 1 on, 2 out, 0-0 |
| Raul Ibanez (1) | Philadelphia Phillies | 2nd | Javier Vazquez (1) | Atlanta Braves | 1 on, 1 out, 0-2 |
| Jordan Schafer (2) | Atlanta Braves | 5th | J.A. Happ (1) | Philadelphia Phillies | 1 on, 1 out, 7-3 |
| Matt Diaz (1) | Atlanta Braves | 9th | Brad Lidge (1) | Philadelphia Phillies | 0 on, 1 out, 10-12 |
| Nick Markakis (1) | Baltimore Orioles | 4th | Chien-Ming Wang | New York Yankees | 1 on, 2 out, 5-1 |
| Derek Jeter (1) | New York Yankees | 9th | Dennis Sarfate (1) | Baltimore Orioles | 1 on, 2 out, 2-7 |
| Dexter Fowler (1) | Colorado Rockies | 1st | Doug Davis (1) | Arizona Diamondbacks | 0 on, 0 out, 0-0 |
| Stephen Drew (1) | Arizona Diamondbacks | 1st | Franklin Morales (1) | Colorado Rockies | 0 on, 1 out, 0-1 |
| Yorvit Torrealba (1) | Colorado Rockies | 7th | Billy Buckner (1) | Arizona Diamondbacks | 0 on, 1 out, 4-1 |
| Ian Stewart (1) | Colorado Rockies | 7th | Billy Buckner (2) | Arizona Diamondbacks | 0 on, 1 out, 5-1 |
| Miguel Cabrera (1) | Detroit Tigers | 1st | Jesse Litsch (1) | Toronto Blue Jays | 2 on, 1 out, 0-0 |
| Miguel Cabrera (2) | Detroit Tigers | 5th | Jesse Litsch (2) | Toronto Blue Jays | 0 on, 2 out, 3-1 |
| Brandon Inge (3) | Detroit Tigers | 6th | Jesse Litsch (3) | Toronto Blue Jays | 0 on, 1 out, 4-1 |
| Carlos Delgado (1) | New York Mets | 1st | Edinson Volquez (1) | Cincinnati Reds | 1 on, 2 out, 0-0 |
| Joey Votto (1) | Cincinnati Reds | 1st | Mike Pelfrey (1) | New York Mets | 2 on, 0 out, 0-2 |
| Carlos Pena (1) | Tampa Bay Rays | 5th | Jon Lester (1) | Boston Red Sox | 1 on, 2 out, 3-1 |
| Evan Longoria (1) | Tampa Bay Rays | 8th | Takashi Saito (1) | Boston Red Sox | 0 on, 0 out, 5-1 |
| Mike Fontenot (1) | Chicago Cubs | 2nd | Russ Ortiz (1) | Houston Astros | 2 on, 2 out, 5-0 |
| Jeff Keppinger (1) | Houston Astros | 3rd | Ted Lilly (1) | Chicago Cubs | 0 on, 2 out, 0-8 |
| Lance Berkman (1) | Houston Astros | 3rd | Ted Lilly (2) | Chicago Cubs | 0 on, 2 out, 1-8 |
| Ivan Rodriguez (1) | Houston Astros | 4th | Ted Lilly (3) | Chicago Cubs | 1 on, 1 out, 2-8 |
| Kazuo Matsui (1) | Houston Astros | 5th | Ted Lilly (4) | Chicago Cubs | 0 on, 0 out, 4-10 |
| Hunter Pence (2) | Houston Astros | 6th | David Patton (1) | Chicago Cubs | 0 on, 0 out, 5-10 |
| Kosuke Fukudome (1) | Chicago Cubs | 9th | Doug Brocail (1) | Houston Astros | 0 on, 2 out, 10-6 |
| Nelson Cruz (1) | Texas Rangers | 2nd | Fausto Carmona (1) | Cleveland Indians | 0 on, 0 out, 0-0 |
| Ben Francisco (1) | Cleveland Indians | 6th | Vincente Padilla (1) | Texas Rangers | 1 on, 2 out, 1-6 |
| Elvis Andrus (1) | Texas Rangers | 6th | Rafael Betancourt (1) | Cleveland Indians | 0 on, 1 out, 6-3 |
| Nelson Cruz (2) | Texas Rangers | 7th | Rafael Perez (1) | Cleveland Indians | 0 on, 2 out, 7-4 |
| Justin Morneau (1) | Minnesota Twins | 1st | Carlos Silva (1) | Seattle Mariners | 1 on, 2 out, 0-0 |
| Russell Branyan (1) | Seattle Mariners | 2nd | Kevin Slowey (1) | Minnesota Twins | 1 on, 0 out, 0-2 |
| Denard Span (1) | Minnesota Twins | 2nd | Carlos Silva (2) | Seattle Mariners | 1 on, 2 out, 2-2 |
| Jose Lopez (1) | Seattle Mariners | 4th | Kevin Slowey (2) | Minnesota Twins | 0 on, 1 out, 2-4 |
| Nate McLouth (1) | Pittsburgh Pirates | 6th | Brad Thompson (1) | St. Louis Cardinals | 1 on, 0 out, 5-2 |
| Casey Blake (1) | Los Angeles Dodgers | 2nd | Walter Silva (1) | San Diego Padres | 0 on, 2 out, 1-0 |
| Mike Cameron (1) | Milwaukee Brewers | 2nd | Randy Johnson (1) | San  Francisco Giants | 0 on, 2 out, 0-1 |
| Yovani Gallardo (1) | Milwaukee Brewers | 5th | Randy Johnson (2) | San Francisco Giants | 2 on, 2 out, 1-1 |
Phils Get Their Bling
The Philadelphia Phillies received their 2008 World Series championship rings Wednesday afternoon. Each ring (like most other championship rings) was extremely luxurious, with the 103 diamonds totaling 3.84 karats. During [what was] a lengthy pregame ceremony, former general manager Pat Gillick, who retired after the 2008 season was the first to collect his ring. Charlie Manuel was next in line, and the crowd went crazy repeatedly chanting "Charlie, Charlie!" Former Phillies Pat Burrell, Geoff Jenkins, and Adam Eaton took part in the ceremony as well. Pat the Bat received a standing ovation, which probably boosted his confidence a little more, as he was just hours away from playing a night game against the Red Sox later on that day. On the other hand, Eaton was booed off the field, as Phillies fans let him know they were disappointed in his 2008 performance and the fact that he wasn't eligible enough to make the playoff roster.
Leading by 7 in 7; 8 in 7
I know, the title of this piece of the article is pretty confusing. I hope you get it as soon as you read it all.
We return to Philadelphia, as the Phillies took on the Braves for the last game of Philly's 2009 opening series. The Phillies have disappointed their fans so far, as the reigning champions lost their first two games against Atlanta. They had only managed to score one run in their first two games. The only pluses Philly could pull out was the fact that the bullpen was perfect in their first two games, retiring all 21 batters they faced. Maybe a little spark may have arose in this game after getting their grand prize on the same day (well, besides bragging rights), it may have gotten the Phillies' roster to think about how they got the rings in the first place, and [just about] the same roster at least owes it to the fans not to get swept by at team in their same division in their first three games.
Joe Blanton was on the mound for the Phils on Wednesday. He has yet to lose a game since being traded in mid July; he started for the Phillies 13 times, and was 4-0 with them. That road to not losing has to come to a stop eventually, right? The Braves were hoping to end that streak with new acquisition Javier Vazquez. The fireballin' 32 year old from Puerto Rico went 12-16 with the Chicago White Sox, striking out 200 batters for the fourth time in his career. Vazquez is 10-7 in 23 starts against Philly, but has yet to win against them since 2003. He was coming into the game hoping to get win #11 and defeat them for the first time in over 5 years.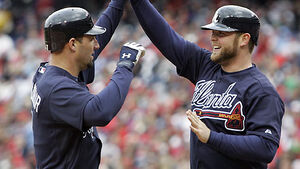 Offense took place early on in the game. In the first inning, Brian McCann, the man who hit the first home run of 2009 and won the first "Homer of the Day" for the 2009 season, got things started against Blanton, hitting a towering two-run two-out homer, allowing the Braves to jump on top early, 2-0. The Phils didn't have to worry about trailing for long though, as newcomer Raul Ibanez hit a two-run jack of his own in the bottom of the second to even the score. Ibanez just got twice as many runs batted in than the entire Phillies roster in two games with just one swing!
The third inning was a disaster for Joe Blanton. He gave up a single to Omar Infante, a walk to Kelly Johnson, and another single to Yunel Escobar to load the bases. "Red Hot" Brian McCann brought in another run with a single of his own right after that. The next batter was Casey Kotchman: he struck out to finally get the first out of the inning. Already in trouble in the third inning, Blanton surrendered yet another single, this time to Jeff Francoeur, which scored both Johnson and Escobar to make the score 5-2. The next batter was Matt Diaz, and he hit a double on a line drive to left field, which scored another two runs to make it a five-run ballgame. At this point, it looks like this one could be over early, and Joe Blanton may end up suffering his first loss as a Phil. However, the Phillies are not quitters… especially Shane Victorino, who hit a leadoff triple on the second pitch of his at-bat. Chase Utley was then able to put a ball in play, and managed to get on base thanks to a fielding error by third baseman Omar Infante. Unfortunately for Philly, that was all they were able to do offensively for the next couple innings, and the score remained 7-3.
Blanton was officially out of the ballgame in the fifth, as he had [arguably] his worst game as a Phillie: 7 earned runs in 4 innings, as well as 9 hits and 2 walks; the only positive thing that came out of his 2009 debut was probably the fact that he ''did'' manage to get 6 strikeouts in those 4 innings. Pitcher J.A. Happ replaced him in the game as the middle reliever. He didn't start off well, as he gave up a two-run jack to rookie Jordan Schafer for his second home run of the year. This gave the Braves a six-run lead, and almost a sure victory. However, this is the MLB… and the game was only halfway done.
Fast-forwarding through the boring stuff, and moving into what was a great 7th inning… well, if you are a Phillies fan. New reliever Chad Durbin subbed in for J.A. Happ and was looking for a 1-2-3 inning so that Philly could get some offense going. However, that wasn't the case, as Casey Kotchman led off the inning with a double, and he came in thanks to three walks all surrendered by Durbin. Thankfully, for Philadelphia, Clay Condrey came in to save the day, as he struck out Kelly Johnson on four pitches.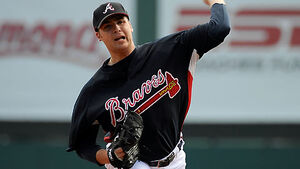 The Phillies were now down by 7 runs, and they were running out of chances to come back. Little did anyone know that Atlanta's pitching would be just a little bit wild. Eric O'Flaherty, who was picked up off waivers from the Mariners in November, started the inning, and Vazquez was done for the day. The main reason why Flaherty was on the mound at this time is because the lefty made an impressive Braves debut the day before. He pitched 1 1/3 innings and surrendered only 1 hit (no runs) in the 4-0 victory in the second game of the series. He was facing three of the most dangerous batters in the game (two of them being lefties): Shane Victorino, Chase Utley, and Ryan Howard. His slider was working very well last time he was on the mound, which is why manager Bobby Cox put him on the mound. However, he didn't have that great of a game. He got Victorino to ground out, but then he put Utley and Howard on base. Cox decided to pull him out and try using Peter Moylan. That didn't work either, as he got Jayson Werth to walk, Raul Ibanez to single in a run, and Pedro Feliz to single in a run. A coaching visit to the mound wouldn't work either, as pinch hitter Matt Stairs drew a walk with the bases loaded to narrow the lead down to 4.
"I know I was in a situation where he was going to ask me to hit, and you thrive off doing it," Stairs said of his at-bat that inning. "One big swing of the bat and we're back within one. But we got very patient. It made it a lot easier when those guys came in and didn't throw a lot of strikes."
Cox finally pulled him out and went with Blaine Boyer. Boyer threw 9 pitches, and only 1 pitch was called a strike. Philly's batters were very patient at the plate, including the next two batters (Chris Coste and Jimmy Rollins), who both walked with the bases loaded to narrow the lead to two runs! That was it for Boyer, as Cox decided to go with Jorge Campillo, the fourth pitcher of the inning for Atlanta! And we were back where Philly started in the 7th: Victorino. On the second pitch he saw, Victorino singled in another run. Utley was up again, and he walked, which tied the game up at 10. This brought up the man who could change the game with one swing without even trying: Ryan Howard. He didn't hit a home run, but he did get the go-ahead run to score when he grounded out to first base. The score was 11-10 when the inning was over, and the Phillies scored 8 runs for a one-run lead. That's why you could arguably consider them to be the most productive offensive team in the MLB. Although a lot of it had to do with Atlanta not being able to throw strikes, Philly's batters were patient enough to draw five walks in the inning.
"Guys were up there being patient, working the pitchers and waiting for good pitches to hit," first baseman Ryan Howard said.
"One of the solid parts of our team is our pitching from front to back," Braves left fielder Matt Diaz said. "That's just an aberration. You can't describe it. That's the first time I've ever seen it and, hopefully, it's the last."
The managers from both sides couldn't keep track and were totally shocked and dismayed in how many walks were issued.
"I've never seen that," Braves manager Bobby Cox said. "I've seen a couple of walk-ins, but nothing like that all in one inning. We got a quick out and [Chase] Utley hit one off the end of the bat, blooper to left. Then we end up hitting [Ryan] Howard and all hell broke loose. We couldn't throw a strike."
After an Eric Bruntlett sacrifice fly in the bottom of the 8th inning, the "Reflection of Perfection" last year in Brad Lidge finally had the opportunity to save the game with two runs of support. Fortunately, it was two because of the fact that if it hadn't been, it would've been a blown save, as red hot Matt Diaz hit his first homer of the 2009 season, and collected his third RBI of the game. Although Lidge made that one silly mistake, he struck out Garret Anderson to secure the Phillies' victory.
Final score: Phillies... 12, Braves... 11
Blanton's lossless streak continues, and Vazquez will have to wait another day (maybe another year) to win against Philly.
On Another Note:
It may have seemed like forever the last time four bases loaded walks were surrendered, but the Orioles did just that in the eighth inning against the A's on September 5th of last year.
Can anyone check to see if Jordan Schafer is still on HGH? Two home runs already... I'm getting suspicious. ;)
Brad Lidge has saved 45 straight save opportunities, which is officially the third longest streak of all-time, trailing behind "Not Good without PED's" Eric Gagne's in 84 save mark (2002-2004) and Tom Gordon's 54 straight (back when he was good in 1998-1999).
Cole Hamels is expected to start today against the Colorado Rockies, so be on the lookout for him.
Other Notable Home Runs:
Homer of the Day (April 7, 2009)
After using a 24 hour tiebreaker poll, the Homer of the Day for April 7, 2009 goes to...
Jim Thome's 8th inning three-run homer was the game changing homer. His Chicago White Sox would go on to win the game 4-2.
Others who received votes:
Dustin Pedroia (1 vote, 2 tiebreaker votes)
Troy Tulowitzki (1 vote, 1 tiebreaker vote)
Brandon Inge (1 vote, 0 tiebreaker votes)
Albert Pujols (1 vote, 0 tiebreaker votes)
Don't Forget
Vote for who you think should win the Homer of the Day for April 9th as well! I'll get the article up sooner than the time it took to make this. Vote by 6:00 AM, April 11, 2009.
Ad blocker interference detected!
Wikia is a free-to-use site that makes money from advertising. We have a modified experience for viewers using ad blockers

Wikia is not accessible if you've made further modifications. Remove the custom ad blocker rule(s) and the page will load as expected.