| Batter | Team (B) | Inning | Pitcher | Team (P) | Situation |
| --- | --- | --- | --- | --- | --- |
| Alex Gordon (1) | Kansas City Royals | 2nd | Mark Buehrle (1) | Chicago White Sox | 0 on, 1 out, 0-0 |
| Jim Thome (1) | Chicago White Sox | 8th | Kyle Farnsworth (1) | Kansas City Royals | 2 on, 2 out, 1-2 |
| Aaron Rowand (1) | San Francisco Giants | 4th | Jeff Suppan (1) | Milwaukee Brewers | 1 on, 0 out, 4-5 |
| Bengie Molina (1) | San Francisco Giants | 7th | Dave Bush (1) | Milwaukee Brewers | 0 on, 0 out, 7-5 |
| Randy Winn (1) | San Francisco Giants | 8th | Jorge Julio (1) | Milwaukee Brewers | 0 on, 0 out, 9-5 |
| Dustin Pedroia (1) | Boston Red Sox | 1st | James Shields (1) | Tampa Bay Rays | 0 on, 1 out, 0-0 |
| Jason Varitek (1) | Boston Red Sox | 6th | James Shields (2) | Tampa Bay Rays | 0 on, 1 out, 4-1 |
| Kelly Johnson (1) | Atlanta Braves | 1st | Jamie Moyer (1) | Philadelphia Phillies | 0 on, 0 out, 0-0 |
| Chipper Jones (1) | Atlanta Braves | 5th | Jamie Moyer (2) | Philadelphia Phillies | 0 on, 0 out, 3-0 |
| Scott Rolen (1) | Toronto Blue Jays | 8th inning | Edwin Jackson (1) | Detroit Tigers | 0 on, 0 out, 0-3 |
| Aaron Hill (1) | Toronto Blue Jays | 8th | Brandon Lyon (1) | Detroit Tigers | 2 on, 2 out, 1-3 |
| Brandon Inge (2) | Detroit Tigers | 9th | B.J. Ryan (1) | Toronto Blue Jays | 0 on, 1 out, 3-3 |
| Jorge Cantu (2) | Florida Marlins | 1st | Scott Olsen (1) | Washington Nationals | 1 on, 2 out, 0-0 |
| Dan Uggla (1) | Florida Marlins | 3rd | Scott Olsen (2) | Washington Nationals | 1 on, 1 out, 3-0 |
| Austin Kearns (1) | Washington Nationals | 8th | Leo Nunez (1) | Florida Marlins | 1 on, 2 out, 0-8 |
| Hunter Pence (1) | Houston Astros | 5th | Ryan Dempster (1) | Chicago Cubs | 0 on, 0 out, 0-1 |
| Alfonso Soriano (2) | Chicago Cubs | 8th | LaTroy Hawkins (1) | Houston Astros | 0 on, 1 out, 1-2 |
| Chris Duncan (1) | St. Louis Cardinals | 1st | Ian Snell (1) | Pittsburgh Pirates | 1 on, 2 out, 0-1 |
| Albert Pujols (1) | St. Louis Cardinals | 3rd | Ian Snell (2) | Pittsburgh Pirates | 1 on, 0 out, 3-0 |
| Yadier Molina (1) | St. Louis Cardinals | 5th | Donald Veal (1) | Pittsburgh Pirates | 0 on, 0 out, 8-1 |
| Freddy Sanchez (1) | Pittsburgh Pirates | 6th | Kyle Lohse (1) | St. Louis Cardinals | 1 on, 0 out, 1-9 |
| Troy Tulowitzki (2) | Colorado Rockies | 5th | Dan Haren (1) | Arizona Diamondbacks | 0 on, 0 out, 0-0 |
A  Wild One in Canada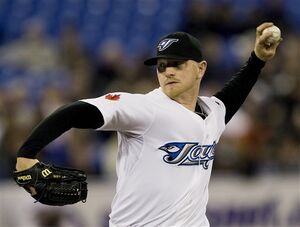 With today being the day that all 30 teams would have played at least one game, the Detroit Tigers and Toronto Blue Jays played their second game of the season. With the Tigers surrendering 12 runs to the Jays, last season, it was pretty easy for Toronto to secure the 12-5 victory and their first victory of the season. Edwin Jackson had different plans, as the new acquisition wanted to get his season and his time with the Tigers started on a positive note and even the series. We all remember what happened last season with Detroit: they lost their first 7 games; the last thing Detroit wants to do is repeat that. Jackson would be facing David Purcey, who is currently in his sophomore year in the Bigs, looking to gain some experience as a starter.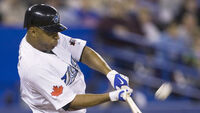 There were no hits in the ballgame until the bottom of the second inning. Center fielder Vernon Wells got things started for the Jays with a leadoff double to left-center field. However, the next three batters weren't able to bring him all the way around, as he was stranded at third when the third out was called. Moving on to the top of the 3rd, Brandon Inge, who had some trouble last year getting on base (.205 batting average, .303 on-base percentage) doubled for his second extra base hit of the season. Adam Everett decided to play small ball with no outs move him to third base quickly, and he succeeded. The next batter, Curtis Granderson was able to hit a sacrifice fly deep to left-center field to score Inge, even with the arm of Vernon Wells' out there. Fans watched the rest of the third inning and the entire fourth inning move along out, after out, after out.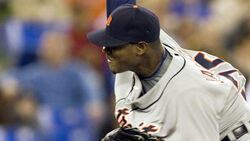 If you watched this game, you could tell that both starting pitchers brought their A games that day. Only 1 run would be surrendered in the first six innings by both pitchers. The score was 1-0 for a while, and you have to give Edwin Jackson his props where he's due. He went 7 1/3 innings and surrendered only 1 run (a leadoff home run by Scott Rolen in the 8th) with only 2 hits allowed and 1 walk; not bad for his debut as a Tiger.
"He was everything we expected and a little bit more tonight," Tigers manager Jim Leyland said of Jackson.
Back in the 7th inning, thanks to an RBI double by Marcus Thames and a throwing error by Purcey, the Tigers looked like they were going to get their first victory of the season. By the time the 7th inning was done, so was Purcey. He didn't pitch that bad of a game either, as he surrendered 3 runs (2 of them "earned", although it was his error that brought home a run for Detroit), off of 5 hits, 5 strikeouts, and 3 walks.
In the 8th inning, both teams made things a little bit more than a pitcher's duel. Reliever Shawn Camp subbed in for David Purcey, and he made Blue Jays fans even more nervous. After getting the first two batters out, he gave up a walk to Magglio Ordonez, and a double to Miguel Cabrera; third base coach Gene Lamont held Ordonez at third since a big bat in Carlos Guillen was coming up. Camp would intentionally walk him to load the bases. This brought up Gerald Laird and he had nothing to show for his at-bat, as he did nothing but pop up an easy fly ball for first baseman Lyle Overbay to catch.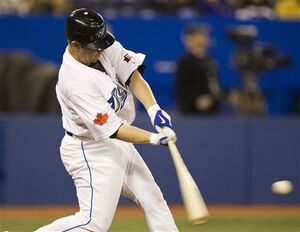 In the bottom of that inning, as I stated before, Scott Rolen led the 8th inning off with a solo jack to put the Jays on the board, trailing 3-1. Lyle Overbay was next up, and he reached on a fielding error by Brandon Inge at third base. Bobby Seay finally replaced Edwin Jackson Overbay on first base with two outs. He managed to get one out, as Travis Snider grounded into a force out. Brandon Lyon, the new closer for Detroit, replaced Seay after he only threw 3 pitches. I don't think that was really the best idea, as utility man Marco Scutaro singled to put two runners on with two outs. After a coaching visit to the mound, Aaron Hill was at the plate. He was 0-for-3 and due for a hit. On the first pitch of the at-bat, Hill hit a deep fly ball to left field. It went back… back… and… just managed to get over the wall for a three-run homer. What clutch hitting by Hill with two outs and two men on base! And just like that, the Blue Jays were back in the game… with a 4-3 lead!
Hill talked about his last two at-bats, and how he pumped his fist twice on his way to first each time. "The first one was 'I missed it,'" Hill said. "The last one was 'I got it.'"
"Not much of anything was working," the reliever said. "I couldn't spot the fastball or anything else."
The game still wasn't over though. There was still one more inning left, and anything could've happened. Just ask B.J. Ryan. Ryan was on the mound trying to close the game out and get his first save of the season. That didn't really work out like he planned. After striking out Marcus Thames, he surrendered a monster shot to Brandon Inge into the second deck in center field to tie the game up at 4. Ryan was able to get out of the inning with a blown save, but he didn't put himself in a situation where he'd lose the game.
"I felt good," Ryan said. "It's just one bad pitch at a terrible time -- it stinks."
In, the bottom of the 9th, still tied at 4, and Brandon Lyon still on the mound, he walked Adam Lind; manager Cito Gaston decided to put some speed on the bases by taking out Lind and subbed him with Jose Bautista. Lyon was still on the mound, and he gave up a single to Scott Rolen to right field, moving the speedy Bautista over to third with only one out. Lyon intentionally walked Lyle Overbay, which loaded the bases. Leyland was stuck with Lyon, as he wasn't really confident in handing the ball over to anyone else. Next up was Rod Barajas. All he needed a fly ball deep enough to score Bautista... and he did just that. On the 37th pitch of Lyon's debut as a Tiger, Barajas hit a deep fly ball to center field; Curtis Granderson made the grab, but didn't even attempt to gun out Bautista at the plate. This secured the come-from behind win and the Toronto Blue Jays are two-for-two. Only 160 games left... where will we see them in the AL East?
Your final score: the Toronto Blue Jays, 5... the Detroit Tigers, 4.
After the game, Edwin Jackson was the first to console Lyon after the game. "The best thing you can do is be a good teammate and be the first one up to pick whoever is in that situation up," Jackson said. "I mean, it's like a family here and that's what you do with a family. When somebody is down you be the first to pick them up just to let them know 'Hey, I'm behind you regardless of the situation.'"
On Another Note:
The Rogers Centre banned beer (and every other alcohol drink) on Tuesday's game. The Gaming Commission cited five infractions at baseball and football games and concerts dating back to 2007. Therefore, Rogers Centre's ticket holders were not allowed to drink alcohol in any form on Tuesday, and also on April 21st when the Jay s face the Texas Rangers, as well as a Canadian Football League game on August 1st. I guess that explains why there were only 16,790 people in attendance for this game.
The Blue Jays were the first American League team to win 2 games. HEY! How 'bout that!? It's the first time they started off the season 2-0 since 2006.
The Tigers fell to 3-7 against Toronto since the start of the 2008 season.
The error David Purcey committed was pretty weird. There were men on second and third, and Purcey and Barajas wanted to intentionally walk to Brandon Inge. After throwing a wild pitch in what was intentional ball which didn't end up in catcher Rod Barajas' range, Carlos Guillen and Marcus Thames both attempted to advance one base. However, Guillen was not quick enough, so he had to run back. This meant that Marcus Thames had to run back to second. Barajas threw the ball to Purcey, who was covering home, but Purcey thought he could get Thames out at second, as he was more than halfway to third base by the time he was running back. Purcey overthrew the ball past Marco Scutaro, and the two runners advanced anyway.

Bad baserunning + bad throw = stupidity + one run
So, Brandon Lyon is the new closer for the Tigers. Well, I guess he'll do better than Todd Jones.
Other Notable Home Runs:
Homer of the Day (April 6, 2009)
And the Homer of the Day for April 6, 2009 goes to...
Ken Griffey Jr. won the Homer of the Day [almost] unanimously. In his first game back as a Mariner, he hit a home run. This was the 612th home run of his career, his 399th as a Mariner, and his 8th Opening Day homer, tying him with Frank Robinson for the most all-time.
Others who received votes:
Emilio Bonifacio (1 vote)
Don't Forget
Vote for who you think should win the Homer of the Day! Vote by 2:00 am, April 10, 2009.
Thank You
I would also like to thank all of you for voting. You guys are the reason why I have been writing these from the very beginning...
Ad blocker interference detected!
Wikia is a free-to-use site that makes money from advertising. We have a modified experience for viewers using ad blockers

Wikia is not accessible if you've made further modifications. Remove the custom ad blocker rule(s) and the page will load as expected.