| Batter | Team (B) | Inning | Pitcher | Team (P) | Situation |
| --- | --- | --- | --- | --- | --- |
| Hank Blalock (1) | Texas Rangers | 5th | Cliff Lee (1) | Cleveland Indians | 2 on, 0 out |
| Jarrod Saltalamacchia (1) | Texas Rangers | 8th | Jensen Lewis (1) | Cleveland Indians | 0 on, 1 out |
| Daniel Murphy (1) | New York Mets | 5th | Aaron Harang (1) | Cincinnati Reds | 0 on, 1 out |
| Felipe Lopez (1) | Arizona Diamondbacks | 1st | Aaron Cook (1) | Colorado Rockies | 0 on, 0 out |
| Tony Clark (1) | Arizona Diamondbacks | 3rd | Aaron Cook (2) | Colorado Rockies | 1 on, 1 out |
| Troy Tulowitzki (1) | Colorado Rockies | 4th | Brandon Webb (1) | Arizona Diamondbacks | 0 on, 0 out |
| Chris Iannetta (1) | Colorado Rockies | 4th | Brandon Webb (2) | Arizona Diamondbacks | 0 on, 0 out |
| Felipe Lopez (2) | Arizona Diamondbacks | 4th | Glendon Rusch (1) | Colorado Rockies | 0 on, 0 out |
| Tony Clark (2) | Arizona Diamondbacks | 5th | Glendon Rusch (2) | Colorado Rockies | 0 on, 1 out |
| Seth Smith (1) | Colorado Rockies | 7th | Scott Schoeneweis (1) | Arizona Diamondbacks | 0 on, 0 out |
| Chad Tracy (1) | Arizona Diamondbacks | 7th | Jason Grilli (1) | Colorado Rockies | 0 on, 0 out |
| Jorge Posada (1) | New York Yankees | 6th | Jeremy Guthrie (1) | Baltimore Orioles | 0 on, 0 out |
| Hideki Matsui (1) | New York Yankees | 7th | Chris Ray (1) | Baltimore Orioles | 1 on, 1 out |
| Cesar Izturis (1) | Baltimore Orioles | 8th | Phil Coke (1) | New York Yankees | 1 on, 1 out |
| Jorge Cantu (1) | Florida Marlins | 3rd | John Lannan (1) | Washington Nationals | 1 on, 1 out |
| Jeremy Hermida (1) | Florida Marlins | 3rd | John Lannan (2) | Washington Nationals | 0 on, 2 out |
| Emilio Bonafacio (1) | Florida Marlins | 4th | Julian Tavarez (1) | Washington Nationals | 1 on, 1 out |
| Adam Dunn (1) | Washington Nationals | 6th | Ricky Nolasco (1) | Florida Marlins | 2 on, 0 out |
| Hanley Ramirez (1) | Florida Marlins | 6th | Steven Shell (1) | Washington Nationals | 3 on, 0 out |
| Ryan Ludwick (1) | St. Louis Cardinals | 8th | Tyler Yates (1) | Pittsburgh Pirates | 0 on, 0 out |
| Alfonso Soriano (1) | Chicago Cubs | 1st | Roy Oswalt (1) | Houston Astros | 0 on, 0 out |
| Aramis Ramirez (1) | Chicago Cubs | 2nd | Roy Oswalt (1) | Houston Astros | 0 on, 0 out |
| Matt Kemp (1) | Los Angeles Dodgers | 7th | Jake Peavy (1) | San Diego Padres | 0 on, 0 out |
| Curtis Granderson (1) | Detroit Tigers | 4th | Roy Halladay (1) | Toronto Blue Jays | 0 on, 0 out |
| Travis Snider (1) | Toronto Blue Jays | 4th | Justin Verlander (1) | Detroit Tigers | 0 on, 1 out |
| Aaron Lind (1) | Toronto Blue Jays | 4th | Eddie Bonine (1) | Detroit Tigers | 2 on, 2 out |
| Brandon Inge (1) | Detroit Tigers | 7th | Roy Halladay (2) | Toronto Blue Jays | 1 on, 1 out |
| Ken Griffey Jr. (1) | Seattle Mariners | 5th | Francisco Liriano (1) | Minnesota Twins | 0 on, 0 out |
| Franklin Gutierrez (1) | Seattle Mariners | 6th | Francisco Liriano (2) | Minnesota Twins | 1 on, 1 out |
| Howie Kendrick (1) | Los Angeles Angels | 5th | Dallas Braden (1) | Oakland Athletics | 0 on, 1 out |
Not All Teams Played... Homer of the Day Doesn't Wait
After a great game between the Braves and Phillies last night, I couldn't imagine what we had in store for us the very next day. 13 games were scheduled, but only 11 were played. The Royals/White Sox game was postponed due to rain, and the 2008 ALCS rematch most AL East fans were at least curious about was postponed due to rain. However, we witnessed plenty of home runs yesterday... a lot more than yesterday. 30 home runs were hit, and 8 of them were in a very close slugfest...
Slugfest in Arizona
A sellout crowd of 48,799 fans in Arizona couldn't wait for an NL West game between the Colorado Rockies and the Arizona Diamondbacks.  Wait a minute, Arizona? I thought I said that 8 home runs were hit last night... it must have been in Coors Field. It is a fact that Coors Field is well known for being a hitter's ballpark, but not many people talk about Chase Field. It was ranked 10th last year in terms of home runs allowed per game, and 2nd in terms of runs scored (over Coors Field) in 2008; the only team who had a higher park factor was the Rangers Ballpark in Arlington.
After losing all of their Opening Day games from 2003-2006, the D-Backs were currently riding on a modest two game winning streak in their first game of each respective season. Also, the Diamondbacks were only 1-3 against the Rockies on Opening Day, so it looked the Rockies had their number as far as Opening Day goes. However, "first game" stats like these don't really matter because a new season is... well... a new season. Let's see what happens in this game.
Former Cy Young award winner and the league leader in wins last year (22) in Brandon Webb was on the mound for Arizona, pitching on Opening Day for the fourth straight time. However, this was the first occasion where he was pitching at home on Opening Day. That all changed, as the D-Backs started their season at home for the first time since 2005. His nemesis was 2008 All-Star Aaron Cook, who did fairly well for the Rockies. He didn't really go beyond expectations, but he managed to keep his ERA under 4.00 by the end of the season, along with a 16-9 record. Keep in mind that Brandon Webb is also 5-0 in his last five starts against Colorado.
The game was underway, and Colorado was up. Unfortunately for them, they weren't able to get anything done against B-Webb. Cook was next on the mound, and Felipe Lopez didn't mess around. In the first at-bat for Arizona, and in his first at-bat as a D-Back, Lopez drove one out to the opposite field for a solo homer. In a matter of moments, Arizona took a 1-0 lead. In the bottom of the second, they added one more run thanks to a Chris Snyder  double that brought in Conor Jackson from first base.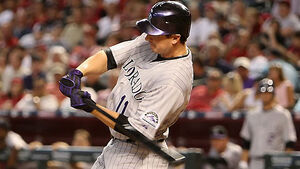 The third inning got a little more interesting, as the Rockies battled back with their productive offense. Aaron Cook got things started, as he singled in hopes to help the team out and create an opportunity for some run support. They managed to bring him in, thanks to a
Ryan Spilborghs
doubled and
Seth Smith
grounded out to bring him in and move Spilborghs to third. Webb then walked two straight batters, which brought a coaching visit to the mound with the bases loaded. Whatever the pitching coach said didn't work, as the next better,
Brad Hawpe
, hit a three-run double to center field, clearing the bases and giving the Rockies a 4-2 lead.
Although the Rockies did manage to get some offense back against one of the better pitchers in the league, the Diamondbacks were not finished offensively. Cook was getting knocked around in the bottom of the third, as he gave up a double to Chris Young, a walk to Stephen Drew, and Chad Tracy single. After an Eric Byrnes sacrifice fly, Tony Clark hit a two-run jack to break the tie and make it a 6-4 ballgame. Cook left the ballgame right after that and was replaced by Glendon Rusch, and he managed to finish the inning without anyone else scoring.
"I was up in the zone," Cook said in regards to how he pitched. "The sinker was flat and you saw what happened, just not a normal day for me and Webby, either."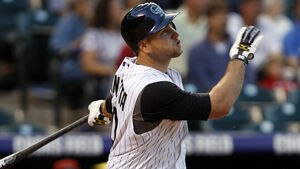 Moving on to the top of the 4th inning, Troy Tulowitzki didn't mess around. After missing most of the sophomore year in the Big Leagues due to injury, Tulo didn't mess around in his second at-bat, as he smoked one to left field to narrow the deficit to one run. Soon after that, Chris Iannetta hit a long shot of his own to tie the game at 6.
Iannetta told the press, "I think the [Classic] helped get me ready, and the last week and a half, the at-bats I had really got my swing going."
After Webb got through the 4th inning, he said he was dropping his arm too low and was bothered by stiffness in his shoulder when he gave up consecutive homers. "You try to keep [the shoulder] loose as best as you can," said Webb. "Sometimes you can do it. Sometimes you can't. I tried to get some extra pitches in before the [fourth] inning and I felt a little better toward the end of it." He said he felt fine afterwards in a post-game interview, and that it was nothing serious.
Moving on to the bottom of the fourth inning, Felipe Lopez was back up again. He crushed another pitch, this time batting from the other side of the plate (again to the opposite side of the field), breaking the tie and making it a 7-6 ballgame. An inning later, Tony Clark, who homered earlier, belted another one (a 442 footer to center field) from the other side of the plate as well.
"I think Felipe set the tone," Clark said. "Hitting is contagious and so is not hitting. That's why Felipe's ball was so important. It allowed guys to relax a little bit, the shutout was gone, the no-hitter was gone and we were ahead. It makes a difference. By getting us on the board quickly, it gave us a chance to take a deep breath. They kept throwing punches and we were fortunate enough to push back."
You would think that after 6 home runs, these two teams would have been finished. That wasn't the case, as they kept going for the long ball as if they wanted to hit a home run for every, single fan in the stands. It was 8-7, and the top of the 7th inning. Scott Schoeneweis was pitching, and the second pitch of his 2009 season flew over the right field fence, as Seth Smith went deep for his first hit and home run of the season. Once again, the game was tied. Again, the game didn't stay tied for long. Chad Tracy went deep for the 8th home run of the game!
"I came straight off the training table to playing last year," Tracy said. "This year I got to get in there and get some strength in my legs. So we'll see how things play out. This is one out of 162 so we've got a long way."
The game seemed like it was never going to end, as it was only the 7th inning. However, the innings went by pretty quickly. The score stayed the same, as Tony Pena pitched 1 1/3 perfect innings for the relieving win, and Chad Qualls pitched of a 1-2-3 9th for the save. Your final score, 9-8.
Some final thoughts from the man who hit the game winning homer in the 7th: "It was a heavyweight fight out there. It was blow after blow. Every time we scored, they scored, and we finally had the last say."
Diamondbacks manager Bob Melvin: "Heck of a game."
On Another Note:
So, the Diamondbacks improved to 6-0 when Brandon Webb starts against the Rockies. Not bad… for the D-Backs, anyway. As for the Rockies, well... there will be other games where they will face Brandon Webb (?).
As you may recall, Felipe Lopez and Tony Clark both homered from both sides of the plate. They became the first pair of teammates to homer from both sides of the plate in the same game on Opening Day. In fact, it was the first time in the regular season since New York Yankees' Jorge Posada and Bernie Williams accomplished that feat on April 23, 2000.
Tony Clark only hit 3 homers last year. At this rate, Clark will have 108 times as many home runs than last season. ;)
Felipe Lopez became the first Arizona player to hit 2 home runs in his first game with the D-Back.
Altogether, 11 pitchers were used, 22 hits were allowed, and let me say it again: 8 HOME RUNS! Crazy...
Felipe Lopez showed in this game that he can hit for power. In fact, he hit 23 home runs in the 2005 season for the Cincinnati Reds, not to mention he won the Silver Slugger award that year, too. "It's there, but I'm not looking to hit home runs," he said about his great showiness of power. "If it happens, it happens. My job is to get on base at the top of the order."
I'm glad Melvin made the decision to not start Mark Reynolds today. He would've just struck out four times, and Chad Tracy (3B) and Tony Clark (1B) were two of the three main producers for the D-Backs in this game.
Other Notable Home Runs:
Homer of the Day (April 5, 2009)
And the Homer of the Day for April 5, 2009 goes to...
Click here to find out the details of Brian McCann's 1st inning moonshot for the first home run of the 2009 season.
Others who received votes:
Jordan Schafer (1 vote)
Don't Forget
Vote for who you think should win the Homer of the Day! Vote by 8:00 pm, April 8, 2009
Ad blocker interference detected!
Wikia is a free-to-use site that makes money from advertising. We have a modified experience for viewers using ad blockers

Wikia is not accessible if you've made further modifications. Remove the custom ad blocker rule(s) and the page will load as expected.