Article:Home Runs of April 30, 2008
Talk

0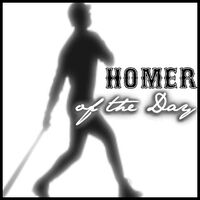 | Batter | Team (B) | Inning | Pitcher | Team (P) | Situation |
| --- | --- | --- | --- | --- | --- |
| Carlos Quentin (7) | White Sox | 4th | Nick Blackburn (1) | Twins | 0 on, 2 out, 1-1 |
| Edwin Encarnacion (7) | Reds | 2nd | Braden Looper (2) | Cardinals | 0 on, 0 out, 0-0 |
| Carlos Lee (6) | Astros | 1st | Randy Johnson (2) | Diamondbacks | 2 on, 1 out, 1-0 |
| Conor Jackson (5) | Diamondbacks | 3rd | Shawn Chacon (3) | Astros | 0 on, 2 out, 2-6 |
| Micah Owings (1) | Diamondbacks | 6th (PH) | Dave Borkowski (2) | Astros | 1 on, 2 out, 5-7 |
| Aaron Rowand (2) | Giants | 2nd | Ubaldo Jimenez (2) | Rockies | 0 on, 0 out, 0-0 |
| Jose Castillo (1) | Giants | 7th | Justin Speier (3) | Rockies | 0 on, 0 out, 2-2 |
| Marucs Thames (2) | Tigers | 5th | Andy Pettitte (4) | Yankees | 1 on, 1 out, 1-2 |
| Placido Polanco (1) | Tigers | 6th | Andy Pettitte (5) | Yankees | 0 on, 0 out, 3-2 |
| Placido Polanco (2) | Tigers | 8th | Kyle Farnsworth (4) | Yankees | 0 on, 0 out, 5-2 |
| Adrian Gonzalez (5) | Padres | 1st | Jamie Moyer (2) | Phillies | 1 on, 1 out, 0-0 |
| Chase Utley (11) | Phillies | 1st | Chris Young (5) | Padres | 1 on, 1 out, 0-2 |
| Kevin Kouzmanoff (2) | Padres | 3rd | Jamie Moyer (3) | Phillies | 0 on, 0 out, 2-2 |
| Grady Sizemore (3) | Indians | 1st | Jarrod Washburn (5) | Mariners | 0 on, 0 out, 0-0 |
| Wladimir Balentien (1) | Mariners | 7th | Cliff Lee (1) | Indians | 2 on, 0 out, 0-8 |
| Eric Hinske (6) | Rays | 4th | Matt Albers (1) | Orioles | 1 on, 1 out, 1-1 |
| David Ortiz (5) | Red Sox | 7th | Dustin McGowan (2) | Blue Jays | 0 on, 1 out, 0-0 |
| Russell Martin (3) | Dodgers | 2nd | Scott Olsen (4) | Marlins | 0 on, 0 out, 0-0 |
| Milton Bradley (3) | Rangers | 1st | Brian Bannister (2) | Royals | 1 on, 2 out, 0-0 |
| Brandon Boggs (1) | Rangers | 2nd | Brian Bannister (3) | Royals | 0 on, 1 out, 2-0 |
| Josh Hamilton (6) | Rangers | 2nd | Brian Bannister (4) | Royals | 3 on, 2 out, 3-0 |
| David Murphy (2) | Rangers | 5th | Joel Peralta (1) | Royals | 1 on, 0 out, 7-0 |
| David DeJesus (2) | Royals | 7th | Kevin Milwood (3) | Rangers | 1 on, 1 out, 3-9 |
| Gerald Laird (3) | Rangers | 7th | Yasuhiko Yabuta (3) | Royals | 1 on, 2 out, 9-6 |
| John Buck (2) | Royals | 9th | C.J. Wilson (1) | Rangers | 1 on, 1 out, 7-11 |
| Geovany Soto (4) | Cubs | 1st | Jeff Suppan (4) | Brewers | 2 on, 1 out, 3-0 |
| Geovany Soto (5) | Cubs | 4th | Brian Shouse (2) | Brewers | 2 on, 2 out, 9-0 |
| Mike Rivera (1) | Brewers | 7th | Bob Howry (3) | Cubs | 1 on, 2 out, 3-13 |
For the people who have not been introduced to the "Home Runs of the Day" yet, let me just clarify a couple of things: * The "situation part" (the part that states the score) is the score BEFORE the home run is it. ** And, on a second note, the first part of the score is the score of the home run hitter's team. The second number represents the opponent's team.
The Two Home Run Leaders of the AL
Who would've thought this would ever happen this far in the season? As we approach the end of the month for the "Homer of the Day" articles, two members of the Chicago White Sox are currently tied for the lead for the most home runs so far this season (7). One isn't as much of a surprise, as he won the American League Silver Slugger Award for third basemen in 2006: Joe Crede. Crede, who just turned 30 three days before hitting his 7th homer, is making quite a comeback as far as home runs, RBIs, and slugging percentage after suffering from a back for most of the season; he hit his 7th home run on the 29th. I think it's going to be interesting as to who will actually win the Comeback Player of the Year. Cliff Lee is a pretty strong candidate right now, but don't count out Crede, as he had quite a first month this season.
The second player, one of Crede's teammates, has not hit more than 9 home runs in his short 2 year Major League carer. He's only hit one home run in April before this season, and only 14 home run during his first two years as a MLBer. His name is Carlos Quentin, and he's on a tear! He's hit just under .300 with 7 homers and 21 RBIs. He also has a .433 OBP and a .619 SLG. It's no wonder why the White Sox are no longer battling for 4th place anymore. If Paul Konerko, Nick Swisher, and Orlando Cabrera could actually do something, then the White Sox would still be in first place. Losing close games to the Minnesota Twins, like on the 30th (4-3), doesn't really help much either. We have seen a lot of improvements and breakouts this season for the White Sox. They just need to learn how to get some run support when pitchers pitch really well.
"It's not easy when you don't swing the bat well, you don't score some runs," Guillen said. "Our pitching staff did a pretty good job, and we don't find a way to get hits and score some runs. It's tough to win games when you only score two or three runs a game, and that's what we've been doing lately."
Owings Comes Up Big
Arizona Diamondbacks' Micah Owings isn't just a just a good hitter for a pitcher: he's a good hitter period. He proved it last Wednesday by coming up in a clutch situation against the Houston Astros. Randy Johnson had a poor outing, giving up 6 runs and 9 hits in 4 innings. He got lit up pretty quickly actually. 4 of the first 5 batters in the 1st inning would score thanks to a Lance Berkman single, and a Carlos Lee 3 run blast. The score was 6-2 by the end of the 2nd inning. However, the Diamondbacks would not quit, as they slowly climbed back after a homer by Conor Jackson, a pinch-hit double by Jeff Salazar, and a sacrifice hit by Chris Young bringing in Miguel Montero from third.
The Astros would later tally one more run on the board in the top half of the sixth, making it 7-5 in their favor. Micah Owings was put in the game to pinch hit. Who could blame Bob Melvin? Owings, who is already good enough as a pitcher (4-0 by the end of April), is, in almost everyone's mind the best hitting pitcher in the game. He hit the first pitch of the game from reliever Dave Borkowski to the right field seats, a two-run shot with two outs that tied the game at 7. The Diamondbacks would go on to win complete the comeback, 8-7, and became the first team to win 20 games this season.
"You have your bench and then you have an extra guy to pinch-hit and a guy you don't mind running up there against righties, lefties, in between," Arizona manager Bob Melvin said. "The way he's been swinging, it wasn't even a tough decision."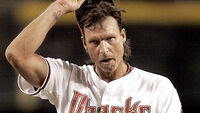 "I've been blessed to be able to swing it," Owings said, "so every time I get in the box I do my best to help this team.
"I don't think you've seen a guy like this," teammate Conor Jackson said. "I mean, Babe Ruth? That's really all that comes to mind. It's pretty impressive."
Owings is now 8 for 19 on the season (.421 average), and (as of April 30th) has the 5th highest OPS among hitters with a minimum of 75 plate appearances. That is just unbelieveable. You can't compare him to Babe Ruth, but Owings is proving to everyone how much he's worth: both as a pitcher, and (of course) as a hitter.
On a side note, the last pitcher to pinch hit and homer was Brooks Kieschnick back on April 22, 2004 against the Arizona Diamondbacks; Kieschnick was playing for the Milwaukee Brewers. It is one heck of a feat, and should definitely be mentioned in a segment of the "Homer of the Day".
Homer of the Day (April 29, 2008)
And the Homer of the Day for April 29, 2008 goes to...
Adrian Beltre's 5th home run of the 2008 season was quite an important home run. In fact, it won the ball game in the 9th inning against the Cleveland Indians. The score was 2-2 with Rafael Betancourt, who used to be a sure thing, on the mound. Beltre popped a three-run shot into the right field seats, making it 5-2. Thanks to a little insurance two-run single by Yuniesky Betancourt, the Mariners won what was thought to be a closer game, 7-2.
Others who received votes:
Nate McLouth of the Pittsburgh Pirates (1 vote)
On Another Matter:
Again, I apologize for procrastinating, once again. I've just been really busy with catching up on my APs. I can't tell you how much I appreciate you waiting for these. Thanks guys, for your support.
Thanks to everyone who has been voting, especially those who have since the very beginning (you know who you are). Like I said, the more votes we have in these articles, the better. It makes it more interesting, and makes me feel better when I post these articles.
Ad blocker interference detected!
Wikia is a free-to-use site that makes money from advertising. We have a modified experience for viewers using ad blockers

Wikia is not accessible if you've made further modifications. Remove the custom ad blocker rule(s) and the page will load as expected.