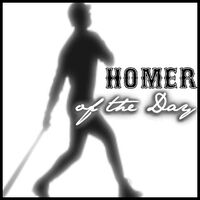 | Batter | Team (B) | Inning | Pitcher | Team (P) | Situation |
| --- | --- | --- | --- | --- | --- |
| Robinson Cano (2) | Yankees | 2nd | Kenny Rogers (3) | Tigers | 1 on, 1 out, 0-2 |
| Curtis Granderson (3) | Tigers | 3rd | Philip Hughes (1) | Yankees | 0 on, 0 out, 2-2 |
| Gary Sheffield (2) | Tigers | 3rd | Philip Hughes (2) | Yankees | 1 on, 0 out, 3-2 |
| Scott Hairston (3) | Padres | 5th | Cole Hamels (4) | Phillies | 0 on, 2 out, 0-2 |
| Scott Hairston (4) | Padres | 9th | Ryan Madson (3) | Phillies | 1 on, 2 out, 2-7 |
| Adrian Beltre (5) | Mariners | 9th | Rafael Betancourt (3) | Indians | 2 on, 0 out, 2-2 |
| Aubrey Huff (5) | Orioles | 6th | Scott Dohmann (1) | Rays | 1 on, 2 out, 5-0 |
| B.J. Upton (3) | Rays | 7th | Randor Bierd (1) | Orioles | 1 on, 2 out, 2-5 |
| Ryan Zimmerman (3) | Nationals | 3rd | Tom Glavine (1) | Braves | 0 on, 1 out, 0-1 |
| Nick Johnson (4) | Nationals | 3rd | Tom Glavine (2) | Braves | 0 on, 1 out, 1-1 |
| Chipper Jones (8) | Braves | 6th | Tim Redding (4) | Nationals | 0 on, 1 out, 1-2 |
| Dan Uggla (4) | Marlins | 3rd | Derek Lowe (3) | Dodgers | 0 on, 2 out, 1-6 |
| Nate McLouth (7) | Pirates | 1st | Johan Santana (6) | Mets | 0 on, 0 out, 0-0 |
| Jason Bay (6) | Pirates | 4th | Johan Santana (7) | Mets | 0 on, 1 out, 1-0 |
| Ryan Church (3) | Mets | 4th | Ian Snell (2) | Pirates | 1 on, 1 out, 0-2 |
| Jose Guillen (3) | Royals | 4th | Scott Feldman (2) | Rangers | 1 on, 0 out, 5-2 |
| Derrek Lee (8) | Cubs | 3rd | Ben Sheets (2) | Brewers | 0 on, 0 out, 2-4 |
| Jason Kubel (4) | Twins | 4th | Gavin Floyd (4) | White Sox | 1 on, 0 out, 0-0 |
| Joe Crede (7) | White Sox | 7th | Boof Bonser (3) | Twins | 0 on, 2 out, 0-3 |
| Adam Dunn (4) | Reds | 9th | Anthony Reyes (2) | Cardinals | 1 on, 2 out, 0-7 |
| Conor Jackson (4) | Diamondbacks | 1st | Jack Cassel (1) | Astros | 1 on, 2 out, 0-2 |
| Chris Iannetta (2) | Rockies | 2nd | Tim Lincecum (1) | Giants | 0 on, 0 out, 1-2 |
For the people who have not been introduced to the "Home Runs of the Day" yet, let me just clarify a couple of things:
The "situation part" (the part that states the score) is the score BEFORE the home run is it.

And, on a second note, the first part of the score is the score of the home run hitter's team. The second number represents the opponent's team.
Scott Hairston's Good Day; Maddux Still Stuck at 349
While the San Diego Padres' future Hall of Famer Greg Maddux attempted to collect his 350th win for the 3rd time this season against the Philadelphia Phillies. However, he must've felt pretty confident that he would get it, as he was facing a team that he was 29-17 against. With Jimmy Rollins injured, now was his chance to take advantage against the Phils, with a mediocre (but still surprising) record of 11-8 without the reigning MVP.
Greg Maddux pitched well until the 7th inning. He had only given up 2 runs and 6 hits. However, after giving up two singles (one by Carlos Ruiz and another by Cole Hamels), Bud Black believed it was time to take him out. The Padres' offense, as always, were not able to give him much run support. The only run scored for the Padres before the 8th inning was the first of two home runs hit by Scott Hairston in the 5th inning. It was the second multihomer game of his career; the first came on August 3rd, 2007 against the San Francisco Giants. He collected 3 of the 4 RBI's that the Padres had in total, as they lost 7-4, after pretty lousy outings by Glendon Rusch and Kevin Cameron (2 earned runs each).
This is what Greg Maddux had to say about how the third time wasn't the charm for him this time:
"It doesn't weigh," Maddux said. "It's not a milestone. It really isn't. Trust me, I've been on extra credit for five or six years now. I've stopped pitching for results. I'm just going out there to see how long I can do it."
Well, for a guy who has been on extra credit for five or six years, he's definitely showing the world that he's still got it. In the past six years (2008 being the last year), he has won 60 games. Although his ERA has increased dramatically since his prime years, at 42 years old, he is proving to every baseball fan that he's still got the stuff to pitch in the MLB. This game was pretty unfortunate, as Maddux said, "I pitched just good enough to lose." Hopefully, he'll get that 350th win soon.
Mets Win in Walk-Off; McLouth is the MAN!
The crowd was on their feet in New York, as the New York Mets defeated the Pittsburgh Pirates. After Billy Wagner blew his first save after David Wright finally broke out of the 3-for-25 slump he had, as he hit a deep fly ball to right field with one out that just landed fair to score the winning run from third base.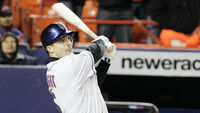 Here's what he had to say after breaking out of that slump:
"I was begging the wind to keep it fair. It was the ball versus the wind. It was taking it [foul], taking it and it fell in. In that situation, when you're struggling, scuffling, you don't want to try too much."
During that same game, Pittsburgh Pirates' Nate McLouth hit another home run. On the second pitch of the game, McLouth blasted one, making it 7 on the season for him. He is surely having a breakout year this season so far. Comparing April of 2007 to this past April, McLouth has upgraded his batting average by .081 (.261-.342), his slugging perentage by .267 (.391-.658), and his total amount of hits (6-38), home runs (1-7), and RBIs (2-25). With the great success that he's been having so far this season, who knows what he will be able to do during these next five months of the regular season.
On the other side of the field, we've got Johan Santana. He didn't do that great on the 29th, surrendering two home runs (one against McLouth and the other against Jason Bay) and only going to the 6th inning due to his high pitch count. With his last start in April, he has pitched one more home run this month as he did last April (7-6). Johan is not doing as good as the Mets expected him to be, as he is only 3-2 with a 3.12 ERA, and is on the verge of surrendering 35 home runs! However, his strikeouts have been impressive with almost one strikeout per inning (39 in 40 1/3). We must remember that Santana usually doesn't do that great during the first couple of months of the season, but then fires up when the summer starts. Will it be the case this season? We'll find out.
Remember, you can always have the privilage to cast a vote for the "Homer of the Day" in the comments section down below. Feel free to discuss who should win today or who should've won yesterday, or what I could've done to make the article better.
Homer of the Day (April 28, 2008)
And the Homer of the Day for April 28, 2008, goes to...
Who else would get the "Homer of the Day" for April 28th but Juan Uribe? Hitting a game tying home run in the 11th inning is not something people get to see everyday. After Ramon Hernandez's solo shot in the top half of the inning, Uribe metaphorically waved the finger at them, and blasted a shot of his own telling them that it's not over yet. It turned out to be over, as the umpires called it a game after that inning due to rain. The home run was oof of George Sherrill, who blew his first save in ten chances this season.
The others who received votes were:
N/A
On Another Matter:
Again, I apologize for procrastinating, once again. I've just been really busy with catching up on my APs. I can't tell you how much I appreciate you waiting for these. Thanks guys, for your support.
Thanks to everyone who has been voting, especially those who have since the very beginning (you know who you are). Like I said, the more votes we have in these articles, the better. It makes it more interesting, and makes me feel better when I post these articles.
Ad blocker interference detected!
Wikia is a free-to-use site that makes money from advertising. We have a modified experience for viewers using ad blockers

Wikia is not accessible if you've made further modifications. Remove the custom ad blocker rule(s) and the page will load as expected.