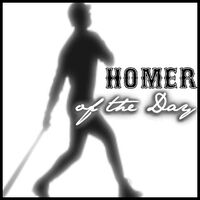 | Batter | Team (B) | Inning | Pitcher | Team (P) | Situation |
| --- | --- | --- | --- | --- | --- |
| Aubrey Huff (4) | Orioles | 2nd | Javier Vazquez (1) | White Sox | 0 on, 1 out, 0-0 |
| Carlos Quentin (6) | White Sox | 6th | Daniel Cabrera (6) | Orioles | 0 on, 0 out, 0-1 |
| Ramon Hernandez (3) | Orioles | 11th | Javier Vazquez (2) | White Sox | 0 on, 0 out, 2-2 |
| Juan Uribe (2) | White Sox | 11th | George Sherrill (2) | Orioles | 0 on, 0 out, 2-3 |
| Rick Ankiel (5) | Cardinals | 5th | Bronson Arroyo (7) | Reds | 0 on, 1 out, 1-4 |
| Daric Barton (1) | Athletics | 3rd | Jon Garland (5) | Angels | 2 on, 1 out, 1-1 |
| Jack Hannahan (2) | Athletics | 6th | Jon Garland (6) | Angels | 0 on, 1 out, 5-2 |
| Emil Brown (3) | Athletics | 7th | Chris Bootcheck (1) | Angels | 1 on, 0 out, 6-2 |
| Mike Napoli (6) | Angels | 5th | Chad Gaudin (3) | Athletics | 0 on, 0 out, 1-5 |
For the people who have not been introduced to the "Home Runs of the Day" yet, let me just clarify a couple of things:
The "situation part" (the part that states the score) is the score BEFORE the home run is it.

And, on a second note, the first part of the score is the score of the home run hitter's team. The second number represents the opponent's team.
A Tie in the Eleventh Inning with no Resolution
In the second game of the doubleheader between the Baltimore Orioles and the Chicago White Sox, the game was suspended due to rain. It was a shame that the game had to end with the excitement it had going into the 11th inning. After an excellent outing by Javier Vazquez (Chicago White Sox), a few gems Daniel Cabrera (Baltimore Orioles) got out of, and a couple of clutch plays by Brian Roberts (a double, stealing third base, and scoring the tying run off a Melvin Mora single, and Bobby Jenks' second blown save of the season), and [of course] a couple of homers, the game was tied at 2.
We fast-forward to the 11th inning, as the Orioles led off with Ramon Hernandez. On the second pitch of the at-bat (and the inning), Hernandez belted one off of Scott Linebrink, giving the O's a 3-2 lead. However, in the bottom of the 11th, Juan Uribe was up. He blasted a solo shot of his own over the left field wall in a clutch home run off of George Sherrill, his first blown save in 10 chances this season.
"The field was really messed up. It was pretty tough, but the grounds crew did a really nice job," said Ramon Hernandez, who gave the O's the lead for half an inning in extras. "I don't think the game should have been started. It was really cold and rainy. The field was wet. You never could warm up. After 11 innings, why are you stopping the game now? Just let us finish like that. It doesn't matter now. The field was that bad since the seventh inning. It was raining the whole game. That's when you should have stopped it, from the beginning."
Brian Roberts, the tying run in the 9th inning, said, "Towards the end it was a tie game so you have to keep playing. It's just frustrating to play that long and end like that."
On a side note, it was the White Sox's first suspended game since May 8th, 1984; the game after that was a game they won that lasted 25 innings.
Mike Napoli: Home Run #6
This game didn't last more than 9 innings. In fact, we knew that the game was [pretty much] over by the top half of the 7th inning when the Oakland Athletics were beating the Los Angeles Angels 14-2. Three home runs were hit by Oakland: Emil Brown, Jack Hannahan, and Daric Barton each hit one.
Even though the Angels got killed in this game 14-2, you guys must not overlook the 6th homer that Mike Napoli hit. Nap didn't hit his 6th homer last season until June 2nd. We can all tell that by looking at the improvements in his average this month compared to last April (.192-.218 batting average, .327-.564 SLG, 1-6 HR, 2-11 RBIs), he's going to do keep doing well by gaining more experience.
On a side note, another surprise has occured this season: designated hitter Frank Thomas hit a triple in this game. It was his first triple since April 24, 2002 (over 6 years).
"That was priceless," Chad Gaudin said of Thomas' 12th career triple. "I played with the guy in '06, and I don't think I saw him beat out a ball -- much less go from home to third on a triple. It's uplifting. He told me a couple of days ago, 'I can run now.' And I said, 'Really.' And I'm thinking to myself, in 15 years, all of a sudden you can run now? And sure enough, he can run."
"It's been a long time since one of those," Thomas said. "The way the ball was curving, I just thought it was going to be a double. But then I saw the ball get by him. I've felt better all year, so I'm running a lot better. I was happy to get it. It's something I haven't done in a long time, so it was fun."
Watch out, guys. The Big Hurt has just proved that he can run those bases! ;)
Remember, you can always have the privilage to cast a vote for the "Homer of the Day" in the comments section down below. Feel free to discuss who should win today or who should've won yesterday, or what I could've done to make the article better.
Homer of the Day (April 27, 2008)
And the Homer of the Day for April 27, 2008, goes to...
Click here for the details of the game, and the situation he was in when he hit the home run.
On Another Matter:
I apologize for procrastinating, once again. I've just been really busy with catching up on my APs. I can't tell you how much I appreciate you waiting for these. Thanks guys, for your support.
We need more than 3 votes. The more votes we have in these articles, the better. It makes it more interesting, and makes me feel better when I post these articles (in other words, it makes me feel like I'm not wasting me time). Thanks in advance.
If this helps, I give a thumbs up to all the votes, and almost every single comment on here; for all those people who desperately need those 15 points.
Also, if you missed the articles earlier on today, here are the links:
Ad blocker interference detected!
Wikia is a free-to-use site that makes money from advertising. We have a modified experience for viewers using ad blockers

Wikia is not accessible if you've made further modifications. Remove the custom ad blocker rule(s) and the page will load as expected.