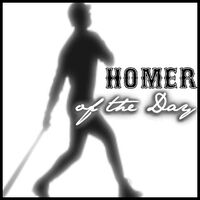 | Batter | Team (B) | Inning | Pitcher | Team (P) | Situation |
| --- | --- | --- | --- | --- | --- |
| Guillermo Quiroz (1) | Orioles | 6th | John Danks (1) | White Sox | 1 on, 0 out, 0-0 |
| Kazuo Matsui (1) | Astros | 1st | Adam Wainwright (2) | Cardinals | 0 on, 1 out, 0-0 |
| Lance Berkman (7) | Astros | 4th | Adam Wainwright (3) | Cardinals | 0 on, 2 out, 1-3 |
| Lance Berkman (8) | Astros | 7th | Adam Wainwright (4) | Cardinals | 0 on, 0 out, 2-3 |
| Chris B. Young (6) | Diamondbacks | 3rd | Justin Germano (3) | Padres | 1 on, 1 out, 0-4 |
| Brian Giles (3) | Padres | 4th | Micah Owings (4) | Diamondbacks | 0 on, 1 out, 4-2 |
| Tadahito Iguchi (1) | Padres | 13th (GW) | Yusmeiro Petit (1) | Diamondbacks | 0 on, 1 out, 7-7 |
| Nick Swisher (3) | White Sox | 4th | Steve Traschel (3) | Orioles | 1 on, 0 out, 3-2 |
| Kevin Millar (4) | Orioles | 6th | Mark Buehrle (1) | White Sox | 0 on, 0 out, 2-5 |
| Hanley Ramirez (8) | Marlins | 1st | Carlos Villanueva (4) | Brewers | 0 on, 0 out, 0-0 |
| Prince Fielder (4) | Brewers | 8th | Renyel Pinto (1) | Marlins | 0 on, 0 out, 3-3 |
| Akinori Iwamura (1) | Rays | 8th | Clay Buchholz (3) | Red Sox | 1 on, 2 out, 0-1 |
| Ryan Howard (5) | Phillies | 1st | Matt Morris (6) | Pirates | 1 on, 2 out, 0-0 |
| Nate McLouth (4) | Pirates | 8th | Kyle Kendrick (4) | Phillies | 0 on, 0 out, 3-8 |
| Jose Guillen (2) | Royals | 6th | Shaun Marcum (5) | Blue Jays | 0 on, 0 out, 1-1 |
| Michael Cuddyer (1) | Twins | 8th | Scott Feldman (1) | Rangers | 2 on, 1 out, 9-5 |
| Paul Bako (2) | Reds | 6th | Keiichi Yabu (2) | Giants | 0 on, 0 out, 5-4 |
| Rich Aurilia (2) | Giants | 5th | Matt Belisle (2) | Reds | 0 on, 0 out, 3-5 |
| Fred Lewis (2) | Giants | 6th | Mike Lincoln (1) | Reds | 0 on, 1 out, 4-7 |
| Mike Sweeney (2) | Athletics | 8th | Brandon Morrow (1) | Mariners | 0 on, 2 out, 0-3 |
| Garrett Atkins (6) | Rockies | 1st | Brad Penny (2) | Dodgers | 1 on, 2 out, 0-0 |
| Matt Kemp (2) | Dodgers | 1st | Mark Redman (5) | Rockies | 3 on, 2 out, 6-2 |
For the people who have not been introduced to the "Home Runs of the Day" yet, let me just clarify a couple of things:
The "situation part" (the part that states the score) is the score BEFORE the home run is it.

And, on a second note, the first part of the score is the score of the home run hitter's team. The second number represents the opponent's team.
Iguchi Says No More Slump (for the Padres and Himself)
Things have not been looking really good for the San Diego Padres, overall and in extra innings. During a tiebreaker for the NL Wild Card race between the Colorado Rockies and the Pads back on October 1st, 2007, the Rockies were able to stun the Padres in a wild 13th inning ballgame. A few weeks ago, the Padres participated in another extra inning game that will be remembered against the Rockies once again; it lasted 22 innings! Like their 163rd game of the 2007 season, the Colorado Rockies were able to pull off the win with the final score being 2-1. On April 26th, the Padres had to face yet another extra inning game, but this time it was against the Arizona Diamondbacks, the team that led the MLB in winning percentage. The Pads needed this win in order to redeem themselves after a 5 game losing streak, a 5 game losing streak at Petco Park, and with them being in last place. Who would be better to be the hero of the day for the Padres than Tadahito Iguchi, an addition to San Diego's roster this offseason? Not only was he the hero of the day, but he came up big after hitting 4-for-41 (.097) in the last 13 games he played in.
MLB.com stated that their offense on their own turf was "diplorable", as they have been unable to score more than 2 runs in any of their last 5 games at home. San Diego sure proved that they are able to do something, as they took an early 4-0 lead by the end of the 2nd inning. However, the D-Backs refused to just give them the win, as Chris Young blasted a two run shot to make it 4-2. They would eventually take the lead (6-5) in the top of the 6th inning thanks to a Micah Owings double. The game was eventually tied at 7 in the 7th inning, and stayed that way until the bottom of the 13th inning due to a few amazing grabs by Young and Paul McAnulty.
To the bottom of the 13th they went.
Yusmeiro Petit
was on the mound pitching to Tadahito Iguchi with 1 out. Iguchi took a 1-1 pitch for a ride,
Eric Byrnes
went back calling for it, but he was
not
able to catch the ball as it was not in his range and traveled to the seats in the second row.
Here are some of Tad's thought's after his walk-off homer:
"We're struggling as a team and to be able to end the game like this and pick up a huge win like this is big for us. Obviously, it is different when you lose than when you win."
"Hopefully, I can get going and as a team we can start taking off again." (About his home run) "Even in batting practice, not many balls fly out of here, so I wasn't so sure. I was running as hard as I can."
This was San Diego's first extra inning win this season, and their 4th one-run win out of 10. No wonder why they're in last place. Hopefully, they can pick up some momentum while it's early in the season.
Another First Homer
If you read last time's edition of the Homer of the Day, you would've found out that Wil Nieves hit his a walk-off homer, being the first Major League home run of his career. Guillermo Quiroz of the Baltimore Orioles didn't hit a walk-off, but he did hit his first career homer on the 26th of April. It took him about 46 games, and (surprisingly) about 4 years to finally hit one. He got a hold of a 2-2 inside changeup by John Danks of the Chicago White Sox that got things started for the O's, as they led 2-0, and eventually won in a pitcher's duel involving Brian Burres and Danks; Danks had a scoreless innings streak that ended at 19 2/3 innings ater that homer. Eventually, the White Sox gave up three runs in the 9th, and the O's gave up a run right after that, and that was how the game ended; the final score was 5-1.
Congratulations to Guillermo Quiroz for hitting his first Major League homer.
'Stros' Streak Snapped
If anyone noticed, the
Houston Astros
had won 6 games in a row before losing to the
St. Louis Cardinals
on the 26th. After surrendering 3 runs in the 9th inning letting the Astros continue their winning streak in a 3-2 loss, St. Louis believed it was time to give MLB fans some excitement in the 9th again, but in their favor instead.
Skip Schumaker
broke a 3-3 tie, driving in
Cesar Izturis
for the 4-3 win.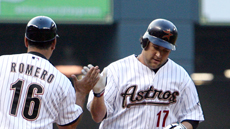 Although this game wasn't a walk-off win via home run, this game was pretty exciting due to the fact that there were three solo homers hit by the Astros. The first one was hit on the 6th pitch of the game. Kazuo Matsui hammered one to get things started for the 'Stros, making it a 1-0 ballgame very early. The Cardinals fought back in the third inning, scoring 3 runs in the bottom of the third: Albert Pujols drove in 2 with a stand up double, and Troy Glaus drove Pujols in by hitting a sacrifice fly after Chris Duncan singled him to third. The very next inning, Lance Berkman (who has not been mentioned much during this season, even though he was red hot during April) hit a solo jack into straight away center field, giving him a total of 7 on the season; the Astros now trail by only one run. We fast forward to the 7th inning, and in the very next at-bat, Berkman hit another solo homer off of Wainwright, giving him 8 for the season so far. I don't think people realize how good Lance Berkman really is.
This is what Lance Berkman had to say about Adam Wainwright and his complete game:
"Obviously, the guy threw a complete game," Berkman said. "He's a great competitor, one of the better pitchers in the National League. He's the kind of guy every team would want as their ace. He competes and goes deep into games and doesn't walk a lot of guys."
Remember, you can always have the privilage to cast a vote for the "Homer of the Day" in the comments section down below. Feel free to discuss who should win today or who should've won yesterday, or what I could've done to make the article better.
Homer of the Day (April 25, 2008)
And the Homer of the Day for April 25, 2008, goes to...
Well deserved. Wil Nieves, a backup catcher for the Washington Nationals, hit a two run homer in the ninth inning to seal the deal in the Nationals' win over the Chicago Cubs. This was the first time the Cubs played a game in the new Nationals Park.
It took Nieves about 5 1/2 years to hit his first homer of the season AND career (his first Major League game was with the San Diego Padres on July 21, 2002). Some first home run, huh? He has been playing professional baseball for 13 years, but has played in only 70 Big League games.
Others who reveived votes:
N/A
On Another Matter:
I apologize for procrastinating, once again. I've just been really busy with catching up on my APs. I can't tell you how much I appreciate you waiting for these. Thanks guys, for your support.
We need more than 3 votes. The more votes we have in these articles, the better. It makes it more interesting, and makes me feel better when I post these articles (in other words, it makes me feel like I'm not wasting me time). Thanks in advance.
If this helps, I give a thumbs up to all the votes, and almost every single comment on here; for all those people who desperately need those 15 points.
Ad blocker interference detected!
Wikia is a free-to-use site that makes money from advertising. We have a modified experience for viewers using ad blockers

Wikia is not accessible if you've made further modifications. Remove the custom ad blocker rule(s) and the page will load as expected.