Article:Home Runs of April 22, 2008
Talk

0
| Batter | Team (B) | Inning | Pitcher | Team (P) | Situation |
| --- | --- | --- | --- | --- | --- |
| Ronny Cedeno (1) | Cubs | 8th | Jorge Sosa (4) | Mets | 3 on, 2 out, 4-1 |
| Jeff Mathis (3) | Angels | 4th | David Pauley (1) | Red Sox | 1 on, 1 out, 3-1 |
| Casey Kotchman (5) | Angels | 8th | Hideki Okajima (1) | Red Sox | 0 on, 0 out, 5-6 |
| Jacoby Ellsbury (2) | Red Sox | 1st | Jered Weaver (3) | Angels | 0 on, 0 out, 0-0 |
| Jacoby Ellsbury (3) | Red Sox | 6th | Darren O'Day (1) | Angels | 0 on, 2 out, 5-5 |
| Kevin Youkilis (2) | Red Sox | 5th | Jered Weaver (4) | Angels | 1 on, 1 out, 3-5 |
| Jorge Cantu (3) | Marlins | 7th | Tyler Yates (1) | Pirates | 0 on, 0 out, 1-3 |
| Frank Catalanotto (2) | Rangers | 2nd | Justin Verlander (5) | Tigers | 0 on, 0 out, 0-0 |
| Magglio Ordonez (3) | Tigers | 3rd | Vincente Padilla (3) | Rangers | 0 on, 1 out, 2-1 |
| Miguel Cabrera (4) | Tigers | 3rd | Vincente Padilla (4) | Rangers | 0 on, 1 out, 3-1 |
| Ramon Santiago (1) | Tigers | 3rd | Vincente Padilla (5) | Rangers | 1 on, 2 out, 5-1 |
| Adam Dunn (3) | Reds | 4th | Hong-Chih Kuo (1) | Dodgers | 0 on, 1 out, 1-1 |
| Brandon Phillips (2) | Reds | 5th | Esteban Loaiza (2) | Dodgers | 0 on, 1 out, 5-1 |
| Vernon Wells (4) | Blue Jays | 6th | James Shields (2) | Rays | 0 on, 0 out, 3-5 |
| Evan Longoria (2) | Rays | 2nd | Jesse Litsch (3) | Blue Jays | 0 on, 1 out, 1-2 |
| Eric Hinske (5) | Rays | 6th | Jesse Carlson (2) | Blue Jays | 0 on, 0 out, 5-4 |
| Adrian Gonzalez (4) | Padres | 6th | Brandon Backe (4) | Astros | 2 on, 1 out, 0-2 |
| Paul McAnulty (2) | Padres | 8th | Doug Brocail (1) | Astros | 1 on, 0 out, 4-7 |
| Geoff Blum (3) | Astros | 4th | Jake Peavy (2) | Padres | 0 on, 0 out, 1-0 |
| Hunter Pence (1) | Astros | 6th | Jake Peavy (3) | Padres | 1 on, 2 out, 2-3 |
| Casey Blake (2) | Indians | 4th | Gil Meche (4) | Royals | 3 on, 0 out, 3-0 |
| David Dellucci (2) | Indians | 4th | Gil Meche (5) | Royals | 0 on, 1 out, 7-0 |
| Jhonny Peralta (4) | Indians | 7th | Yasuhiko Yabuta (1) | Royals | 0 on, 0 out, 10-0 |
| Jason Giambi (3) | Yankees | 2nd | Jose Contreras (1) | White Sox | 0 on, 0 out, 1-0 |
| Bobby Abreu (3) | Yankees | 7th | Octavio Dotel (1) | White Sox | 3 on, 2 out, 2-3 |
| Johnny Damon (3) | Yankees | 8th | Matt Thornton (1) | White Sox | 2 on, 2 out, 6-4 |
| A.J. Pierzynski (3) | White Sox | 9th | Kyle Farnsworth (3) | Yankees | 0 on, 1 out, 9-4 |
| Jayson Werth (3) | Phillies | 7th | Jeff Francis (7) | Rockies | 0 on, 1 out, 3-4 |
| Matt Holliday (4) | Rockies | 5th | Brett Myers (7) | Phillies | 0 on, 1 out, 3-3 |
| Garrett Atkins (5) | Rockies | 7th | Brett Myers (8) | Phillies | 1 on, 1 out, 4-4 |
| Craig Monroe (1) | Twins | 7th | Joe Blanton (2) | Athletics | 0 on, 1 out, 3-4 |
| Emil Brown (2) | Athletics | 6th | Livan Hernandez (4) | Twins | 1 on, 0 out, 2-3 |
| Aubrey Huff (3) | Orioles | 6th | Felix Hernandez (3) | Mariners | 0 on, 1 out, 1-2 |
For the people who have not been introduced to the "Home Runs of the Day" yet, let me just clarify a couple of things:
The "situation part" (the part that states the score) is the score after the home run is it.

And, on a second note, the first part of the score is the score of the home run hitter's team. The second number represents the opponent's team.
Garrett Atkins: A Home Run in 3 Consecutive Games
Unfortunately, we were not able to see Philadelphia Phillies' Chase Utley hit a home run yesterday. Therefore, his streak of (at least) a home run in conecutive games has stopped at five. However, there is a new streak that has started since April 20th. Colorado Rockies' Garrett Atkins hit a home run for a third consecutive game. Guess who he faced: the Phillies. He hit his 5th home run of the season off of Brett Myers (who currently leads all MLB pitchers in home runs surrendered with 8).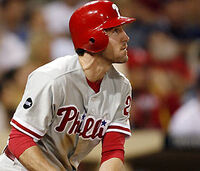 On a side note, this is such a coincidence because Chase Utley and Garrett Atkins are best friends. In fact, it has been that way since their freshman years at UCLA. They both went their separate ways in 2000 (after their junior years), as each one of them had the opportunity to sign with a Major League Baseball Club. Utley was a first round draft pick by the Phillies, while Atkins got picked in the fifth round. Last year, when Chase Utley got married to Jennifer Cooper, Atkins was actually his best man. They've kept track of each other ever since, though both of them can do that just by turning on the television.
"He's on SportsCenter every night hitting homers, so you don't even have to look at a box score," Atkins said. "Every now and then I'll check and see how his batting average is doing."
Now that Utley's streak has ended, it's time that he turns on the TV and check and see what he does.
Jacoby Ellsbury hits Two Home Runs
The Boston Red Sox defeated the Los Angeles Angels thanks to a couple of home runs by Jacoby Ellsbury. He didn't want to mess around, as he hit a leadoff homer over the right field wall on the sixth pitch of the first inning by Jered Weaver. He delivered in the clutch later that day, after Kevin Youkilis tied the ballgame at 5 in the 5th inning, hitting another solo homer in the 6th inning to give the Red Sox the lead 6-5. The Red Sox eventually sealed the envelope and won the game 7-6.
Jacoby Ellsbury got off to a very slow start this season. In the first couple of weeks (until April 10th to be exact), he was hitting .176. With the hot streak he has had in the last two games (batting 5-for-10), he has improved his batting average by .132 (.308 if you do the math). In the 20 games he has played, he has matched the amount of home runs he hit last season in 33 games (3). He has also stolen 8 bases (1 less than last season's 9), and has scored 19 times (1 less than last season 20) in less than half the amount of at-bats he had in 2007.
Are the Tigers Going to Do Well or What?
The streaky Detroit Tigers finally look like they're going to be doing well soon, as they just won their 6th game out of 9, defeating the Texas Rangers 10-2 last night. What this means is that the offense is definitely coming alive. This is well known because the Tigers are surely not relying on their pitching for victories, as four out of their six starters have ERA's of over 4.30, and 3 of them have ERAs of over 5.90! As the Tigers are going through a lot of changes, things are starting to look good for them. Three home runs were hit: 1 by second baseman Ramon Santiago, 1 by rightfielder Magglio Ordonez, and one by the reigning Player of the Week, Miguel Cabrera.
Brett Myers with the Lead
As you may have known if you read above, Brett Myers currently leads the Major Leagues in home runs surrendered with 8. In less than half the amount of innings he threw last year, Myers is only one home run shy of tying the amount of home runs he surrendered last year (9). He gave up home runs to Matt Holliday (4) and Garrett Atkins (5), and passed Roy Oswalt for the lead. Oswalt and Jeff Francis of the Colorado Rockies are tied for second place in this category.
There were lots of other good home runs hit, but I can't really talk about them much. I have to get packing for my trip to Dubai (Varsity Academic Games). I'll be gone for 5 days, so you won't see much of the "Homer of the Day" for the rest of the week. When I come back, I'll have a lot of stuff to do though.
Remember, you can always have the privilage to cast a vote for the "Homer of the Day" in the comments section down below. Feel free to discuss who should win today or who should've won yesterday, or what I could've done to make the article better.
Homer of the Day (April 21, 2008)
Please click here for more information on the home run. It is described in the second paragraph of the "Notes" section.
Others who received votes:
Felix Pie of the Chicago Cubs (4 votes)
Joey Votto of the Cincinnati Reds (1 vote)
On Another Matter:
In case you missed it, I typed up something for the winners (yes, they are officially winners) of the "Homer of the Day" for April 14 and April 15. Feel free to check it out and comment.
Also, I haven't been getting any feedback on this (I've gotten 1 or 2 comments about this) what do you guys think if I put the players in alphabetical order? What about inning by inning? Or do you guys like it just the way it is? I'd appreciate it if you guys could give me feedback on what I should do. Thanks in advance.
Ad blocker interference detected!
Wikia is a free-to-use site that makes money from advertising. We have a modified experience for viewers using ad blockers

Wikia is not accessible if you've made further modifications. Remove the custom ad blocker rule(s) and the page will load as expected.